From a stunning shellfish bounty to the constant backdrop of snow-capped Olympic peaks, a getaway to Hood Canal delivers.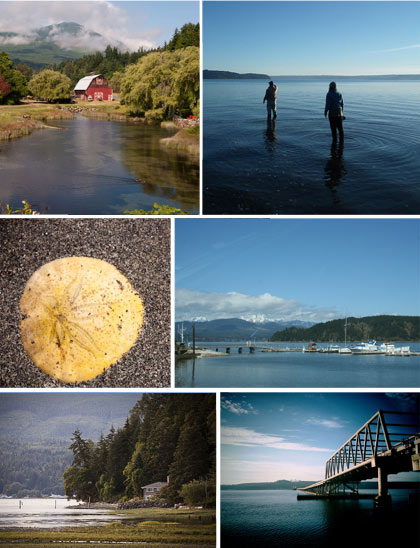 Don't let the name fool you–this 1.5 mile-wide channel of saltwater is not a canal at all, but a long, glacially-carved fjord. Like many waterways in the region, Hood Canal was named by Captain Vancouver on his 1792 expedition, and the story goes that he actually named it "Hood Channel" which was later mistranscribed as "Hood Canal."
RELATED: Northwest Getaway: The South Shore of Hood Canal
Hood Canal is Seattle's water playground. A pace of life from the past lures summer vacationers in droves. Vacation homes have long lined these shores, now including one owned by Bill Gates.  Most of the shoreline along Hood Canal is on private property, and signs posted everywhere remind you of this fact.  Mind the signs and stick to designated public beaches and parks to avoid any disputes.
Wear wellies and bring your oyster bucket (and shellfish license)–these shores are famous for their shellfish bounty. Brackish waters provide ideal growing conditions for mussels, clams and oysters. Low tide basically sets the table for dinner.
There is only one bridge across this 65-mile long tidal basin linking the Kitsap Peninsula to the Olympic Peninsula, and that's the Hood Canal Floating Bridge. Prior to its construction in 1961, this crossing was done only by a ferry route that is no longer in service (though the ferry was reinstated for a few years in the early 1980s when the bridge failed due to a severe windstorm). Imagine how much more isolated the Olympic Peninsula would be from the Seattle metro area if this bridge had not been built.
State Parks with Public Beaches
Twanoh State Park is seven miles east on the town of Union on Highway 106, which travels along Hood Canal's south shore. It's a 182-acre marine and camping park with over 3000 feet of saltwater shoreline, great for swimming in the relatively warm saltwater of Hood Canal.
Potlatch State Park is smaller than Twanoh at just 57-acres, but it offers more public Hood Canal shoreline (5,700 feet).  Small as it is, there's plenty to do, like enjoy the interpretive programs for kids, launch a boat or harvest shellfish.  There's camping, too–there are 38 tent sites and 35 utility hookup sites, with restrooms and showers. The area where Potlatch State Park is now located was an important site for the Skokomish Indian Tribe, who set their winter villages here and held potlatches in the area. The park is named in honor of the potlatch, a gift-giving ceremony.
Dosewalips State Park offers both Hood Canal shoreline and a real taste of the diverse Olympic Peninsula forest ecosystem.The park is 425 acres and offers year-round camping. Fish lovers flock here because there is 5,500 feet of saltwater shoreline on Hood Canal and 5,400 feet of freshwater shoreline on either side of the Dosewallips River.  All camp areas are grassy and located in scenic, rustic settings. There are 70 tent sites and 55 utility-hookup sites, and for those that want a little more roof over their heads there are three platform tents and three cabins you can rent.
Scenic Beach State Park is on the interior shore of Hood Canal up near Poulsbo. It's just 88-acres but offers both camping and 1,500 feet of saltwater beachfront on Hood Canal. Because this park is set looking across Hood Canal to the Olympic range, its got million-dollar views. Another attraction are the groves of wild, native rhododendrons that come into full bloom in late spring. ADA-compliant paths lead visitors to a country garden, gazebo, rustic bridge and huge trees. Campers will find 52 tent sites, but no RV hookups. This is a truly unique state park.
Note: Day use visits to the Washington State Parks above require you to have a Washington state Discover Pass.
Towns and Scenic Drives along Hood Canal
At the very end of Hood Canal is the sprawling, relatively large community of Belfair (well, large for Hood Canal). Most visitors to the southern portion of Hood Canal pass through here, but few stop for the night. If you want to make a stop, make it the Theler Wetlands, and don't forget to bring your binoculars! Four miles of barrier-free scenic trails wind through this 135-acre preserve, and the place is open daily, dawn to dusk. You'll get a good look at the herons and marsh wrens from viewing platforms and nearly 2000 feet of floating boardwalk.
From Belfair, Highway 106 travels west along the south shore of Hood Canal.
The tiny town of Union is set right on Hood Canal's elbow, on its south shore. Union is a hub for vacationers, as the luxuriously-rustic Alderbrook Resort is here, as well as a few other places to stay the night or grab a plateful of oysters with a pint of beer.  Stop at Hunter Farms to see livestock or purchase fresh produce from their general store (and frolic in their pumpkin patch in autumn months).

Around Hood Canal's "elbow" and onto Highway 101 you will come to Hoodsport, gateway to Lake Cushman and the Staircase area of Olympic National Park.   It's a tiny town, but it does boast one of Washington's very first wineries. The Hoodsport Winery tasting room is open seven days a week and as early as 10am for folks to sample their fruit-based wines and jams. Hoodsport Coffee Company is also worth the stop for a pre-hike latte.North of Hoodsport is Lilliwaup, home of the 90-year old Hama Hama oyster beds, where you can stop for a shucking lesson and some delectable little bivalves.Near Dosewallips State Park is the community of Brinnon, which has a handful of bed and breakfasts for overnighters and a lot of local flavor at the Geoduck Tavern (try the Oyster Burger, of course).
For a scenic road much less traveled, explore the inside arm of Hood Canal. Services are few and the road isn't always paved, but the scenery can't be beat. From Belfair take the NE Shore Road as it hugs the water behind a thin stand of trees until you come to Tahuya, after which the shore road gets a bit more primitive and the views get a lot more open. The route meets the shoreline at Dewatto Bay, after which you can take the Dewatto Bay Road up to Seabeck and Scenic Beach State Park.

View Hood Canal Scenic Drive Northwest TripFinder in a larger map
From Hurricane Ridge in Olympic National Park to Green Mountain near Bremerton, guidebook author Craig Romano hiked every step of the trails featured in this essential guidebook. For each hike you'll get all the info you need (elevation, round trip mileage, driving directions) as well as Romano's personal take on what makes the trail worth your time. Buy this one and it will never leave your car!
Evergreen Pacific Shellfish Guide by J.D. Wade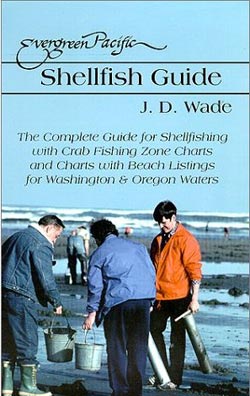 J.D. Wade, a lifetime resident of Washington State and bivalve enthusiast, shares his recreational and commercial shellfish experience in this handy guide. Learn about the different varieties of clams, the how and where of trapping Dungeness crabs, and how to "shuck" a Hood Canal oyster. This guide has tips on the best times of year to harvest various shellfish, discusses some of the environmental issues that shellfish have to deal with, discloses some favorite beaches for digging and even shares gourmet shellfish recipes.
photos: barn by eldan, two people wading by blue~canoe, sanddollar by henry alva, alderwood dock by northwest tripfinder, waterfront home by scooter lowrimore, hood canal bridge by j colman.