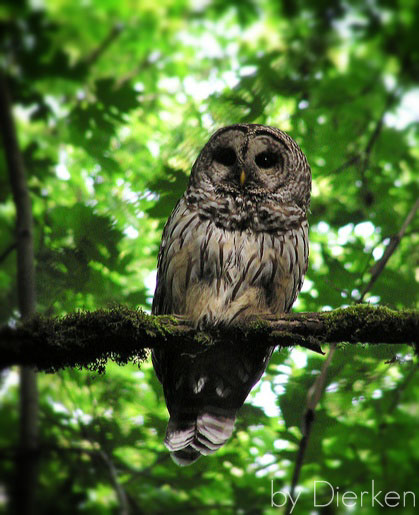 Who, Who, Who are you?
Even looked up to see two big brown eyes silently returning your gaze? Owls are more common than you might think, even in urban parks of the Pacific Northwest.
This curious owl in the photo is a Barred Owl (notice the vertical bars of brown on its chest). These owls relatively common in forested urban parks like Forest Park in Portland, Stanley Park in Vancouver and Discovery Park in Seattle. We see them occasionally when we're on walks through Lincoln Park near our home in West Seattle.
The Barred Owl is a "cousin" of the Northern Spotted Owl, which is listed in the US as a threatened species under the federal Endangered Species Act. In most instances, it is easy to tell the two species apart, though I've been stumped a few times. Habitat is the first thing to consider if you're trying to determine which of these owl species you are looking at. Barred Owls are far more common, of course, and inhabit mixed woods in our cities, suburbs and backcountry lands. Spotted Owls require older-growth, mature, moist forests. Their habitats do overlap on the edges of old-growth forest.
One key visual identifier is the markings on the chest. As its name suggests, Spotted Owls have spots, rather than bars.