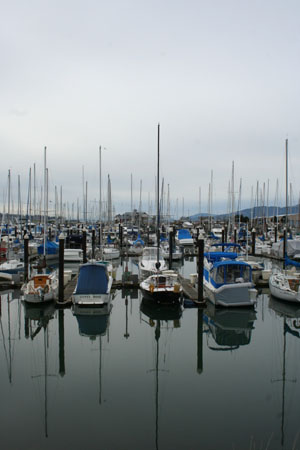 Last week we found ourselves weighing our intense need for a weekend getaway against taking a tantrum-throwing, teething toddler away from his home and routine. We drew curly straws, the weekend getaway won, and I was soon searching for a destination that was relatively close to Seattle with lots of fun things to do and pretty things to look at.  So, off we went northward to Bellingham–a smallish city by the sea with a big reputation for livability, cultural attractions, kid-friendliness and outdoor fun.
Bellingham's charms are many, but its cheap sleeps are surprisingly few. Save for a handful of no-frills motels, there just aren't many rooms to be found for under $100. Most people I know who travel here end up at the Fairhaven Village Inn, where even winter rates for the most basic rooms start above our cheap sleeps ceiling of $150 a night.  Bed and breakfasts are sparse here, and strict county regulations for operating a B&B may explain why. Still, there are a few we can afford, and we were pleased as punch with the one we chose.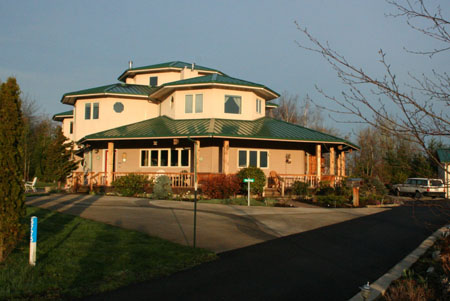 The Axton Road Bed and Breakfast has only been open for business a year, but you'd never know it; hosts Sandy and Barb made us feel right at home without any of the fussiness I've sometimes experienced with new B&Bs. Axton Road is a real B&B–this isn't an inn, it's the hosts' beautiful, custom-built home. Semi-retired physicians and recent empty-nesters, the couple converted their three childrens' former bedrooms into comfortable guest rooms with lots of warm wood, tasteful country finishings and gorgeous views out to the pastures and mountains. We were in the "oak room," complete with an iPod deck and daybed for the kiddo. Through our window we took in the territorial view of goat pasture and gardens framed by the Cascades. The bath was just outside our door.
Here is a picture of the "maple room."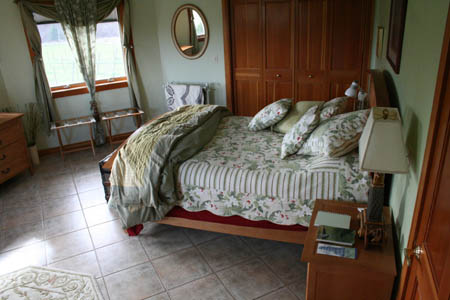 Barb and Sandy's main living room radiates comfort and warmth, and Barb made sure to let us know that we were welcome to hang out there, whether it was to browse the library (including a shelf of kids' books), play a game of scrabble or just chat by one of the  stone fireplaces.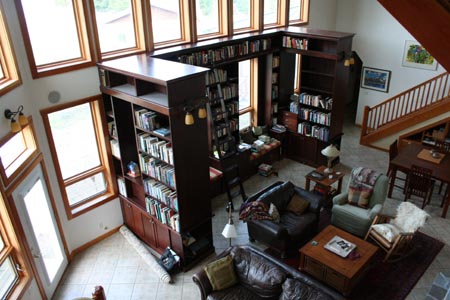 Axton Road B&B sits just north of Bellingham on twenty pastoral acres that comprise a native tree nursery, vegetable gardens, goat pasture, a vineyard, and an orchard.  A couple of short trails take you through the woods and meadow around the property. I was drawn in by the descriptions of wildlife and nature on the B&B's website (tell any birder in western Washington they might see a barn owl and you've got them!) and Brian and Isaac looked forward to feeding the goats.
When we arrived early Saturday afternoon, Sandy was busy in the carpentry shop and he came to greet us and show us our room, graciously making no mention of the fact that our arrival was very much on the early side. We settled in, baby Isaac dozed for a bit, then we headed out to check out the six resident goats, the star attractions as far as our 1-year old was concerned. While the goats enjoyed a sampling of peanuts, I watched a nearby Cooper's Hawk stalk some unsuspecting songbirds.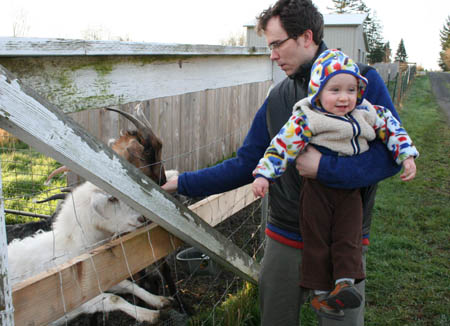 After an afternoon drive, we ended our evening back at Sandy and Barb's with cups of hot chocolate. Breakfast on Sunday morning was spinach quiche, fruit and toast, which we took turns eating as the other contained the toddler, who was hell-bent on destruction.  I regretted not bringing along our portable high chair. (By the way, if anyone ever tells you that the "terrible twos" actually begin at 18 months of age, believe them!)
Before leaving Bellingham, we enjoyed a long walk around the marina at Squalicum Harbor, a beautiful spot for a morning stroll. It was pretty quiet on this Sunday morning, and we watched as a few fisherman prepared their gear on the dock and a handful of sailboats departed the marina. After that we checked out the Whatcom Museum's new Family Interactive Gallery, a collection of interactive art and activities that was fun and engaging, as promised.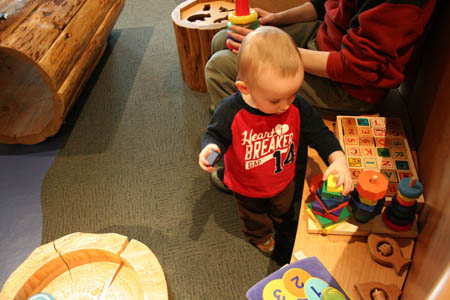 We'll be back, Bellingham!
More information:
Axton Road Bed & Breakfast, about $135 a night. (360) 398-9196 or www.axtonroadbedandbreakfast.com.
Check out kid-friendly Bellingham over at Cascadia Kids.
Discover more about Bellingham and its environs at the Whatcom County Tourism Bureau.