I looked out the wood-framed window panes from my tweed-upholstered armchair. Yep, we were at timberline. Where the lodgepole pines ended, permanent snowfields began. From there, a dense cloud cover obscured everything skyward, including the top of Mount Hood.
We were on Mount Hood.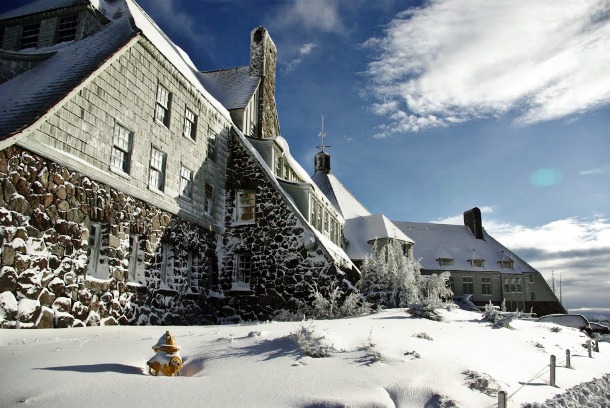 Timberline Lodge is an iconic Pacific Northwest landmark, and hailed as one of the best examples of depression-era, WPA-built mountain architecture in the United States. After nearly fifteen years as a Pacific Northwesterner, I figured it was high time I see it for myself.
The lodge's setting is high drama, perched on the south slope of Hood just at treeline. In summer, surrounding meadows burst with colorful wildflowers. In winter months, deep drifts of snow ensconce the lodge up to its roof in places. This wintertime image draws large numbers of movie buffs to Timberline; the snow-swathed exterior stood in as the Overlook Hotel in The Shining. Well over a million visitors annually come here to ski, hike, and sleep in the lodge. Some just stop by for a hangout and hot chocolate in the open, communal lobby by the fire–not a bad way to spend a chilly afternoon.
Our visit was in fall, before the snow was especially deep and before the slopes were ready for prime time. Still, the lodge was full. A wedding party was assembling in the lower lobby when we arrived. Hikers relaxed by the fire after a day on the trail.
Our room was on the second floor and looked out the back of the lodge onto a hiking / snowshoe trail that winds its way up the mountain. After we checked in, our kid sprawled out on the bed for a nap. My husband and I split a beer that was brewed in nearby Hood River while we examined our room's carpentry and ironwork.
Everything in sight, from the wall panels to bedside tables, is made of hand-hewn Doug Fir. Welded ironwork adorns drawers and fashions door handles. Within the walls of every guestroom in this working ski lodge is your own personal history museum (for the night, anyway).
Just before dinnertime, I grabbed my camera to check out the inn's interior common areas.
Beyond the guestroom walls,  Timberline's rich story of creation by local blacksmiths, stonemasons and carpenters is everywhere you look, from the carved stairwell banisters to the three-story stone fireplace and chimney. I marveled at the scale and quality of craftsmanship that is evident in the lodge's construction and decor. It is stunning. Want to be more impressed? The entire project was completed in just 15 consecutive months, and you know it was snowing for a good many of those. (It takes longer than that these days to build a boring apartment building in Seattle, no?)
As we sipped pints of stout before dinner in the Ram's Head Bar on the lodge's top floor lobby, we pondered the gift bestowed on generations of mountain lodge lovers by the creators of Timberline Lodge back in the 1930s. Maybe "make-work projects" aren't such a bad idea after all, America.
If You Go
1-800-547-1406 or timberlinelodge.com
Timberline has about 70 guestrooms, and rates range from cheap (bunk beds with shared bath) to expensive (king bed with wood-burning fireplace in room).  Find mid-week specials on Timberline's website.
The top three photos are courtesy of Timberline Lodge; the rest are mine. We got the "media rate" for our one-night stay at Timberline.