Our eco-friendly roadtrip begins on the central Oregon coast near the picturesque town of Yachats (pronounced YAH-hots), where dramatic seaside bluffs of basalt loom over beaches and tidepools waiting to be explored. There's perhaps no better base from which to explore this wondrous nature than a beautiful and comfortable room at Ocean Haven.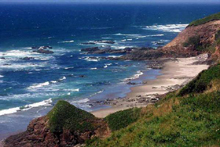 If you drive a Hummer, you won't be staying at Ocean Haven. "FOR REASONS OF HEALTH & SAFETY, OCEAN HAVEN CANNOT ACCOMMODATE SMOKERS, PETS, OR FOLKS TRAVELING IN A HUMMER." Ocean Haven's proprietors take their environmental activism seriously, but don't let the seriousness of some of their policies fool you – proprietors Christine and Bill are some of the nicest folks you'll meet.
Ocean Haven is perched atop one of the most scenic stretches of Oregon's rugged coast, and the design of the rooms take full advantage of this. Big corner windows give way to panoramic ocean views, and a pair of binoculars are conveniently provided for your wildlife-watching pleasure. Cozy window seats put you so close to the action it feels as if the thundering waves might come into the room with you. When you're ready to make direct contact with the ocean, pick up one of the provided beach blankets and walking sticks and head down the path that descends their bluff to the beach below. Upon your return, comfortable beds, a beautiful tiled shower, and a well-stocked library of nature books await you — all lovely touches that make Ocean Haven an extra special place to stay.
The rooms have kitchens with stoves, fridges, microwaves, teapots, coffee makers, and most every pot, plate and utensil you'll need. Any time you feel the need for a cup of herbal tea or coffee and an organic snack, help yourself — the kitchen is well-stocked with extras. We particularly liked having the kitchen and comfortable dining area to cook our own dinners. It saves money, saves a trip into town, and at Ocean Haven, we're talking the best ocean-view table you're ever likely to eat at, cook up some pasta and sauce, open a bottle of wine and pull up a chair.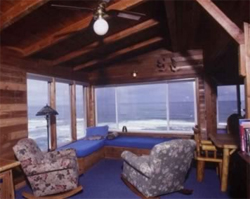 Ocean Haven is committed to reducing the impact on nature by limiting the number of guests and contributing a portion of the revenue from your stay to ocean conservation organizations. They recycle and compost, and don't permit beach fires.
At $100 – $145 a night (rooms accommodate 2-4), the best rooms are a bit of a splurge, but occasionally a splurge is in order. Just make sure your splurge is for a place as wonderful as Ocean Haven. Free WiFi. Guest Phone in office. No room phones or TV (and you won't miss it for a second.) Our favorite rooms are the north view and south view suites and the shag's nest cabin, though the sky view and tidepool rooms are great, too.
Info and reservations: Ocean Haven website or 541-547-3583.