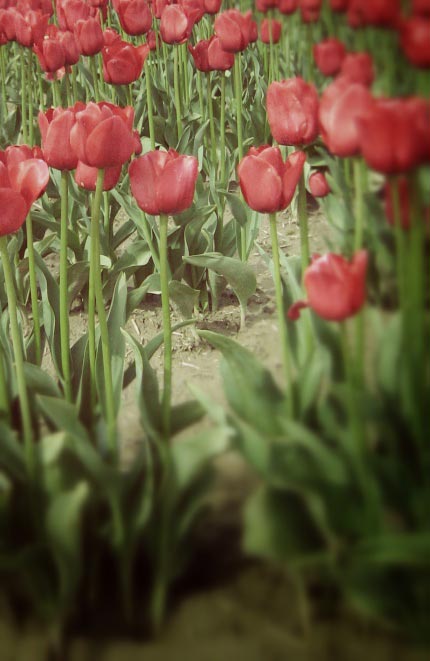 There's something about rows upon rows of brightly-colored tulips that screams: GOODBYE, WINTER! HELLO, SPRING!
The Skagit Valley Tulip Festival runs April 1-30, 2014.  Will you be going? Because we have a nice scenic drive itinerary for the Skagit flats that might help you plan your trip, with places to eat and things to do in the Skagit Valley.
Farmers have raise tulips as an agricultural crop in the Skagit Valley for decades. Hundreds of acres of blooming flower fields are scattered throughout the valley. The festival is designed as a driving tour, as there is no one site that you go to for your visit. In addition to the tulips and daffodils, festival visitors have many other events and activities to try, from wine tasting to browsing local art to a fun salmon bake.
If you go, take pride in the fact that you're contributing to the local economy here – the Skagit Valley Tulip Festival is one of the top destination events for the Pacific Northwest and brings in about $14 million to local businesses.
Are you in Oregon? Head to the Willamette Valley for the Wooden Shoe Tulip Festival. It starts today and runs until May 5.