It's not too late to plan a summertime visit to Orcas Island!  Dramatic coastline, mountain lakes, pastoral farmland and quaint island villages are calling your name.  And in the middle of it all is a wonderful new place to stay. Presented to our readers by Heather Wallace on behalf of Mt. Baker Farm.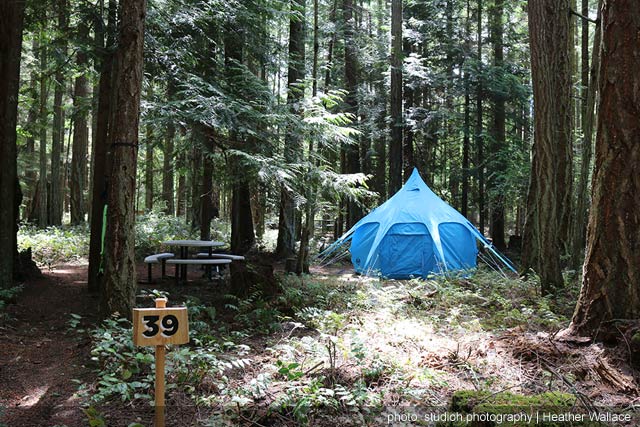 There are numerous options for lodging in the San Juan Islands, but for a truly one-of-a-kind, Orcas Island experience, Mt. Baker Farm may be just what you're looking for.
Want a unique lodging option in a beautiful natural setting? Mount Baker Farm is definitely that. Spacious wooded campsites under tall trees and scattered stars? Check. Historic architecture, a petting farm with rescued goats, donkeys, and chickens, and a real working railroad? Yes, the Mt. Baker Farm experience offers all that, and more!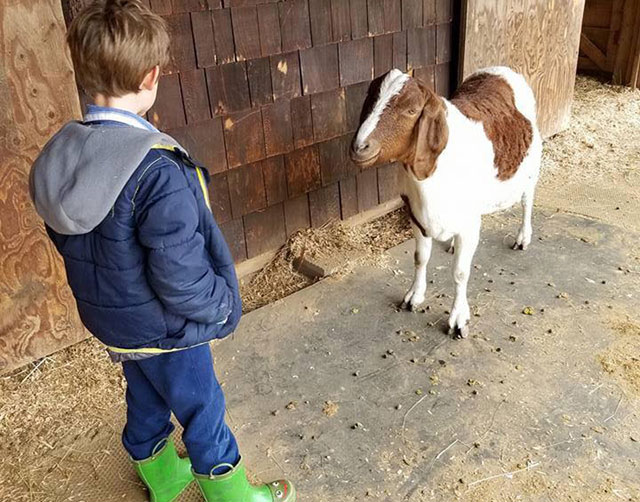 About Mt. Baker Farm on Orcas Island
Set on 80 beautiful acres of rolling meadows and lush forest, Mount Baker Farm offers a relaxing respite in nature and farm life, all conveniently located within walking distance to Orcas Island's main village of Eastsound.
How did this amazing property come to be, you ask? The previous owner of Mt. Baker Farm was the founder of the Casablanca Fan Company and an avid train enthusiast. He built two train stations on the property, one of which is an exact replica of a station of his youth, the Lake Elsinore train station in Southern California. Two miles of regulation train tracks carry the train and its guests on a stunning ride through the woods and over meadows.
On an island filled with historic buildings, it's no surprise that Mt. Baker Farm houses a 100-year old "Waldrip" barn. Designed as a dairy barn, it was built by Seattle architect W.R.B. Wilcox in 1918 and is the only known extant gothic-roofed barn in the San Juan Islands. The property is also home to a faux-silo, train sheds, and other interesting architecture.
When the new owners, Ruth Vandestraat, Barb Roddy, and Cheryl Jackson, purchased the property in 2017, their vision for the farm was clear — keep the 80-acres intact and provide a magical experience for islanders and visitors alike. And it is – Mt. Baker Farm is truly a unique Orcas Island experience you won't soon forget.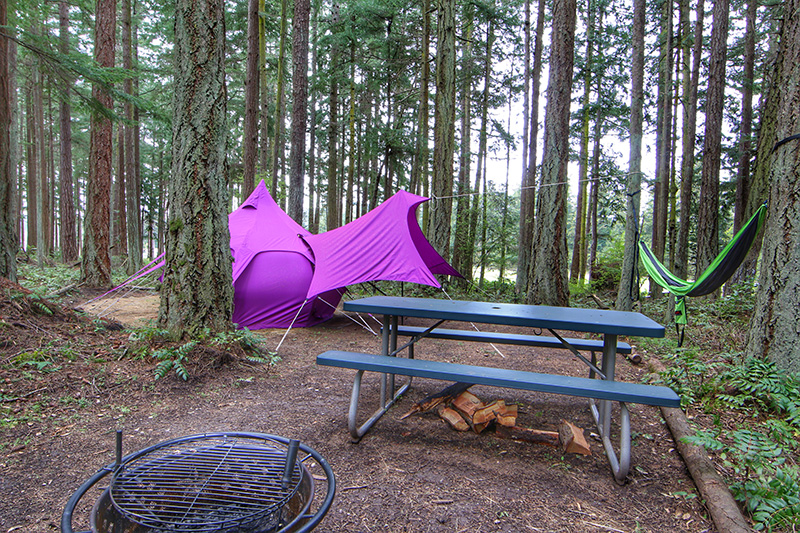 Camping at Mt. Baker Farm
With 58 spacious campsites on the property, there's a perfect spot for everyone at Mt. Baker Farm.  Most of the sites are wooded, and when the sun shines through the trees, campers are rewarded with a magical glow that lights up the forest. A handful of sites also overlook a large, open meadow where guests may catch a glimpse of some friendly island wildlife grazing nearby.
Each campsite is equipped with at least one tent pad, a picnic table, and an above-ground fire pit. Visitors are welcome to bring their own camping gear, however Mt. Baker Farm also offers full rentals. If you don't own your own gear, or you just want to fly in on a seaplane, you can rent a tent, bedding, dinnerware, hammock, chairs and a lantern – and they'll set it all up for you.
As a family-friendly campground, Mt. Baker Farm created "walk-in" only campsites. This allows children to safely play or ride bikes inside the camping area without fear of unexpected cars. Complimentary hand carts are provided to guests for transferring gear to their campsite.
And for those looking for that "island experience", but are maybe not so fond of camping, they also offer a large, 4-bedroom, 4-bathroom guest house on the property. The guest house includes a sizable, well-equipped kitchen, dining area, spacious living room, outdoor patio and BBQ area, and an outdoor garden and sitting area.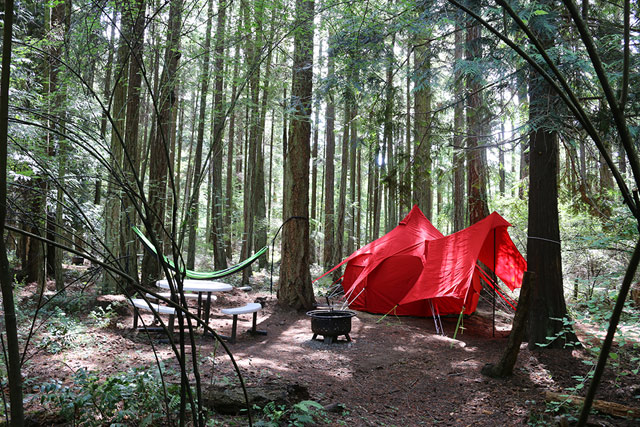 Contact Mt. Baker Farm or Make Reservations
You can view availability of campsites on a calendar and reserve your Mt. Baker Farm campsite online at mountbakerfarm.com. Most of the campsites are $45 nightly. There's still lots of availability for Summer 2018 at this time.
For questions and inquiries, contact Mt. Baker Farm at (360) 376-2425 or info@mountbakerfarm.com.
Travel tip: Once you've booked your campsite, take the stress out of waiting for a ferry by reserving that, too! Reserve a spot on the ferry from Anacortes to Orcas Island here.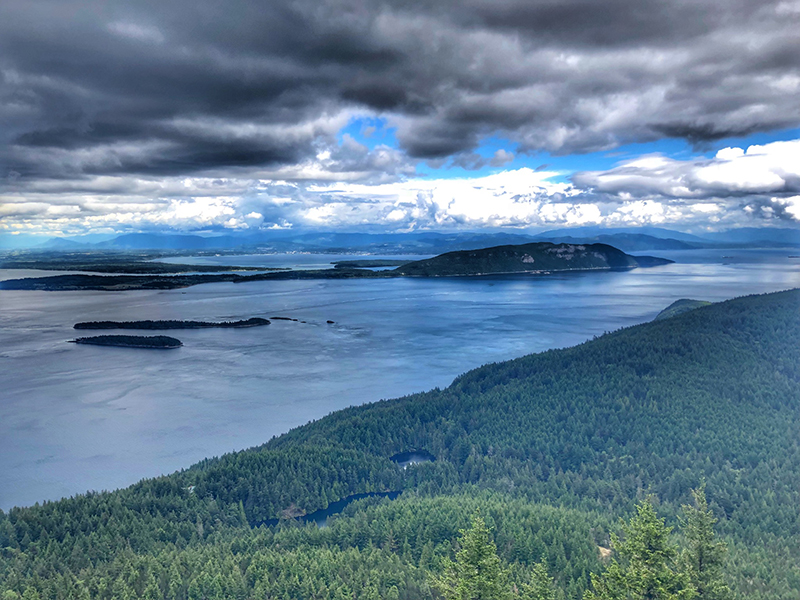 Why Choose Orcas Island for your next Pacific Northwest Getaway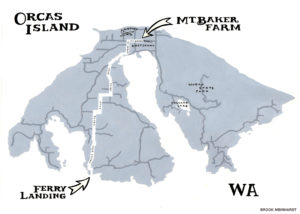 Orcas Island is home to a huge forested park (Moran State Park), and some incredible coastal, farm, and forest scenery. The largest of over 150 islands that make up the San Juan Islands archipelago, you'll find ample hiking, boating, kayaking, fishing, and a burgeoning food and drink scene serving tourists and locals year-round, and providing unforgettable experiences.
Commercial transportation on and off the islands is provided by Washington State Ferries out of nearby Anacortes, or via small planes (both land and seaplanes) flying in and out of the Seattle area. Ferry and air reservations are highly recommended, especially during the summertime when the islands see high seasonal traffic.
This post is sponsored. Northwest TripFinder is selective in choosing sponsorship partners because it is essential to us that our readers will find the topic valuable. We hope you enjoyed this post. Thanks for reading!