Salt Creek is a dramatically beautiful and well-maintained campground with staggering views and terrific amenities.  Like so many former WWII-era military lands set on the Salish Sea (this was once Camp Hayden), the 196-acre park has terrific sightlines, once used to watch for enemy boats. Now, you can enjoy these same views over a picnic lunch or beside a campfire. The remnants of Camp Hayden are preserved on the site – two concrete bunkers which housed 16″ cannons and several smaller bunkers.
Bring your rubber boots, because tide-pooling awaits. Bring your hiking shoes, too–there are lovely trails through the upland forests with resting spots on rocky bluffs. Sandals might come in handy while walking along the sandy beach. And for the kiddos? Pack sneakers, because there's a very nice playground.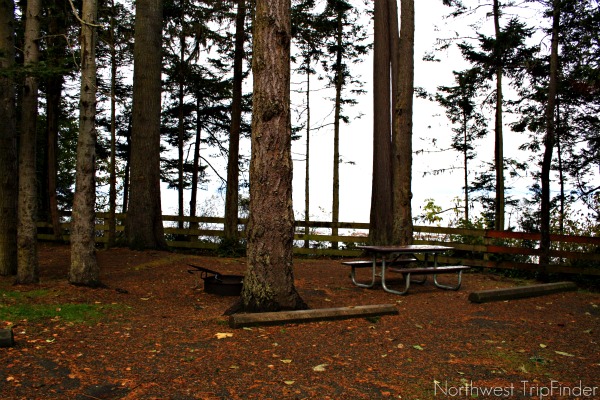 Location: North coast of the Olympic Peninsula on the Strait of Juan de Fuca, Washington
Salt Creek Recreation Area website | 360-928-3441 | ccpsc@olypen.com
Campground type: county park
Rates: $20 – $28
Reservations: Half of the 92 campsites are available to be reserved. Reservations for the year begin on January 1, and by early summer there may be few choices left for reservations. So reserve now – you can check what is available for the nights you want. The reservation procedures are here – this is a county park, so the process is a little different than for forest service or national park campgrounds. You actually have to fill out this form and snail mail it in. Note, 45 of the campsites are available first-come, first-served, so if you get up early enough on a Friday morning, you still stand a good chance of snagging a site for the weekend. Site descriptions and photographs can be found on the park's website. Reservable sites at Salt Creek: #16 thru 39, 51 thru 68, 71, and 72.  #25 and 73 are camp host sites. #39 and 71 are ADA accessible sites.
Like this post? Get more travel recommendations by becoming a fan of Northwest TripFinder on Facebook. You can also subscribe to our RSS feed.