If you're looking for an old school beach resort town, look no further than Seaside, Oregon. This is the real deal, where you can munch on saltwater taffy as you stroll the beach boardwalk hand in hand, watching the sunset behind Tillamook head.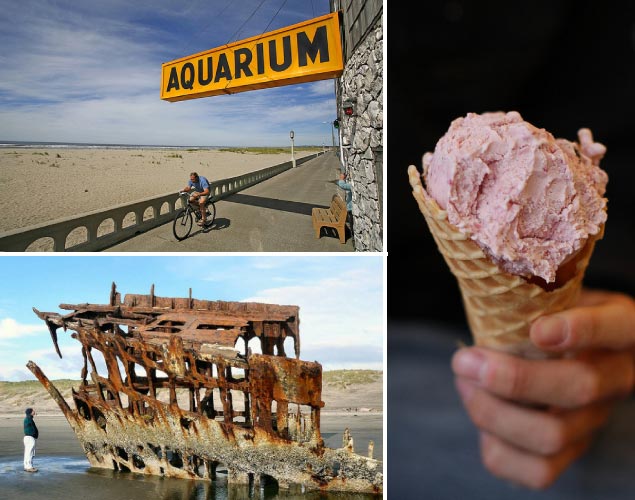 Seaside's status as the premiere  Oregon Coast beach resort was sealed over a century ago when wealthy Portlanders came to Astoria by steamship via the Columbia River, then boarded a stagecoach for the 17-mile trip to Seaside. And they're still coming, in droves. Unless it is mid-winter you won't find much solitude in Seaside, and that's fine – there are plenty of other places on the Oregon Coast that offer solitude (try Bandon or Manzanita). Seaside is more about indulging in quintessential family-friendly summer fun— bumper cars, sandcastles, beach volleyball, ice cream cones, kites and bikes.
GETTING THERE
Seaside is about 80 miles northwest of Portland, and sits north of Cannon Beach and south of Astoria. From Portland, take US Hwy 26 W/NW about 74 miles, then merge onto US Hwy 101 heading north. You will enter Seaside in just over 3 miles. See map and directions.
THINGS TO DO
Stroll along "The Prom," Seaside's 1.5-mile oceanfront promenade. It's a boardwalk along a beach, so stopping off for an ice cream cone or some saltwater taffy is sure to enhance the experience.
Hike to a view at Saddle Mountain State Park off Hwy 26. The route, through mature forest and fields of wildflowers, is semi-strenuous, gaining over 1600 feet in 2.5 miles from the trailhead to the summit. Hikers are well-rewarded for their efforts on clear days; even Mount St Helens in Washington is visible from the summit.
Cruise Seaside's main drag, Broadway, where you'll find antique shops, ice cream parlors, boutiques and surf stores.
Seaside has its own small aquarium with seals you can feed, an octopus, a touch tank full of sea stars and more. It's a fun stop for kids, but Newport down the coast claims the Oregon Coast's really great aquarium.
Ecola State Park south of Seaside straddles Tillamook Head, the farthest point reached by the Lewis and Clark expedition in 1806. As you will learn when you visit, the Corps of Discovery crew was drawn here by a beached whale; they were in search of whale blubber. What draws us here are the well-maintained trails through Sitka Spruce forest, the breathtaking views, and the surfing and kayaking off secluded Indian Beach. For a nice half-day excursion head to Tillamook Head, a moderate, 3.6-mile loop that leads to the headland's tip.
Up the coast a bit is Fort Stevens State Park, worth the trip for many miles of hiking trails, a sunset beach stroll and a real shipwreck, the Peter Iredale, a four-masted steel barque sailing vessel that ran ashore in 1906 as it approached the mouth of the Columbia River.
WHERE TO EAT
WHERE TO STAY
Seaside has lots of large beachfront hotels along the promenade, and more than line the Necanicium River, resulting in more than 1,500 hotel rooms. Click here to find a water-view hotel room that fits your needs and budget. Even with all those hundreds of hotel rooms in Seaside, you'll want to book ahead on summer weekends or you'll probably end up in one of the less-desirable motels along Highway 101.
On a budget? It's not fancy, but the condos and cottages at The Tides by the Sea will place you super close to the ocean with all the amenities of home (lots of room, full kitchens) at a price families can afford. Read reviews.
For a quiet, homey experience away from the hustle and bustle, book a suite or vacation cottage at Weiss' Paradise Suites, set on a residential side street just blocks from the promenade. Read reviews.
DON'T MISS
The first Saturday of every month, Seaside hosts its "First Saturday Art Walk" from 5-8pm. Local area galleries are open and serving snacks, and shops and restaurants host artists, authors and musicians.
Twice a year, Seaside hosts a Downtown Wine Walk, where some of Oregon's great wineries flock to the coast for this one-day event, set up in downtown businesses and pour tastings for the public.
Each February is the Seaside Jazz Festival, hosting top performers of traditional jazz and other jazz-inspired music at venues throughout Seaside.
 Seaside is featured as Trip #9 on Northwest TripFinder's #100NWTrips project on Instagram. Follow along here.