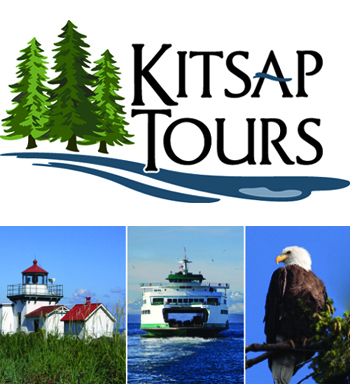 Sponsored by Kitsap Tours
270 Olympic DR SE
Bainbridge Island WA 98110
map and directions
phone: 877.877.1950
website: kitsaptours.com
email: JoinUs@KitsapTours.com
Description: Just a ferry ride from Seattle, Kitsap Tours explores Bainbridge Island, the Kitsap and Olympic peninsulas in beautiful Washington State. Step beyond the city to see a little of the rest of the Northwest! Full and half day scheduled tours of Bainbridge Island, the Bloedel Reserve, and Bainbridge Island / Kitsap Peninsula.
Custom/private tours for groups up to 12.
History / heritage / culinary / eco friendly / nature / soft adventure / gardens / locavore / wineries / breweries / farm to table / Native American / scenic / fun!
Northwest TripFinder Special: Use the promotional code "Northwest Tripfinder" when you make reservations online and 20% will be deducted from the full adult price.