This week in Northwest travel, here are the things that caught my eye. It'll be here every Friday.
1) Tomorrow is National Trails Day. Trails are our pathways into the great outdoors, from the wild Olympics to the South Cascades. Celebrate with a hike! If you live in Washington state, WTA.org has this handy dandy Hike Finder to help you fine a great hike in Washington, and all National Forest lands are fee-free tomorrow.In Oregon, your best bet is to start with Travel Oregon's online hiking guide.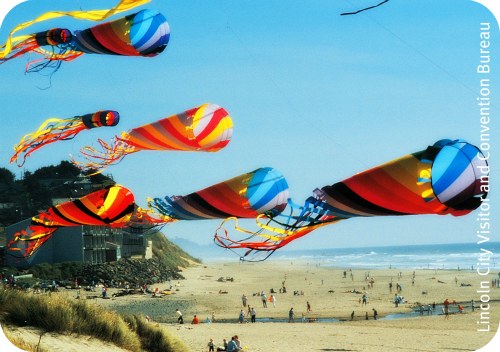 2) Speaking of Travel Oregon, their blog post this week on Oregon Coast Festivals has got me wanting grab my shovel and pail for the 47th Annual Cannon Beach Sand Castle Contest  (June 18) or to fly a kite  at the Lincoln City Summer Kite Festival is (June 25-26).
3) The Oregon Coast gets a lot of props. They're even singing its praises all the way over in Colorado. Well, they were. The Denver Post metro editor Dana Coffield penned a piece on the Oregon Coast as part of a bigger travel feature on Oregon that ran in the paper last year. The Seattle Times just ran it themselves on Wednesday. Ten months later, sure, but the coast is still there, and probably still pretty much the same. The piece spotlights Oceanside and Yachats, so I can't argue with her taste in beachside towns.
4)For some reason, when I think road trip I think of Oregon. Maybe it's the five or six Oregon road trips under my belt, I don't know. Lora Shinn over at Cascadia Kids drinks the same Oregon road trip koolaid I do, though, and she's written up a nice little 5-day itinerary based on her family's latest trip. It starts in Mt. Hood, then gives you a few days of sun and outdoor adventure in Bend before heading west to Eugene. Fun!
5) Just found out I'm headed to Vancouver BC next weekend for a gathering of travel bloggers – can't wait! So I was all over this Visitor's Guide to Vancouver by Kristin Jackson in the Seattle Times yesterday. It was put together for folks headed up to the Stanley Cup and there are good links for getting there, tips on crossing the border, and a great suggestion for where to park outside the downtown core so you can hop a train into the city.