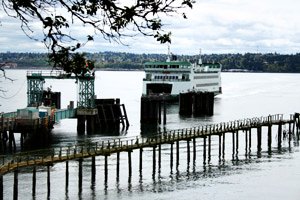 Summer isn't officially over, you know. In the Pacific Northwest, September is like August with a light sweater tossed over its shoulders. (Well, on some mornings that light sweater is a fleece hoodie.)
With three more September weekends ahead, I hope you're not applying the rain-x to your windshield just yet. Get out and enjoy the weather (with a sweater, of course).
Just a short ferry ride from Seattle is a rural oasis surrounded by water called Vashon Island.
On Saturdays, make your first stop the Vashon Farmer's Market for fresh produce, pumpkins, wine and crafts.
Get There: From the Fauntleroy ferry dock in West Seattle, the trip to Vashon takes a short 25 minutes (see ferry schedule). Once you drive off the ferry, head south on the island's main highway and drive until you pull into the small town of Vashon.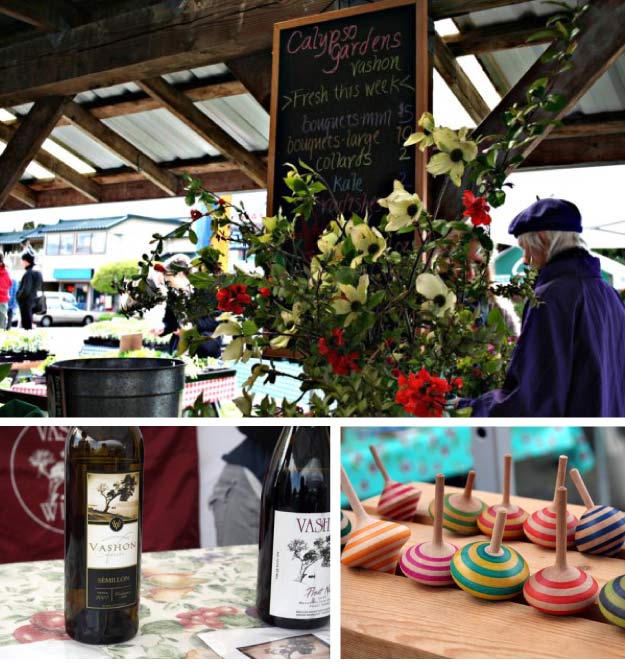 Shop Like a Local at the Vashon Farmer's Market. When you pull into town on a Saturday, you can't miss it. Locals flock here to buy and sell eight months out of the year; this market runs all the way into winter through December 15, 2012. Park anywhere downtown Vashon and walk to Village Green Park, just north of Bank Road on Vashon Hwy SW (see map). The market is open from 10am – 2pm.
In springtime, this is one of my favorite spots to buy vegetable starts for my garden, especially varieties of heirloom tomatoes. Come fall, it's the tomatoes themselves that are for sale, along with fresh flowers, squashes, local crafts and locally-made wine that you can taste before you buy. If Cliff is there selling bottles of his phenomenal craft beer you must try a bottle – but hit his booth early because he will sell out of them.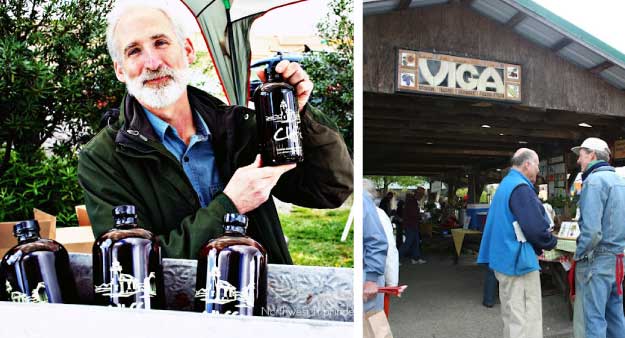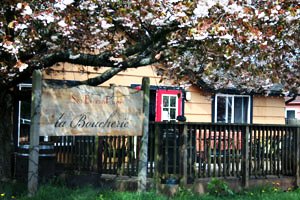 Eat Lunch.  If you've made reservations, head straight to La Boucherie, the farm-to-table restaurant run by Sea Breeze Farm (reserve a table at 206.567.4628). They offer a lunch and dinner seating with a prefix menu Wednesdays – Saturdays.
Otherwise, step into the Hardware Store Restaurant (17601 Vashon Hwy SW, 206.463.1800), site of a former – yep, hardware store. Grab a seat by the window and try the Smoked Salmon Benedict, Clam Chowder or a burger.
Play at the Beach. Head south to Maury Island. Pt. Robinson Park on its east shore beckons for beachcombing and kite-flying. Visit the historic lighthouse that has provided fog and lighthouse service for vessels since 1885 (automated since 1978). Shorebirds frequent the saltwater marsh here. Enjoy a picnic on warmer days – the view of Mt. Rainier on a clear day is stunning.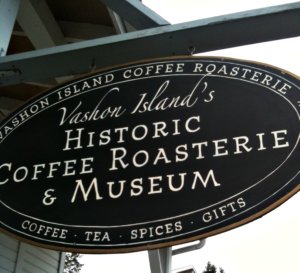 Fuel Up. Before you head back to the ferry terminal, you have to make a pit stop at the island's communal living room, the Vashon Island Coffee Roasterie and Museum. There's no better place to connect with Vashon locals, and inside are actual relics of Seattle's coffee craze beginnings. Order yourself a hand-pulled espresso drink and browse around to take in the coffee antiques on display alongside local art. In warmer months there's an ice cream stand on the back porch.
– – – – – 
Are you new to Northwest TripFinder? Discover more year-round getaways in the Pacific Northwest by subscribing to our RSS feed and our email newsletter. You can also connect with us on Facebook. Thanks for stopping by!