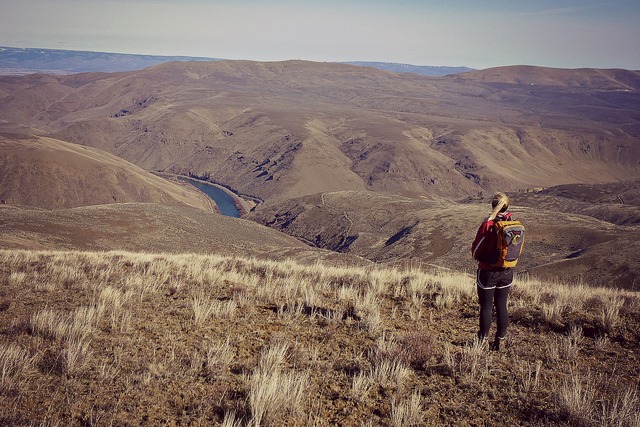 There's no better way to experience the natural splendor of our Pacific Northwest landscapes than hiking, and if you make a weekend of it you can squeeze in two hikes! Not into camping? Even a soft-bed enthusiast can hike a desert canyon or enjoy a creekside stroll without ever setting foot (or head) in a tent.
To many hikers, an overnight stay is their tent. But it's not a top choice for everyone, all the time. As much as I love camping, sometimes after an exhilarating, sweaty hike I want nothing more than a hot shower, a cold beer and a soft bed. You with me? Good, then read on for some seasonal day hikes (wildflowers! birds! sunshine!) paired with affordable places to stay in Central Washington.
Both Washington and Oregon have large swaths of desert steppe country on the east side of the Cascades. Colorful in places and intensely stark in others, these canyons and sagelands have lightly-treaded trails that provide much-needed relief for spring fever. This time of year, the steppe is warmer, drier, and under far less snow than the Cascades and Olympics. If you've not experienced the immense beauty of this desert landscape, you'll be dazzled by the colorful wildflowers, musical birds and mild springtime temps. Go in May or early June for the best displays of wildflowers and most active migratory birdlife.
Before you set out on a desert hike, there are a few things to keep in mind. Water is scarce on many desert trails, so pack in what you think you'll need and then some–it can be hot and dry out there and you don't want to get dehydrated. You'll need layers of clothing that can protect against harsh sun and wind, even on hot days. Pack sunblock, sunglasses and a wide-brimmed hat. The desert is tick country, so check yourself, kids and dogs thoroughly as soon as you return to the trailhead. Be aware of encountering rattlesnakes on or just beside the trail–the best prevention against surprising one is to make your presence known and to walk with a hiking stick to move brush or thump a rock before you step. Observe elk or bighorn sheep from a distance, taking care not to disturb them. Always pack the ten essentials in your backpack.
Some of the best desert hiking in Washington lies around Ellensburg and Yakima. Below are three of my favorite trails. All of these require you to have a Washington state Discover Pass for your vehicle. For dozens more trails like these, get the book Best Desert Hikes, Washington published by The Mountaineers Books. An added bonus of hiking in this region? Wine tasting after your hike!
Where to Hike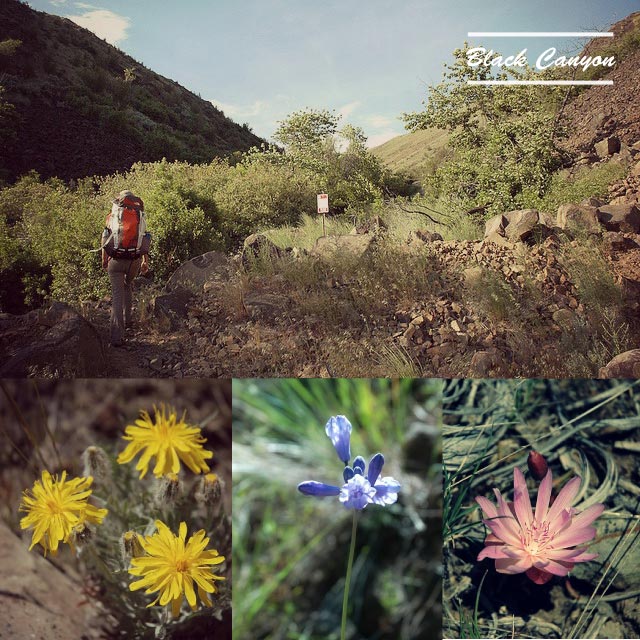 Black Canyon
L.T. Murray Wildlife Area southwest of Ellensburg. 7 miles RT, 1250 feet gain
Avid birdwatchers probably wish they could keep this special trail all  to themselves for the nesting Western Bluebirds, Yellow-breasted Chats and occasional Lewis' Woodpecker. But the word has gotten out about this stunning canyon, with its hillsides of colorful flowers and black basalt cliffs. Listen for the boom boom boom of the Ruffed Grouse, and keep an eye overhead for soaring falcons and hawks.
As you depart from the trailhead, you'll climb ever so gently up the canyon, the air fragrant with sweet cottonwood. Aspen leaves quake in the breeze. After a mile you'll see an old settler cabin on the left. When the trail splits, head to the right and climb a bit higher into the open Ponderosa Pine forest.  Eventually the trail settles atop Umtanum Ridge, a great turnaround spot. As with all of these desert hikes, tread carefully to protect the vegetation and avoid stepping on a rattlesnake. Oh, and check for ticks when you return to your car.
More information on Black Canyon: WTA's Hiking Guide and Trip Reports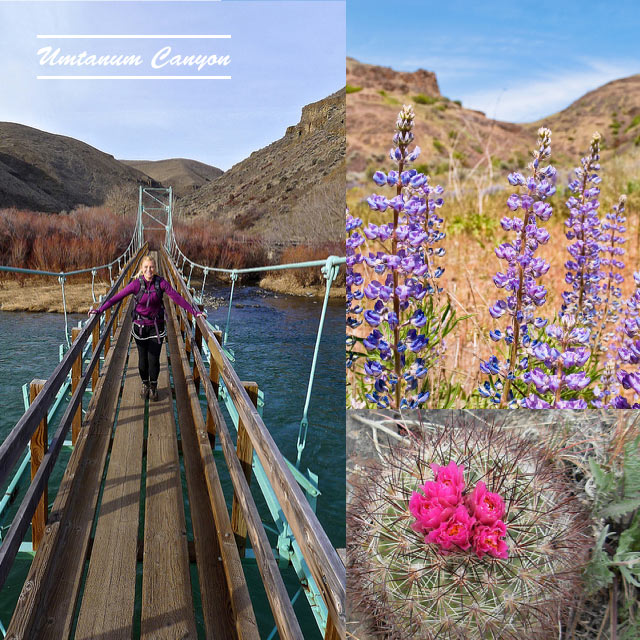 Umtanum Canyon
L.T. Murray Wildlife Area south of Ellensburg. 6 miles RT, 700 feet gain.
A perennial favorite of mine, the trail into Umtanum Canyon starts across a huge suspension bridge over the gently rushing Yakima River, and slowly winds its way up along Umtanum Creek. The smells of sweet sage and songs of migratory warblers fill the air. After about a mile, you'll have to do a rock-hop across Umtanum Creek–look for beaver activity in this area. Look up the steep hillsides for possible sightings of Prairie Falcons (they nest here) and bighorn sheep. A handful of tent sites make an overnight hike a possibility. The canyon narrows and becomes more wild and brambly as you go until it is too brushy for most to continue around 3 miles in–just turnaround at any point and head back to the trailhead.
For more information on Umtanum Creek Canyon: WTA's online hiking guide. Note: Although the hike is on state land, the trailhead  parking lot is co-managed by BLM there is a $5 per vehicle parking fee.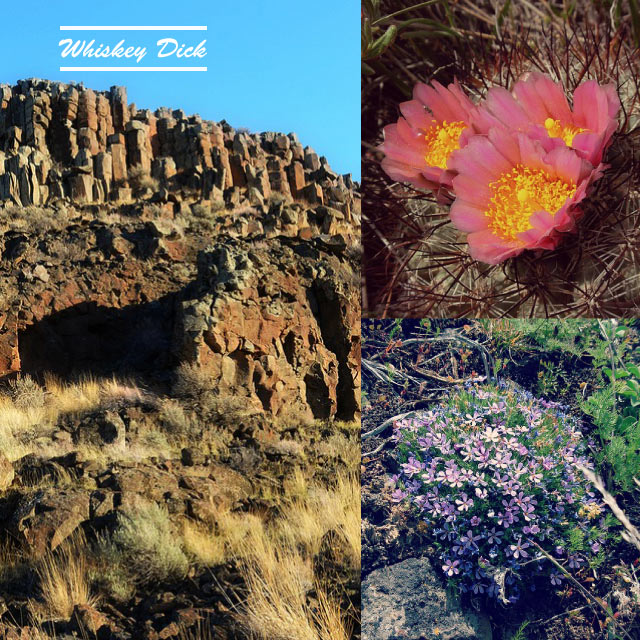 Whiskey Dick
Washington Dept Fish & Wildlife land northeast of Ellensburg. 8 miles RT, 1750 feet gain.
If you've never seen the brilliant and fluorescent fuchsia-hued flowers of the hedgehog cactus, this is your next hike.
The trail takes you along a ridge road across from Whiskey Dick Mountain, then down into Rocky Coulee before lifting you up again onto the east end of Whiskey Dick Mountain.  If you hit this trail at the right time, wildflowers carpet the desert floor before you, from the top of the ridge down to the coulee bottom. Blooms to spot include balsamroot, phlox, lupine, daisies, rock penstamon and many more.
For more information on this hike, visit WTA's online hiking guide.
Where to Sleep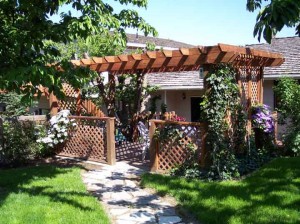 Looking for a kid-friendly B&B? Head to Orchard Inn B&B set in a charming cherry orchard in Yakima, in full bloom in April. Your fabulous breakfast is served in a sunny room overlooking the orchard–enjoy dishes like baked French toast stuffed with apricots from a tree right outside your window. Rates from $99.
Near Wenatchee, check out the Apple Country Bed and Breakfast on the Old Naches Hwy. During harvest season, your delicious breakfast is likely to include a special treat made with one of the several varieties of apples grown on the property. Rates from $79. 
Where to Camp
Then again, maybe a soft bed and hot showers are overrated. If you want to pitch a tent, check out the series of nice Yakima River Canyon campgrounds along Hwy 821 (Canyon Road) south of Ellensburg along the Yakima River. Big Pines (Bureau of Land Management) is the largest of the campgrounds, with onsite access to hiking trails, trout fishing, swimming and river rafting. $15 nightly. Reservations accepted for May 15 – Sept 15 at recreation.gov or 1-877-444-6777.
Top photo: Hiker on Umtanum Ridge by Monty Vanderbilt. Black Canyon hike photos by Steve Wilson. Umtanum lupine by Richard Cassan. Hedgehog cactus by brewbooks. Umtanum bridge by Monty Vanderbilt. Whiskey Dick Canyon by Dutchman SVH, Cactus flower and phlox by brewbooks.