I've got a thing for Puget Sound islands. I love driving up that clanky ferry ramp, then feeling the Northwest wind whipping around me as I get out of my car and head up to the top deck for a coffee. I love sipping my drink as I watch the mainland drift further and further away. Soon, Ciscoe is talking to me over the ferry loudspeaker about the whereabouts of those trusty lifejackets, should they ever be needed, and all is right with the world.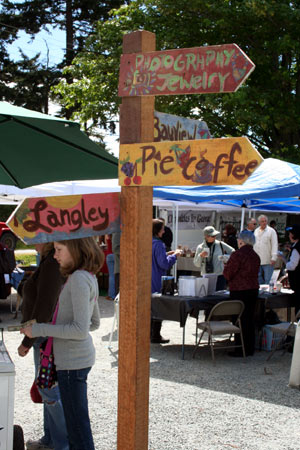 I've visited quite a few of these emerald gems. Vashon. Fox. Orcas. Lopez. Camano. San Juan. Lummi. Whidbey. Bainbridge. And boy, do I envy the "residents." They've got it made, I think to myself, with their fresh brown eggs and their farmer's markets and their cottage gardens and their pottery studios. Someday, I think, I'm going to be one of them. I will! But for now, I'm a visitor. And in my experiences, a welcome one.
My family just spent a fantastic weekend on friendly South Whidbey, one of those quick, hassle-free weekend getaways that got us well out of the city without so much as an hour of driving. Tourist season was still officially around the corner, but we had a one-ferry wait nonetheless (not a prob with Ivars right there at the Mukilteo dock for all of our dinner needs.) Anyway, the hassle with a getaway such as this often comes before you even leave your house, when you've got to find a great place to stay. Well, next time you're headed to the south end of Whidbey Island, go ahead and check that one off your list. You see, I've found the perfect place for you, whether you're on a family getaway or a romantic weekend. It's Carol Lee's Attic, just north of the town of Langley on Saratoga Passage.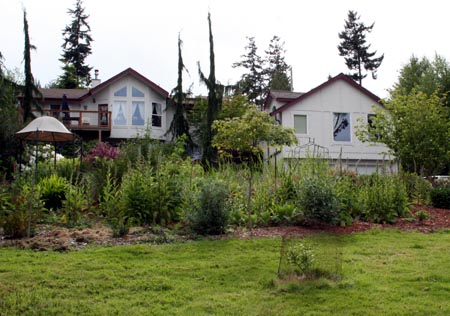 First of all, let's dispel this notion of what you might encounter in an "attic"…  things like darkness, low ceilings, small windows, spiders; Carol Lee's Attic is nothing like this. In fact, if I were Carol and Roy Bingman, I think I would rename the attic to loft, or even sanctuary. This entire second story of Carol and Roy's detached garage building (that's the "attic" in the photo above, on the right) is a beautifully-furnished apartment, tastefully-decorated in the style of English Country. The space is huge and full of light, with high ceilings and grand windows and lovely views of the Bingman's cottage garden and Saratoga Passage beyond. As soon as we stepped into the guest house, I knew we'd stumbled upon a place that was very special.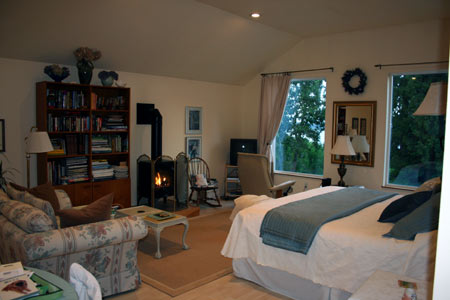 Some B&B hosts have a real talent for anticipating a guest's every need. Carol and Roy could write a book on this! They knew we'd have a toddler in tow, so Carol had thoughtfully placed a safety screen around the gas stove, and set out a stack of kid's books. The bookshelves are stocked with a variety of books and magazines, and there are plenty of DVDs to watch, from comedies to documentaries. We always travel with music for Isaac to listen to– always, except for this time. Fortunately the attic's CD collection included a Pink Martini CD. In other words, the guest house is fully-stocked with pretty much anything a guest might need or desire, from chamomile tea to dental floss.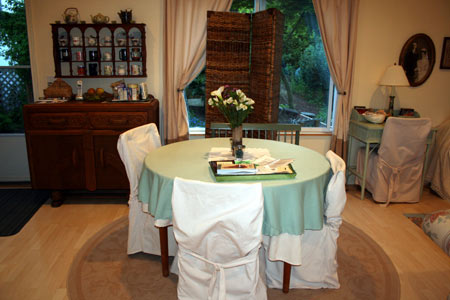 Carol Lee's Attic is a B&B, and the guest house kitchenette (sink, microwave, fridge, toaster oven, coffeemaker) was stocked with breakfast items, from delicious quiche and fruit to milk and cereal. We loved this arrangement – it allowed Brian and I to enjoy a leisurely breakfast without having to keep Isaac entertained. We let the DVD player do that!
And then, there was the bathroom.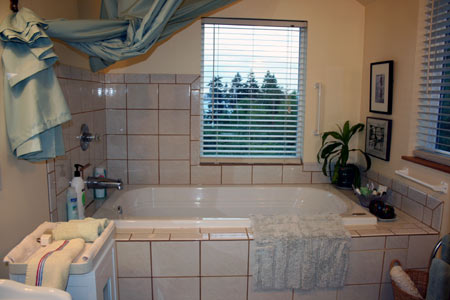 See that awesome tub? That's a Jacuzzi. And that view out the window? Yep, that's the water beyond those towering Douglas firs. Bald eagles and Great Blue Herons swoop by on a regular basis. I spent a fair amount of time in here.
Carol Lee's Attic welcomes children and pets by pre-arrangement. The guest house has a king-size bed and a trundle bed that can be made into two twins. Four guests maximum. The daily rate is $95 plus tax (add $25 for a single-night stay, add $25 if you use the trundle bed).
Info: 360-730-1955 or email info@carolleesattic.com.