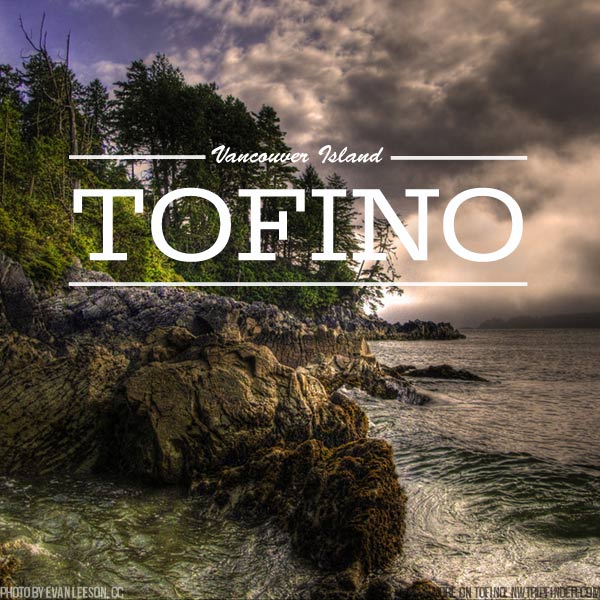 Catch a winter storm or get a head start on summer crowds – both are great reasons for an off-season escape to Tofino on the dramatically wild western edge of Vancouver Island.
Well off the beaten path, Tofino sits on a narrow spit that juts into Clayoquot Sound, surrounded on three sides by saltwater and emerald islands. I'll hold back on the superlatives that come to mind when describing this part of Vancouver Island, and will just say it's a landscape more stunning than perhaps any other on the Pacific Northwest coast.
The journey to Tofino, though beautiful and varied (it's bisected by a lengthy ferry crossing), is a long haul and not for the jaunty weekend traveler (that is of course unless you can afford to go by seaplane, see Getting There below). I'd suggest saving it for an extra-long weekend, allowing three or four days. If you have the time to go now, Tofino will have the vacancy, at least until summer is in full swing. Then, it's a different story.
Tofino was built by loggers and fishermen, though today you're more likely to spot a local carrying a surfboard through town than a fishing pole. Art galleries and fish shacks line the town's few short streets. Most of the action happens just outside of town, from combing the sandy beaches of Pacific Rim National Park to dipping in island hot springs or spotting grey whales from a tour boat. After all, a sampling of the great outdoors is exactly why you come here.
THINGS TO DO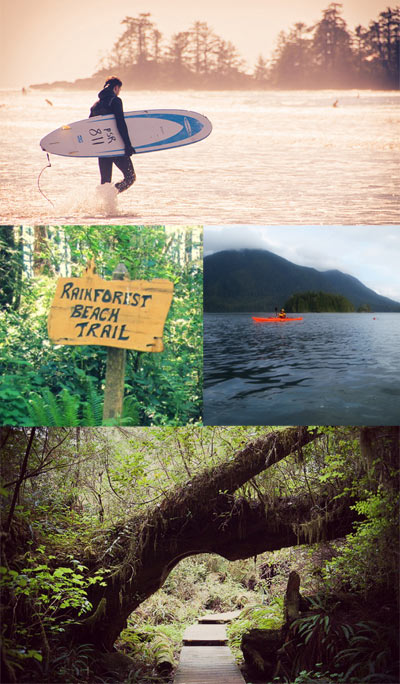 Hit the beach. South of town is Long Beach, a 10-mile swath of sand that stretches out like saltwater taffy, sprinkled with families, frolicking dogs and surfers. Stretch your legs on a beach stroll, combing the sand for shells and other treasures. Be sure to keep an eye towards the horizon for passing whales. Long Beach is within Pacific Rim National Park Reserve (2040 Pacific Rim Highway) and requires a parking fee ($5 adult/$2.50 youth).  If you don't wish to pay or are short on time, an alternative stretch of sand is Chesterman Beach, perfect for a post-dinner sunset stroll.
Take a hike. For a quick jolt of nature set out on the Rainforest Beach Loop Trail, an easy hike on wooden boardwalk within Pacific Rim National Park.  The hike comprises two short loops on either side of the Pacific Rim Highway (each about 1 km long) that wind through ancient cedar trees atop a carpet of moss and fungi. Interpretive signage along the way tells you all about the critters and habitat evolution of the coastal temperate rainforest ecosystem. Park at the trailhead, which sits about 16 km south of Tofino.
Surf some gnarly waves. Tofino is the surfing capital of Canada, and National Geographic named Tofino as one of the best surf towns in the world. With a coastline that's 35 km long, there's plenty of room for everyone. Surfers must wear wetsuits, booties and gloves to stay warm in the water that's typically about  10°C/50°F (the water stays close to the same temp year-round.) You can surf all year here, but winter is particularly appealing for a strong, pretty consistent swell. No gear? Pacific Surf School is one of a few places you can rent a board and wetsuit, and for beginners they host a 7-day summer surf camp.
Take a dip into natural hot springs. A chartered boat ride can transport you from the dock in Tofino to Hot Springs Cove in Maquinna Marine Park for a thermal mineral dip. Get off the boat, take a short hike through the woods and you're there–a 109-degree waterfall and cascading pools, refreshed by incoming tides.
Go whale watching. Want to see a massive gray whale? How about a humpback or pod of orcas? April and May are among the best months for spotting them, though you have a chance at seeing whales year-round here. Several experienced outfitters would be happy to take you out in a boat for some whale-watching-just ask about booking a trip at your hotel or check with tourismtofino.com. For the most bang for your buck, combine your whale-watching boat trip with a stop at Hot Springs Cove (see above).
Take a First Nations paddle tour. The Nuu-chah-nulth First Nations have made Clayoquot Sound their home for several thousand years. Take a guided paddle trip in a traditional dugout canoe out to Meares Island and the Tla-o-qui-aht Village of Opitsaht. Book a 4-hour canoe/hiking trip through T'ashii Paddle School (tofinopaddle.com), a First-Nations owned outfitter that guides phenomenal cultural canoe tours from Tofino across scenic waters to Meares Island and back.  The cost is about $80 per person. 
WHERE TO STAY
Tofino is a small town, but a major tourist destination and therefore has plenty of hotel rooms, many that face the ocean. Lodging rates take a huge dive in winter months, so if you're on a tight budget, go in the off-season or bring a tent and go camping. The coast of Tofino is lined with nice family-friendly resorts; it's hard to go wrong here. Below are a few of our top recommendations.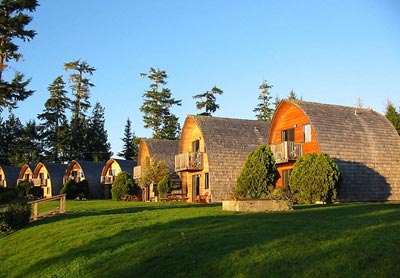 Ocean Village Beach Resort – If the smurfs came to Tofino, they'd stay here. Accommodations are cute, slope-roofed cabins that look like brown mushrooms, all lined up in a row with windows facing the sea. Choose from 1 and 2-bedroom cabins, studio cabins, or garden suites. The cabins are a great value for what you get, and you'll save even more money if you eat in – you'll have a full kitchen, after all. Every room and cabin is just steps away from the white sandy beach and tide pools. Read Reviews | Book a Cabin
Long Beach Lodge Resort – This family favorite sprawls on a sandy stretch of beach and offers affordable rates, especially given the great amenities like a communal great room perfect for evening board games and surf watching, raincoats and umbrellas for those unexpected downpours, heated bathroom floors and a continental breakfast. Choose from lodge rooms or cottages (the better bet for families). Read Reviews | Book a Room
Wickaninnish Inn – If your budget allows, book a room at the luxurious Wickaninnish Inn on Chesterman Beach. Service is outstanding and the setting is phenomenal (the inn is built on a rocky point, perfect for watching the sunset or the storm, depending on the season.) The inn even has its own Lookout Library with books, quiet corners and historic artifacts. Stop by Henry Nolla's Carving Shed to watch carvers using the same First Nations techniques used throughout the Inn. Parents will love the complimentary childcare when dining at The Pointe Restaurant. Read Reviews | Book a room
Camp at Green Point, Pacific Rim National Park – Green Point Campground is the only campground in the Pacific Rim National Park Reserve. Campsites are nestled on a bluff in the lush woods, and short trails guide you down to the beach below. Walk-in sites offering a bit more privacy than drive-in sites. In the high season of summer, reservations are essential – call 877-737-3783.
WHERE TO EAT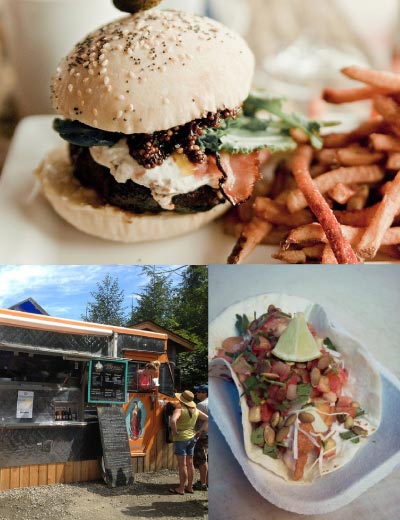 SoBo (311 Neill St) A bohemian bistro that serves up delicious comfort food, often with locally-sourced and even foraged-from-the-wild ingredients. Locals love this place, so you know travelers will, too. Try the bison brisket ravioli, a thin-crust wood-fired pizza topped with exotic mushrooms of your choosing, or the spicy clam chowder.
Wildside Grill (1180 Pacific Rim Hwy) Hit up this family-friendly spot for breakfast tacos or huevos racheros in the morning, or grab an oyster burger with a side of poutine for lunch. It's especially popular with locals for panko-crusted fish & chips and Baja-style fish tacos.
The Pointe Restaurant (500 Osprey Ln) Splurge for a meal here if you can, even if you're not staying at the Wickaninnish Inn. The post and beam dining room is literally perched on a rocky point with the surf churning all around it. It's sublime. The Pointe is known as one of Vancouver Island's finest restaurants, and it's hard to make a wrong choice on the menu, though the Pacific Rim seafood dishes are particularly good and the clam chowder is outstanding. Even brunch fills the tables, so reservations are essential.
Tacofino Cantina – It's a basic food truck parked in a gravel lot just off the Pacific Rim Highway, and the most fun place to stop for a quick lunch in Tofino. Oh, and the food rocks. Come hungry and try several tasty taco creations, from yam tempura to tuna with chipotle. Wash it all down with a mango coconut drink. There is simply no better place to fuel up before an afternoon stroll through the rainforest. 

GET THERE: Travel time to Tofino from Vancouver is about five hours. Located at the end of British Columbia Highway 4 on Vancouver Island, you won't happen upon Tofino accidentally. The trip takes a bit of planning, including a ferry crossing to Vancouver Island that may require reservations (we take BC ferries from Tsawwassen south of Vancouver over to Nanaimo – see the schedule). Remember, Americans will need a passport to cross the border into Canada. The scenic ferry crossing is about two hours–keep an eye out for orca whales as you cross the Salish Sea.
Once on Vancouver Island, from Nanaimo go north on Highway 19 for 43 km (26 miles) to the Parksville area, then take Exit 60 onto Highway 4. Hungry? A popular pitstop here is the Coombs Country Market for pastries and poutine. There's delicious ice cream in the back, and there are goats on the roof! Consider a stop to walk among giant old-growth Douglas Fir at Cathedral Grove Provincial Park (the short nature trail is right off the highway) or continue on towards the historic town of Port Alberni (drive straight downhill and turn right at the junction). The road will take you westward around some very large lakes (first Sproat Lake then and Kennedy Lake) before you finally reach the island's west coast and a junction between Tofino (to the north) and Ucluelet (to the south). For this trip, turn north (right) towards Tofino, 28 km (17 miles) up the road.  You can also leave your car behind by hopping onto a daily scheduled trip with Tofino Bus, which picks up in Victoria, Nanaimo and Parksville.  
And lastly, you can fly to Tofino via seaplane. See info here.