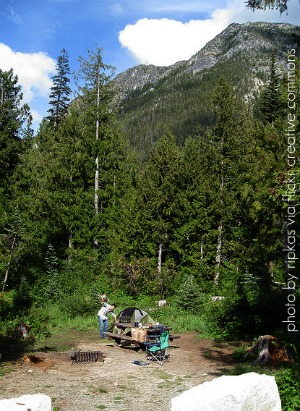 Lone Fir Campground is off Highway 20 in the Methow Valley, just west of Mazama and about 27 miles west of Winthrop.
Although this campground is not far off the highway, it's beautiful and is in a great location for nearby hiking trails into North Cascades National Park and the Pasayten Wilderness. Early Winters Creek runs right through the campground.
The family-friendly Lone Fir Trail (2 miles round-trip) leaves from a trailhead in the campground.
This campground is located at just over 3,600 feet in elevation, so it's covered in snow during winter months and melts out a little late in the season.
location: Okanagan-Wenatchee National Forest near North Cascades National Park
map and directions
campground website | (877) 444-6777
campground type: national forest campground
rates: $12
features: 27 sites, mostly tent sites. Pit toilets. No reservations, all sites are first-come, first-served. Camp here June/July – October.