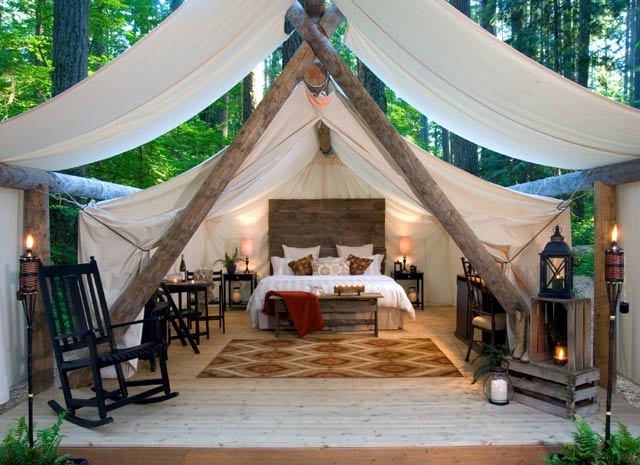 Are you longing for the nature and tranquility you experience when camping in the woods, but aren't too keen on the "roughing it" part? Go into the wild in style.
A new luxury camping option has just opened its canvas cabin doors. Pampered Wilderness offers two deluxe cabins set in the lush, old-growth forest at Millersylvania State Park. And the best part? It's an easy drive from both Seattle and Portland.
Choose from the Rustic Retreat Cabin or the Safari Suite Cabin. Both are beautifully-decorated and full of charm on the inside, with a wide porch to enjoy the fragrant fir forest and sounds of nature on the outside. And each cabin offers a slew of sweet amenities that take the edge off camping.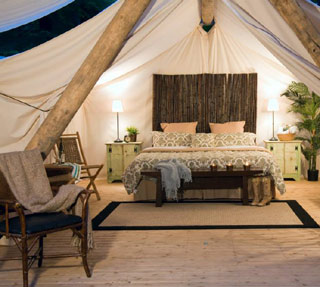 What it is: Camping in luxury, also known as "glamping" (glamorous camping).
Who it's for: People who love nature and a plush king-sized bed.
Location: Millersylvania State Park south of Olympia – see directions below.
The vibe: Luxury safari meets Cascadia old-growth.
Forget about: Pitching a tent.

Pampered Wilderness is ready to host guests now, and has plenty of availability in the summer of 2014. Here are all the details you need to know before booking your cool camping getaway with them.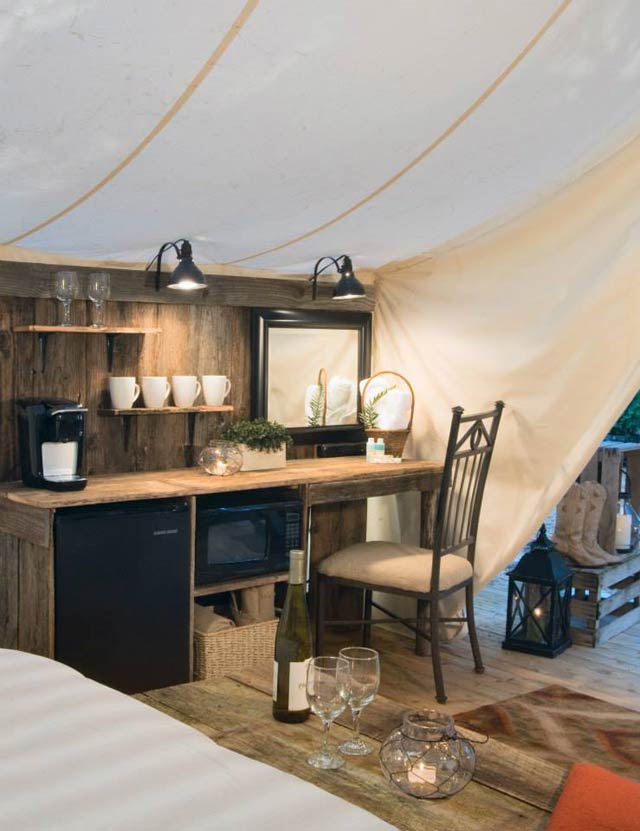 What are the cabin amenities? As you can see from the photos, the cabin interiors are beautiful. The interior has electricity and is well-lit with lamps, and there are plenty of candles for romantic lighting, too. The king-sized bed has a memory foam mattress and fluffy comforter to keep you snug. A fireplace and electric heater keep the cabin cozy on cool summer evenings. There's a vanity table with electrical outlet. Dine on the table with place settings for four. Keep snacks and drinks in the mini fridge, and there's a microwave oven. Outside of the cabin is an outdoor fire pit and a Bar B Que with utensils for grilling up a fabulous dinner. Pampered Wilderness provides a coffee maker with coffee, juice, muffins and fruit for breakfast, gourmet popcorn and all the fixings for s'mores!
Where are the bathrooms? You have to leave your cozy cabin to use the state park restrooms and coin-op showers, but the scenic stroll to the bathroom is a short one.
What is the nightly rate? The cabins rent for $144.50 (+ tax) per night (double occupancy), and there's a two night minimum. Additional guests are $25 per night. The cabins are in a Washington State Park, so there is a $10-per-vehicle daily entrance fee (or you need an annual Discover Pass which gets you into all the parks in the state for a whole year). Check in is at 3pm, check out is at noon.
Can I bring my pet? The cabins are pet-friendly –  just requires a $100 refundable pet deposit.
Can I bring my kid? Children are welcome and families may choose to bring a camping cot for a child or pitch a camping tent just outside the cabin.
What is so great about Millersylvania State Park? This historic 842-acre park is nestled in old-growth cedar and fir trees. The park encircles Deep Lake, an attractive body of freshwater for kayaking, swimming and fishing. The park has more than 6 miles of hiking trails that zigzag here and there, so you are able to construct a short or long hike. Boardwalk has been constructed to keep your boots dry as you hike through the wetland areas, great for spotting birds. Be sure to check out the park's structures, courtesy of the Civilian Conservation Corps in the 1930's.
What is there to do in the area? Beyond the park boundaries, you will find small town charm in nearby Tenino. Make a stop at the tasting room at Scatter Creek Winery and sample locally-made candies at Aunt Kate's Chocolates. Tenino has an historic downtown, antique shops and the Tenino museum and quarry famous for its sandstone. Pampered Wilderness has a page devoted to local things to do.
Who is Pampered Wilderness? Ryan and Tammy Johnson dreamed of creating an opportunity for people to experience the great outdoors who didn't have camping gear or weren't keen on roughing it. This summer marks the debut of Pampered Wilderness, making their dream a reality. They've leased two beautiful sites from the state at Millersylvania State Park near Tenino and built the spacious tent cabins, ready to host your next hassle-free getaway in nature.
How do I reserve my stay? Pampered Wilderness takes reservations online here. You'll find them on Facebook here.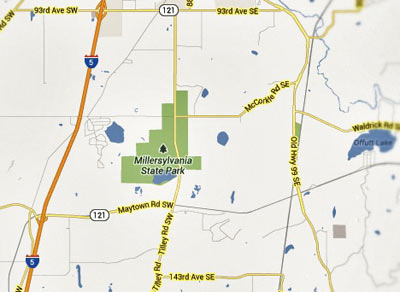 The Pampered Wilderness cabins are located inside Millersylvania State Park south of Olympia, Washington. The driving distance from Seattle is 71 miles, and drive time is about one hour and 15 minutes. Click here for a map and driving directions from Seattle. The driving distance from Portland is 106 miles, and drive time is about one hour and 45 minutes. Click here for a map and driving directions from Portland.
……
This post was sponsored by Pampered Wilderness. It was written by me, Lauren Braden, and all the words and opinions are my own. Northwest TripFinder is selective in choosing sponsorship partners because it is essential to us that our readers will find the topic valuable. I hope you enjoyed this post. Thanks for reading!