Now is the time to plan your June getaway in British Columbia – and there are so many fine reasons to do so. Jazz, blues, and fusion, just to name a few! Enjoy plenty of free or low-cost performances while soaking up some Northwest culture. The neatest part is – you can easily take one of these B.C. getaways (or both) without ever setting foot on your car's gas pedal.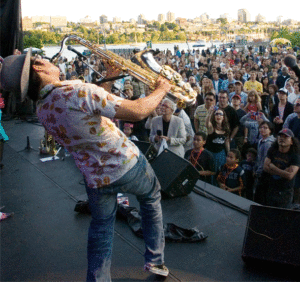 From almost anywhere along the I-5 corridor, hop on an Amtrak train to Vancouver for the Vancouver International Jazz Festival, put on every summer by the Coastal Jazz and Blues Society, June 20 – 29. It's huge, featuring 1800 performers (including some of the world's best jazz, blues, Latin and fusion performers) on indoor and outdoor stages, from concert halls and clubs, to parks and plazas and even neighborhood streets throughout the city. More than 400 shows take place during the Festival's ten days, and a whopping 130 of these are FREE. Check out performances from notable artists like Herbie Hancock, Jesse Cook, Dave Brubeck, Maceo Parker, and a whole bunch more.
Where to stay? We blogged about Cheap Sleeps in Vancouver awhile back. Book now, though! This will be a busy week for Vancouver lodging.
That same week, the city of Victoria hosts its JazzFest, a lower-key affair with 80 great performances, mostly free admission performances during the daytime (there are also ticketed and cover charge performances scheduled in various theatres, clubs and restaurant venues in the evenings.) Workshops by visiting musicians will also be available. What's going down? Check out groups like Portland-based Pink Martini, Victoria's own Flora Scott Quintet, and all the way from Oslo, the sultry nu-jazz duo Beady Belle.
Getting to Victoria by boat is pretty easy. Hop on a ferry from Port Angeles to Victoria, a ferry from Anacortes to nearby Sydney, or take the Victoria Clipper from downtown Seattle. An option I'd not heard of previously are Victoria San Juan cruises that sail from Bellingham. Where are you going to lay your head at night? My two favorites cheap sleeps in Victoria couldn't be more different – one is a comfy B&B and one is a rockin hostel, and both are fabulous. Check out Marketa's Bed and Breakfast (starting at $65 / night for shared bath). Why so great? The location (just steps from downtown), the nicely decorated rooms, a gourmet breakfast, the wonderful owner and host, and the reasonable rates. This place is a top choice for a romantic getaway or family vacation. Also try the Ocean Island Backpacker's Inn on the hip Pandora Avenue just north of downtown. Ocean Island is widely considered to be one of the best hostels in the Northwest – not just for their nice accommodations and great downtown location in Victoria, but for capturing an organic community vibe that many hostels strive for, but fall short. They offer small dorm rooms, private rooms, and plenty of private, shared bathrooms on each floor. The staff are totally friendly, knowledgeable and helpful. A great place to stay for all ages, especially the young and young at heart.
Do you really love jazz? Take in both festivals. B.C. Ferries sails from Vancouver, B.C. through the Gulf Islands to Swartz Bay, 20 miles north of Victoria.
Remember, if you're from the States, you're going to need your passport, or a driver's license and birth certificate to prove citizenship.