Many states claim to "have it all" on their tourism brochures. In the case of Washington, it's really true!  We've got mossy forests, sandy beaches, saltwater inlets, mountains and volcanoes, and even desert landscapes. And that's just for outdoorsy types! From Seattle to Spokane, you'll find great urban getaways, too. Not to mention several wine-producing regions.
Where do you want to explore in Washington? Click a region below to get started.
Not sure where to go? Discover your next trip to Washington based on the type of traveler you are!
The Tree Hugger

Do you like your beaches a little rough around the edges? How about a rugged mountain range, a temperate rainforest, the nation's longest natural sand spit, and miles of wild coastline?

Head to the Olympic Peninsula.

The Island Hopper

Do you seek deep tranquility and intense beauty in your travels? These emerald gems of rugged bluffs and hidden coves are one of our favorite romantic or rustic getaway destinations.

Visit the San Juan Islands.

Lover of Flowers

Looking for a romantic getaway with a little adventure? Snow-capped Mount Baker looms over a pastoral land of fertile farms, colorful flowers, and charming seaside towns.

Check out the North Sound.

Go with the Flow

Want an easily-accessible island getaway? Love to browse farmer's markets and art galleries? Here you will find scenic bluffs, wind-swept beaches, and swatches of forest patchworked with quaint seaside towns, all just a short trip from Seattle.

Visit Whidbey and Camano Islands.

Water Everywhere

For water lovers, the many fingers, inlets and islands of the Kitsap Peninsula could potentially offer a lifetime of tidepool exploration – there's more than 300 miles of scenic shoreline in all. Includes islands like Vashon and Bainbridge.

Go to the Kitsap Peninsula and Bainbridge Island.

Urban Naturalist

Are you a coffeeshop dweller? A city park jogger? A public market shopper? A people-watcher? Welcome to Seattle, a small city with some big-city culture, from a world-class ballet to world-renowned coffee.

Go here: Seattle.

Art Seeker

Not far from Seattle are two towns that own place on the map for their unique settings, artful cultures and great neighborhoods. Art is not just ensconced in Tacoma's galleries and museums – it's right on the street. Olympia is both a government and college town, and full of energy.

Try South Puget Sound.

Lover of Mountains

There's a reason people come from the world over to see it. Mount Rainier National Park and its gateway communities are truly special, and a must-visit for both casual and die-hard lovers of majestic mountain landscapes, waterfalls and carpets of wildflowers.

Head here now: Mount Rainier.

Sand and Volcanoes

The closest Washington comes to having a beach culture will be found on its south coast, in places like the Long Beach Peninsula and Ocean Shores. Inland is Mount St Helens National Volcanic Monument, one of the wonders of the world and the star attraction of this region.

Go to Southwest Washington.

Drawn to Rivers

Like to hike to gorgeous vistas? Scoured by glaciers during the Ice Age, the Gorge is breathtakingly beautiful. Windsurf on the mighty Columbia, dip into mineral hot springs near Carson, and taste some of Washington's best wines.

Go to the Columbia River Gorge.

Wild and Scenic

Are you drawn to intense beauty, world-class recreation and wonderful communities? Rugged terrain rewards with craggy, snow-capped granite peaks against miles of blue sky. This is the majestic North Cascades.

Visit the North Cascades.

Glass Half Full

Do you know your terroir? Head to Yakima for Washington's biggest grape-growing region, where warm-climate grapes produce rich red cabs. But it's not just warm summers – the Yakima Valley's unique geography and soils combine with the climate to create the region's perfect conditions for its world-famous wines.

Visit the Yakima Valley.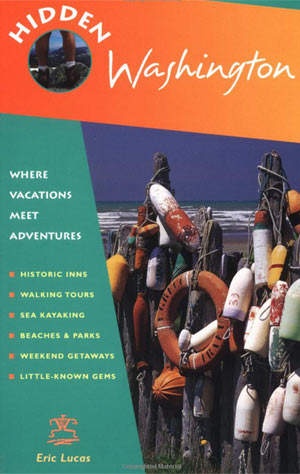 Hidden Washington: Including Seattle, Puget Sound, San Juan Islands, Olympic Peninsula, Cascades and Columbia River Gorge by Eric Lucas
The Hidden guidebook series is one of our favorites, loaded with all of the established tourism haunts yet peppered with local, unique finds.