Scattered across the eastern Strait of Juan de Fuca in Washington state are the San Juan Islands. These emerald gems of rugged bluffs and hidden coves are a favorite for rustic family getaways and romantic excursions. Four of the 172 islands of the San Juan archipelago are accessible by Washington State Ferries: San Juan Island, Orcas Island, Shaw Island and Lopez Island.
Destinations
San Juan Island  |  Orcas Island   |   Lopez Island   |   Shaw Island

View Northwest TripFinder in a larger map

The San Juan Islands are a popular travel destination, especially in the summer months of July and August. While a last-minute getaway is entirely possible here in the off-season, advanced planning of your getaway during July and August is essential, especially on weekends. The ferry wait times can be brutal to the islands on Fridays and back from the islands on Sundays, and the system does not accept reservations. Arrive early and have games and books in your car to entertain yourselves during these wait times. Also, you should book reservations for your overnight accommodations on the islands well ahead of time during the summer months.
For the budget traveler, a visit to the San Juan Islands can be a challenge but is not out of reach. Lodging trends a bit more expensive here than in the rest of the state, especially in the high season. The ferry crossing is costly with a car. Still, affordable lodging options can be found on all three of the bigger islands (San Juan, Orcas and Lopez) and it is easy to visit San Juan Island without a car, saving a bundle on the ferry crossing.

Getting There
You can reach San Juan Island via the Washington State Ferry system. Ferries depart from Anacortes in Skagit County. There are also a handful of float plane operators that can take you to the San Juan Islands from Seattle.
Related: In what order should we visit the San Juan Islands? 
San Juan Island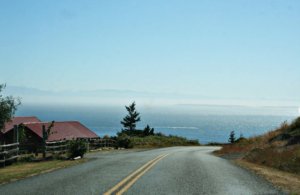 Do you like pastoral landscapes backdropped with stunning ocean views? Even the views from rural roads on San Juan Island will take your breath away.
Of the four ferry-served islands in the archipelago, San Juan Island is the most populated and tourist-friendly. It's also the only one that is easy to visit without your car–after an hour-long ferry crossing you'll be dropped off smack-dab in the middle of Friday Harbor and its dozens of restaurants, great lodgings, parks, shops and views.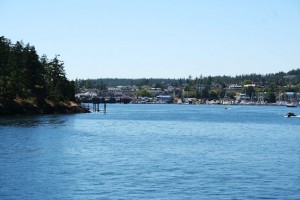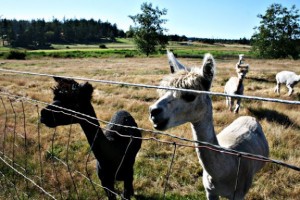 Friday Harbor is San Juan Island's only true town, the hub of the island, and its got everything you need for a few days of experiencing island life like a local. (But beware – many of the island's residents fell in love with Friday Harbor during their very first visit, and the real estate storefronts downtown are hard to resist.)
Take a paddle in a kayak that you can launch right downtown (or opt for a guided trip – you'll find kayak guides in the map above). Shop for antiques, browse bookstores, sip mochas, sample shaved ice and nosh on tacos. And after you've had the perfect island town day, Friday Harbor has plenty of fine and casual dining options. (Our San Juan Island Trip Guide has some of these suggestions and more).
Beyond Friday Harbor, this island possesses a unique rural beauty that is unrivaled with lavender farms, coastal parks, and serene landscapes. Allow your senses to be wide open when you visit this special place. Views from some of the islands rural roads are unparalleled–we're talking million-dollar views. Art is everywhere, in various forms–blown glass, beautifully-designed gardens, unique pottery, and more. Cuisine is fresh and local and delicious. And the local folks are friendly and welcoming.
On the island's northeast corner sits Roche Harbor, a very small and gorgeous town with waterfront restaurants, a resort and an historic hotel, and a very picturesque marina.  Don't miss the San Juan Islands Museum of Art Sculpture Park nearby where over 100 sculptures are on display in a natural park.
Summer is stunning on San Juan Island, but spring, summer and fall are wonderful seasons to visit on a budget and it's "rain shadow" geography may even provide you some sunshine in the depths of the Northwest's grey winters.
If you walked onto the ferry, you don't have to feel stuck in Friday Harbor. If bicycles or mopeds are your thing, see San Juan Island's rural beauty and waterfront state parks that way – there are a few places in Friday Harbor that rent them. Mopeds are pricey on the hour ($30 – $60)  but a better value for the whole day ($70 – $140) and the higher-priced option can seat two people. The cheapest option for getting around the island car-free is San Juan Transit, where an all-day pass will cost you $15.00 ($5.00 for 12 & under).
Related: Read our San Juan Island Trip Guide
Orcas Island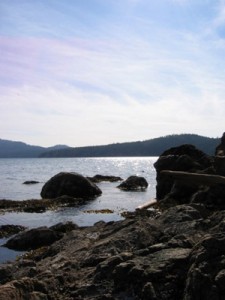 What can we possibly say about Orcas Island that hasn't already been said? It's a lush island in a stunning sea with breaching whales.
Many people assume Orcas Island's name comes from its unique shape that resembles a breaching orca whale. In fact, it was named by Spanish explorer Francisco de Eliza who charted the islands in 1791 and named several places in the archipelago including Orcas Island, whose name is a shortened version of Horcasitas, which was the Viceroy of Mexico's surname.
This pastoral island is patchworked with swatches of working farmland and small island villages. The largest of the San Juan Islands, Orcas is about 60 square miles, but you can cover the main roads by car in just a few hours. That is, unless you pull over every time you see a sign that says "Pottery." (I've obtained my favorite coffee mugs and serving bowls this way.)
The main village on Orcas, Eastsound, has good restaurants, groceries, antique shops and a bookstore.  Moran State Park even has its own mountain you can hike to the top of (Mount Constitution) with a view from the top you have to see to believe.
Truly, it's  one of the most beautiful places in the Pacific Northwest. And if you haven't visited yet, well then you really must go.
Lopez Island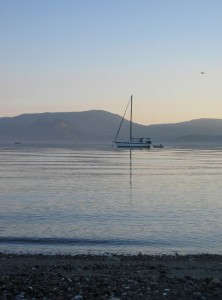 Some Washington locals claim Lopez Island as their favorite of the San Juans, and it's easy to see why. At almost 30 square miles in land area, the island has only about 2200 residents. It is rural, beautiful, and hosts several parks and public waterfronts.  The slow pace of life here draws you in, making for a truly relaxing island getaway.
A flat landscape and rural roads make it incredibly bike-friendly, too. If you're up for it, head to Lopez via the ferry with only your bikes, and cycle around as your transport. But should you have a car, don't be surprised when passing cars raise a friendly hand to you as you pass. The best way to blend in (and get on island time) is to raise a hand for a friendly hello right back.
Spending the night? Stay at one of the island's friendly B&Bs or campgrounds.
While it's a bit of a toss-up which of Lopez Island's two laid-back waterfront campgrounds nudge above the other in greatness, I'll go with Spencer Spit just for the setting. Situated on the northeast corner of the island on a sand spit that encloses a picturesque lagoon, the campground within this 138-acre state park includes seven walk-in campsites (sites 44-50) right on the beach. Whether you are fortunate to snag one of these campsites or you end up with a roomier one up on the bluff, you'll enjoy hours of fun exploring the tidal areas and walking along the sand spit itself. Note – the beachfront sites offer no privacy whatsoever–you trade that for the view and setting. The seven sites are literally separated from one another by a suspended boundary rope.
The other Lopez Island campground is a great alternative; Odlin County Park is a short distance away and also has beachfront sites.
You can advertise your tourism-related business on Northwest TripFinder. Learn more.