South of Canada's border along the shores of Puget Sound is a pastoral land of fertile farms, colorful flowers, and charming seaside towns. In the distance, a majestic, snow-capped Mount Baker looms.
Destinations
Anacortes | Bellingham  |  Everett  |  La Conner   |  Mt. Vernon |  Sedro-Woolley

View Northwest TripFinder in a larger map
La Conner and the Skagit Flats
Perfect for a quiet, romantic getaway, the picturesque town of La Conner is so small there are no stop lights or chain restaurants, but it's plenty big on antiques, boutiques and arm-in-arm strolling, and offers up a few delightful places to stay and eat.
Nestled between Puget Sound and the North Cascades, La Conner sits at the mouth of the fertile Skagit River delta where swans forage and tulips grow. La Conner's 21 art galleries, 3 museums, waterfront restaurants and quaint boutiques are more than enough to fill a few days' worth of browsing and eating. If the charming small town experience isn't your thing, the nearby Padilla Bay Nature Reserve just might be.
In winter, the lower Skagit Valley comes to life with an abundance of bird life. I've spent many frigid winter days on the Skagit flats myself, gazing through binoculars at thousands of Snow Geese between sips from a hot thermos, or peering through a scope at a Short-eared Owl as it hunts for rodents. Be sure and pack a pair of binoculars if you go–you won't be disappointed!
And of course, there are all those tulips. The Skagit Valley Tulip Festival in April is a must-do.
Chuckanut Drive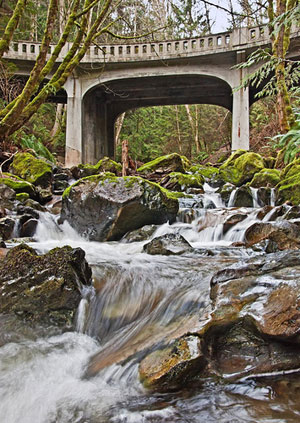 North of La Conner is one of the most scenic drives in the Northwest. Also known as Highway WA 11, Chuckanut Drive is famous for its resemblance to California's Highway 1, though at 10 miles long this drive is much shorter. The route is along a scenic cliff where blue waters of Puget Sound  are backdropped by the beautiful Olympic Mountains.
Start the south-north route of this drive in the quaint town of Edison, Washington, where the Farm to Market Bakery is a must-stop if you like good coffee, fresh-baked bread and unique desserts. Head out of town on W. Bow Hill Road, driving under a mile until you come to the intersection with 11, or Chuckanut Drive. Take a left.
Cross the Samish Flats as you head north. This fertile delta is a haven for thousands of migrating shorebirds (and the falcons that hunt them) in wintertime.
Before long you will come to shoreline at the foot of Blanchard Mountain. Keep going. As you skirt the mountain's edge with the water of Puget Sound below, keep an eye out for colorful hang gliders that frequently launch from the cliffs here.
There are two stops to consider here. View-seekers with strong legs will enjoy the 6.5-mile round-trip hike to the top of Oyster Dome (the trailhead is right on Chuckanut Drive). Just up the road, shellfish-lovers will find their bliss over lunch at Oyster Bar, a popular local restaurant that clings to a cliff above Taylor Shellfish Farms.
From here, the road twists and turns as it makes its way around Blanchard Mountain and Chuckanut Mountain. Larrabee State Park comprises most of Chuckanut, and the 5-mile Fragrance Lake Trail is a family-friendly excursion in the park (Discover Pass required).
Chuckanut Drive soon leaves the mountains behind and comes to an end in the lovely Fairhaven neighborhood of Bellingham.
Bellingham
Bellingham is a cultured small city that hugs a sparkling bay. It boasts a big reputation for livability, cultural attractions, kid-friendliness and outdoor fun.
Head to the Fairhaven neighborhood for walking around, a little window shopping and snacking. By snacking I mean cupcakes, the ones at Katie's Cupcakes. Village Books is another must-stop because  it's one of the best independent bookstores in the Pacific Northwest and their staff picks have never let me down. If you're looking for a substantial meal or just a pint of well-brewed beer, make a stop at Boundary Bay Brewery.
Bellingham's downtown business district is located to the north of Fairhaven and Western Washington University. Yep – this is a college town, and its got lots of cafes, food co-ops and a little music scene to show for it.
Just to the west of downtown, enjoy a walk around the marina at Squalicum Harbor, a beautiful spot for a stroll. Another great waterfront walk in Bellingham is Boulevard Park, just north of the Fairhaven district, where over two miles of trails await.
You can advertise your tourism-related business on Northwest TripFinder. Learn more.