View Northwest TripFinder Washington in a larger map

Mount Rainier National Park is one of Washington's greatest icons, and on clear days "The Mountain" beckons residents of Seattle and Puget Sound as it looms large in the skyline.
What's the big attraction? Trails lined with wildflower carpets, cascading streams and frothy rivers, granite peaks and tall cedar trees that pierce the sky. The park has three established car campgrounds (White River, Cougar Rock and Ohanapecosh) and two historic National Park Lodges at Paradise and Longmire. Even in winter months, Longmire and Paradise are popular destinations for snow recreation like snowshoeing and sledding.
Outside the park are several gateway communities with wonderful lodging options, from cabin rentals to bed and breakfasts.
More information for this region
Mount Rainier National Park | 360-569-6575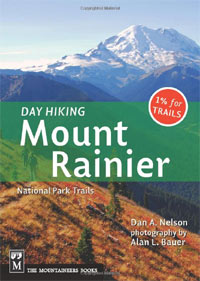 Here's a round up of classic Mount Rainier Hikes from Washington Trails Association
Fox in the Pine has an inspiring (and beautiful!) photo essay series on their 10-day Wonderland Trail hike in 2012.
We think two books are indispensable for visiting Mount Rainier. One is Day Hiking: Mount Rainier by Dan Nelson and Alan Bauer, featuring 70 trails throughout the park with directions, photographs and topo maps for each. Our other favorite guide is Wildflowers of Mount Rainier by Laird Blackwell. If you visit the wildflower-laden trails of Rainier in July or August, you will be so glad to have this colorful, easy-to-use guidebook in your pocket.