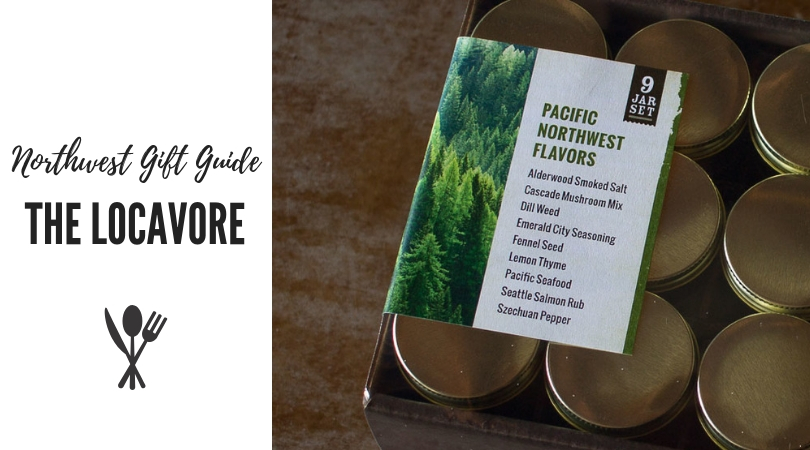 Salmon, oysters, cranberries, hazelnuts, apples, cider, wine, chanterelles and huckleberries… Pacific Northwest locavores like myself are spoiled rotten with yummy locally-sourced things to eat. And here are some ideas for how you can spoil your favorite locavore even more this holiday season.
But first, what the heck is a "locavore," you ask? Here's a hint: while a regular ol "foodie" might order the imported Chilean Sea Bass poached in imported Italian olive oil for a fancy dinner out, a locavore would never. Oxford University Press declared locavore to be the word of the year way back in 2007, then a few years later Webster's Dictionary added the word, defining it as a person who "eats foods grown locally whenever possible." Frankly, we local food enthusiasts didn't need a hip label to tell us that food that's grown and produced close to home not only tastes more fresh but also connects us with our soil, air, water and communities. But it's a cool word, so we'll take it.
And if you want to get us gifts, we'll take these, too!
Here's a little gift guide to things that would make a locavore's mouth water: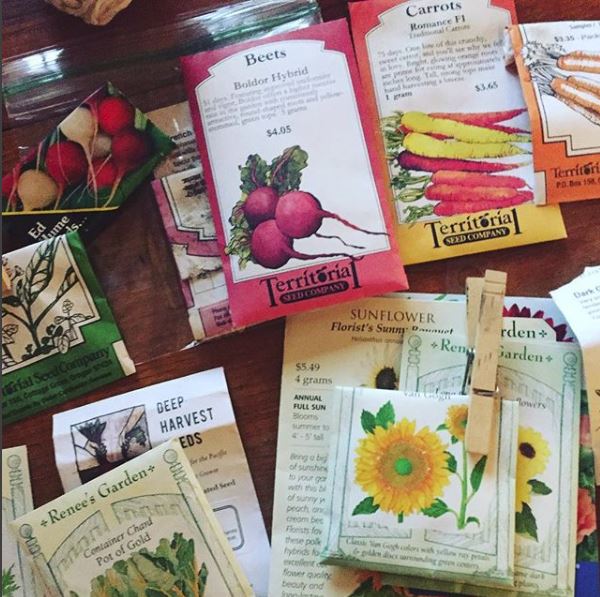 Heirloom Seed Packets, stacked and tied up in a bow. In December, nurseries are just starting to get freshly-packed seeds for the 2019 growing season. Go to your neighborhood nursery and select an assortment of Northwest-made seeds (I love Territorial Seeds, from Cottage Grove, Salt Spring Seeds from Salt Spring Island, Deep Harvest Seeds from Whidbey Island, and of course, Ed Hume). I haven't tried Seattle Seed Company but their packaging is lovely. If you're unsure how serious a gardener your giftee is, stick to seeds that are easy for the most novice beginners to successfully sow, like parsley, sunflowers, kale, radishes, lettuce, snap peas and bush beans.
CSA Box. No garden space? Give the gift of fresh, organic, locally-grown veggies! When you gift a trial subscription (four boxes is a nice amount) to a Community Supported Agriculture (CSA), you connect the food on your friend's dinner plate with a local farm's weekly harvest, delivered to their doorstep or a designated pickup spot in their neighborhood. It's like being a shareholder in a local organic farm. Local Harvest helps you find a local CSA by zip code. My favorite Northwest CSA is Helsing Junction Farms, though there are many others to choose from.
Gardening Class. Seattle Tilth offers classes on growing a veggie garden, raising chickens or bees in the city, pickling, canning, and foraging! These classes make great gifts. See seattletilth.org for the schedule.
Overnight Farm Stay. Every locavore daydreams of owning a little farm someday, but few of us will have the opportunity to actually do it.  Fortunately, several local farms will let you experience all that fresh air and those fun animal chores for just a day or two.  I penned this article on Pacific Northwest farm stays for Cascadia Magazine – check it out and choose your favorite farm stay to give as a gift.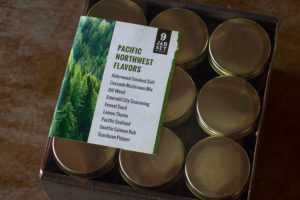 Pacific Northwest Flavors Spice Kit. This 9-piece Northwest spice kit from World Spice Merchants ($49.95) highlights  the bountiful flavors of the Pacific Northwest. It includes alderwood smoked salt, Seattle salmon rub, Pacific seafood seasoning, emerald city seasoning, and more.  For a smaller set, their 4-piece Seattle-themed Fin & Feather spice kit includes fin & feather BBQ rub, Seattle salmon rub, biscayne citrus rub, and emerald city seasoning.
Berry Bowl for Foraged Goodies. A ceramic berry bowl is not a necessity for washing off freshly-picked blackberries of blueberries, but it sure makes for a lovely objet d'art on the locavore's kitchen countertop. You can pick up a berry bowl at many local pottery studios, or buy one like this online.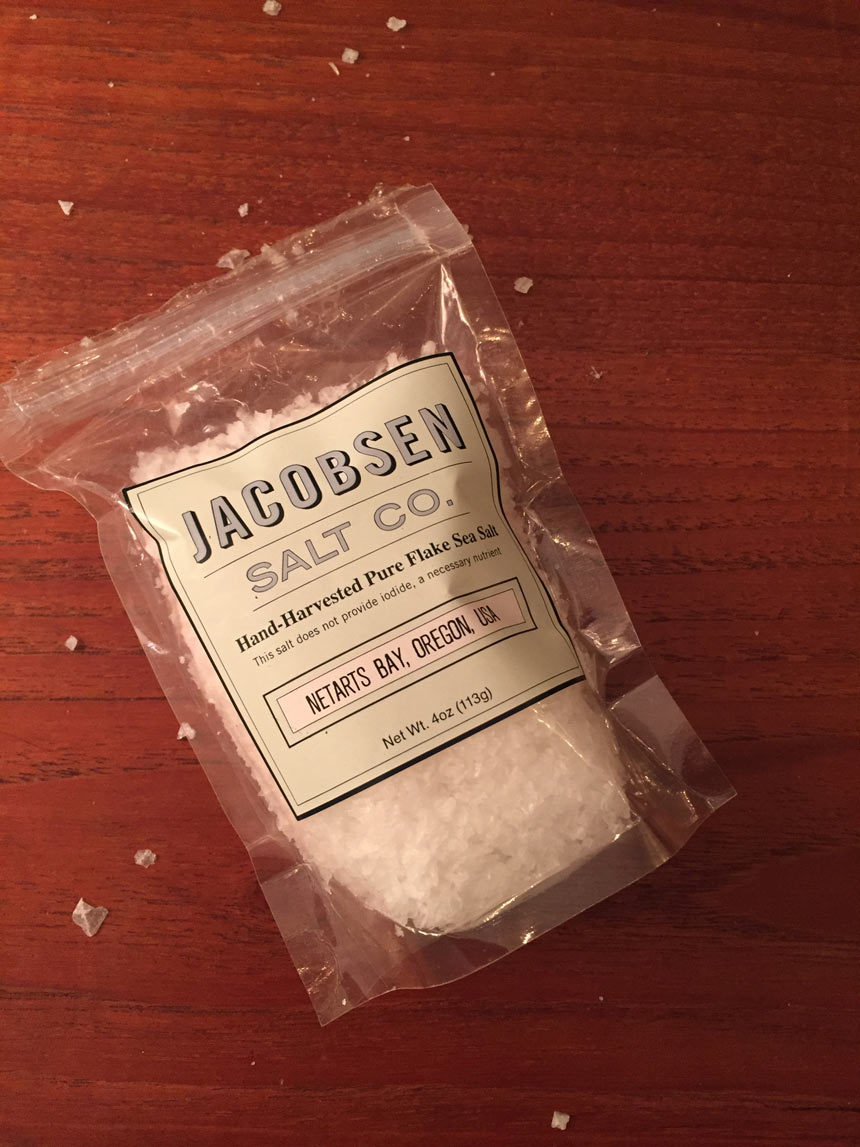 Jacobsen Hand-Harvested Pure Flake Sea Salt, made on Netarts Bay, Oregon. Last year I was driving on the east shore of scenic Netarts Bay on my way up the Oregon Coast when I saw a sign for Jacobsen Salt Company, and my love of flaky salt compelled me to pull into the driveway for a few bags of their flake finishing salt, hand harvested from the clean, briny waters of Netarts Bay. I can't tell you how much I love this as a finishing salt–I use it as the final step of pretty much any homemade meal I cook these days, and I sprinkle it on chocolate chip cookies, and I dust it over a baguette with butter, and… you can now buy it on Amazon.
Farm Stand Tour. Here's a cool DIY gift idea–sketch or print a map of a local agricultural driving tour (for example, Vashon Island for Seattleites, or the Hood River Valley for Portlanders) that includes five or six unique farm stand stops. Enclose it in an envelope with $50 cash to spend at the farm stands (small bills preferred!)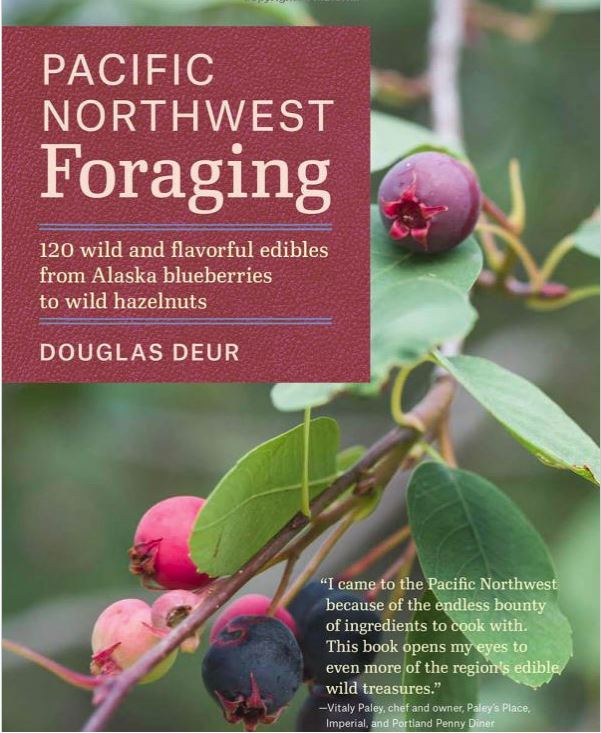 A Guidebook for Foraging Foliage. The meadows and forests of the Pacific Northwest offer a multi-course feast for foragers, as long as you know what's safe to eat and how to prepare it.
For edible plants, I really like the book Pacific Northwest Foraging: 120 Wild and Flavorful Edibles from Alaska Blueberries to Wild Hazelnuts, and your novice forager will like it, too. Soon they'll be making you a cup of "coffee" steeped with the roasted roots of balsamroot, or gifting you a half-pint of bunchberry jam.
There are two other books on the topic should be on the bookshelf (or e-reader) of any Northwest forager.
The first is Pacific Feast: A Cook's Guide to West Coast Foraging and Cuisine by Jennifer Hahn. Jennifer brings you into her world of harvesting and cooking wild foods from the beach to the forest, and shares over 60 recipes from some of the Northwest's best chefs who cook with foraged ingredients, including Tom Douglas an Maria Hines.
The other book is Langdon Cook's Fat of the Land: Adventures of a 21st Century Forager. Through a series of essays, Langdon makes the case that our desire for foraging our own edible foods is not just a throwback to our hunter-gatherer past, but rather it's a way to reconnect with the landscape that surrounds us.
A Starter Set for Canning. My last gift pick for a Northwest locavore is the one I personally use the most for preserving my local bounty– essential canning supplies.
This enamel-on-steel Ball Enamel Water Bath Canner Set includes a rack and 4-piece utensil set, everything your giftee will need to make strawberry jam but the berries and the canning jars.
HAPPY LOCAVORING! And Happy Holidays from Northwest TripFinder.