While some epic hikes can be thoroughly enjoyed year-round (like these), others must be waited for, patiently. These are the high country trails of the Northwest, where late summer snowmelt, when it finally happens, gives way to glorious meadows, mountain views and colorful carpets of wildflowers. These are trails best saved for sunny July and August days, like… right now.
Below are four amazing summer hikes. There are no long river walks, forest strolls or beach jaunts on this list – these are high mountain trails through meadows of wildflowers that deliver awesome open vistas. Don't dawdle on taking these hikes–remember the narrow hiking window: these trails become hikeable mid-July most years, and may be under snow again my mid-September.
I highly recommend bringing along a basic lightweight wildflower guide for these trails so that you can identify all the blooms you see–I like Lone Pine Guides and a good general wildflower guide for all of the the Cascades and Olympics can be found here.
Make sure your chosen trail is snow-free and preview which wildflowers are in bloom at the hiker-submitted Trip Reports over at wta.org. And always pack the ten essentials for hiking safety on any hike, whatever the time of year.
_ _ _ _ _ _ _ _ _ _ _ _ _ _ _ _ _ _ _ _ _ _ _ _ _ _ _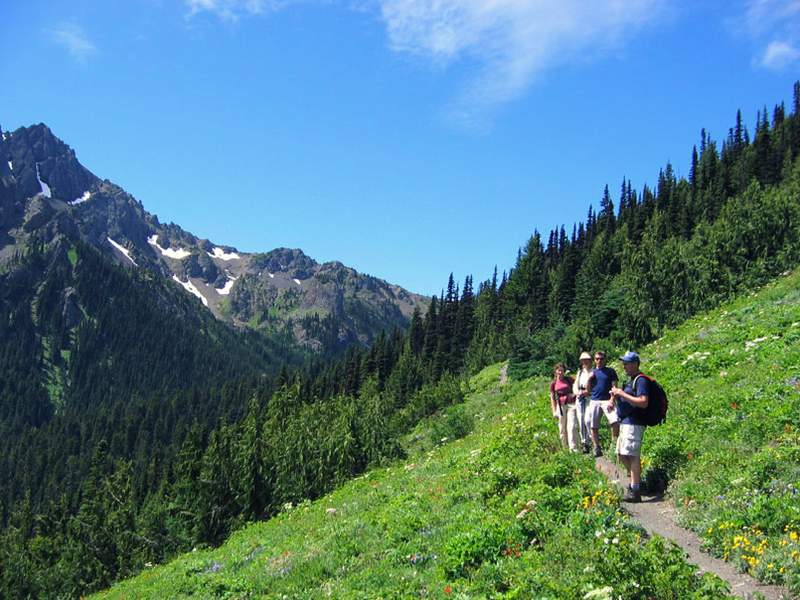 1. Marmot Pass, Olympics
Location: The Buckhorn Wilderness, East side of the Olympic Peninsula south of Forks off Hwy 101
Contact: Olympic National Forest, Hood Canal Ranger District, Quilcene: 360-765-2200
Distance from Seattle: 67 miles, includes a ferry crossing (map + directions)
Hike stats: 10.5 miles round-trip, 3500 ft elevation gain, high point 6000 ft
Parking pass required: Northwest Forest Pass
Pitch a tent:  Dosewallips State Park on the shores of Hood Canal just outside of Brinnon makes a great base camp for this trail.
I had to include this trail on this list–it's my favorite hike! It's strenuous to be sure, though the elevation gain is gradual and there's no shortage of beauty to distract you. Get an early start and take your time to enjoy every step, every species of wildflower, every whistle of a marmot.
The trail up to Marmot Pass truly packs the best of the Northwest all into one day hike. You'll enter the Buckhorn Wilderness straight away into lush old-growth forest–cedar and hemlock cloaked in moss and ferns–as the trail leads you on a gently-climbing path beside the tumbling Upper Big Quilcene River. Around the midway point (2.6 miles) is shady Shelter Rock Camp, beyond which the trail leaves the river and the dense woods behind. Beautiful subalpine meadows burst with colorful blooms here, often shrouded in wisps of fog. Look for orange paintbrush and magenta paintbrush as you continue your climb, monkeyflower, tiger lilies, lupine, phlox, blue delphiniums, fireweed, and many more.  These carpets of wildflowers peak from mid to late July. Soon you'll reach Camp Mystery (set up camp here if you're backpacking) then finally climb just a bit more as the trees give way to dry and rocky alpine fields at the pass, and stunning panoramic views of the east face of the Olympic peaks, so close you can almost reach out to touch them.
More info: You'll find this hike in the book 100 Classic Hikes in Washington (third edition) by Craig Romano, published by Mountaineers Books. (Or if you're like me and still use the Spring/Manning first edition, it's in there, too!)
_ _ _ _ _ _ _ _ _ _ _ _ _ _ _ _ _ _ _ _ _ _ _ _ _ _ _ _

2. Yellow Aster Butte, Mount Baker
Location: Mt Baker Wilderness, East side of the Olympic Peninsula south of Forks off Hwy 101
Contact: Glacier Service Center, Mt. Baker Ranger District: (360) 599-2714
Distance from Seattle: 132 miles (map + directions)
Hike stats: 7.5 miles round-trip, 2500 ft elevation gain, high point 6150 ft
Parking pass required: Northwest Forest Pass
Pitch a tent: Silver Fir campground off the Mount Baker Highway is tucked into a shady bend on the North Fork Nooksack River.
Yellow Aster Butte is a wonderful hike for alpine wildflowers in late July-August, fall color and ripe huckleberries in September, and impressive views of glacier-clad peaks anytime. The carpets of vibrant flowers have plenty of competition for your attention, as the views of Baker and Shuksan are stunning. If you're lucky, some fat whistling marmots will provide your hike's soundtrack.
This trail starts out a mostly exposed shared path with the popular Tomyhoi Lake trail (hike mid-week or early in the morning for more solitude, and always bring sunblock and a wide-brimmed hat on this hike). After about 1.25 miles of switchbacks through scattered trees and open avalanche slopes (paved with wildflowers galore if you time it right) you'll hit the trail junction–veer left for Yellow Aster Butte and leave the lake-loving hikers behind. The trail gently undulates along slopes and through fields of blooming heather and huckleberry bushes before the final huff-and-puff ascent to the trail's peak on the butte's south side. Settle in for awhile if it's not too hot to have a little lunch, take in the vista of Mt. Baker, and keep an eye out for an elusive white-tailed ptarmigan. The small tarns just below are close enough to scramble down to and explore if you're up for it.
While there are no yellow asters on this trail (or anywhere for that matter) there are plenty of beautiful alpine gold daisies which grow from the crevices of rocks on open slopes, and likely inspired the trail's name. You'll also be rewarded with columbine, pretty purple penstemon, paintbrush, purple asters, bistort, monkey flower, pasque flower, fireweed and anemone.
More info: You'll find this hike in the book Day Hiking North Cascades by Craig Romano, published by Mountaineers Books.
_ _ _ _ _ _ _ _ _ _ _ _ _ _ _ _ _ _ _ _ _ _ _ _ _ _ _ _

3. Cascade Pass to Sahale Arm, North Cascades
Location: North Cascades National Park of Hwy 20
Contact: North Cascades National Park, Newhalem: 206-386-4495
Distance from Seattle: 136 miles, includes an hour on the rugged Cascade River Rd (map + directions)
Hike stats: 12 miles round-trip, 3600 ft elevation gain, high point 7200 ft, NO DOGS
Parking pass required: None
Pitch a tent:  Looking for a base camp in North Cascades National Park? Camp at Colonial Creek Campground.
ALERT July 2018: Cascade River Road is gated at milepost 20, three miles before the trailhead. Foot traffic is permitted beyond the gate, but note this adds three miles to your hike both ways. Crews are working to stabilize the road and clear debris. Do not block the road or gate when parking to access beyond closure.
The trail to Cascade Pass and on to Sahale Arm is considered by many to be the most spectacular day hike in the North Cascades if not all of Washington state, and all the superlatives about it are true. It is stunning, start to finish. Black bear sightings are common, and other creatures you might encounter include marmots, pikas, mountain goats and perhaps even the elusive white-tailed ptarmigan, a grouse-like bird that lives in high elevations. Wildflowers are abundant and carpet rolling meadows, peep out from rock crevices, and line the edges of glistening mountain streams. And of course, the scenery. It is unrivaled. The peaks are gloriously craggy, the valleys dizzyingly deep and green, and glaciers are so close you can almost touch them. You will run out of exclamation marks pretty quickly on this trail!!!
You'll want an early start and a full day to hike this gorgeous trail. If you loathe switchbacks by the dozens, the start of the Cascade Pass trail may send you running back to your car. Hang in there! Two miles in, you've already got about half the hike's elevation gain out of the way. Now it's time for an easier path through colorful meadows flanked by jaw-dropping peaks. Hear a low rumble in the distance? Hanging glaciers on the 8200-foot Mt Johannesburg (and other nearby peaks) regularly let loose small (and sometimes large) avalanches, and intensifying roar can be startling and amazing at the same time. Although the trail is high-traffic, there's plenty of room when you reach the pass to sit down on a rock and have some trail mix while you soak in the sun and scenery. Cascade Pass makes a fine turn-around, but you'll find it's well worth your time to push on and experience the mind-blowing beauty of Sahale Arm and Sahale Glacier.
More info: You'll find this hike in the book Day Hiking North Cascades by Craig Romano, published by Mountaineers Books.
_ _ _ _ _ _ _ _ _ _ _ _ _ _ _ _ _ _ _ _ _ _ _ _ _ _ _ _

4. Spray Park, Mount Rainier
Location: Northwest side of Mount Rainier
Contact: Mt. Rainier National Park, Carbon River Ranger Station: 360-829-9639
Distance from Seattle: 70 miles (map + directions)
Hike stats: 6.5 miles round-trip, 1300 ft elevation gain, high point 5800 ft, NO DOGS
Parking pass required: National Park Pass, or $30 per vehicle
Pitch a tent: The national park's Mowich Lake Campground is small, free, and does not accept reservations. There are 10 primitive walk-in tent sites, giving campers at this mountain lake campground a near-backcountry experience.
You already know Mount Rainier boasts a plethora of meadows thick with gorgeous wildflowers. But you may be unaware that Spray Park on the mountain's Northwest side puts on one of the biggest and best displays. Unlike the more famous paved, crowded trails near Paradise, you'll get more of a real wilderness experience here.
The first two miles or so take you gently up and down through open forest, then a series of switchbacks get you up onto the first large park-like meadow, with lovely blooms like bistort, lupine, avalanche lilies, magenta paintbrush and heather, all taken in to the background music of whistling marmots and framed by a really nice view of "The Mountain." After you've hiked for awhile, smelled enough flowers and had a nice picnic lunch in a spectacular sun-dappled flower field, just turn right around and hike back out. Or if you want more, the trail continues on up to Seattle Park (another huge mosaic of meadows) and a pretty cool rock garden.
Side trip: Before the switchbacks up to Spray Park, there's a spur trail on your right that will take you on a .25-mile path to Spray Falls. Do check this out of you have time.
More info: You'll find this hike in the book Day Hiking Mount Rainier by Tami Asars, published by Mountaineers Books.
_ _ _ _ _ _ _ _ _ _ _ _ _ _ _ _ _ _ _ _ _ _ _ _ _ _ _ _
photos are ours except: Yellow Aster Butte pasque flower by Sean Munson, lupine on Cascade Pass by Samara Breeze, Spray Park by Eugene Kogan.