I dig "The Gig."
As in, Gig Harbor, Washington. It's a quaint seaside village on the Kitsap Peninsula that hugs a tiny harbor on three sides, and faces Mount Rainier which looms as a beautiful backdrop to this picturesque town.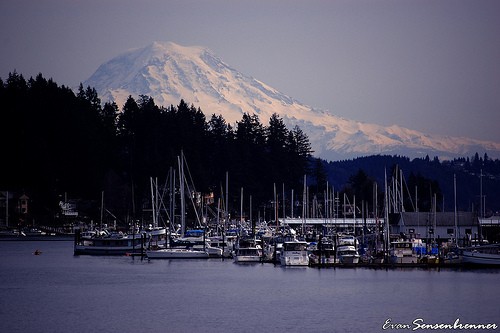 First off, I was married there, in my parents' backyard. And because my parents live just outside Gig Harbor and have a guest room, I've never had the occasion to actually stay overnight in town.  However, I happen to know of a great place for you to stay.
If you're looking for some maritime immersion this spring,  mixed up with some art galleries and harborside dining, put Gig Harbor at the very top of your destination list.  It's got incredible scenery, gorgeous gardens, plenty of galleries, good restaurants and coffee shops, and hundreds of boats. You can hike in nearby state parks, walk and people-watch along the harborside bike path, or rent a kayak. Definitely plan for a hungry stop at the internationally-known Tides Tavern, where a good beer and fish & chips on the waterside deck is a must while watching a parade of boats enter and leave the harbor. And don't be surprised if a boisterous bunch of Harley riders shares the table next to you – everyone stops at the Tides.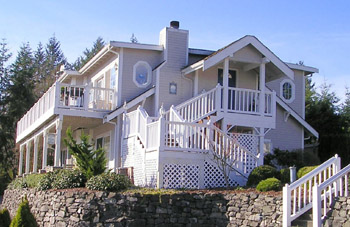 Where to Stay? Here's just one option, a vacation rental. The Snug Harbor Hideaway is a charming, spacious suite just a few minute's walk from downtown Gig Harbor. It's decorated "country-style" and has a separate patio entrance in a beautiful view home. The suite is fully furnished, with linens for the queen-sized bed, a full living room, and a well-stocked kitchen with dishes, spices, pans, coffee maker, etc.  The bathroom has a claw foot bathtub with French shower ring. The Snug Harbor Hideaway is a comfy, charming base from which to explore Gig Harbor and its environs.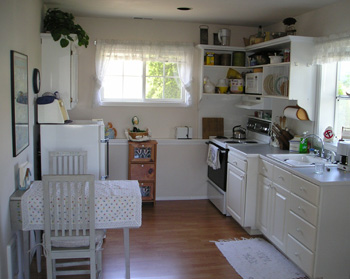 Winter rates are $65 a night / $350 a week and summer rates  (May though September) are $75 a night / $400 a week.  To reserve, call Suzanne at (253) 853-6379 or email her here.
Gig Harbor and Mt. Rainier by Evan S. Photography.