Dear TripFinder,
We have a 8 year old DD and a 4 year old DS. Where are good places to stay in Vancouver BC? We would like to not have to drive much–if not at all. 
Thanks!
Kris
Dear Kris,
My favorite spot to stay with kids in Vancouver is on the vibrant and lively West End near Stanley Park. You can walk from here to the Park, to downtown, the beach and even to the foot ferries that take you across False Creek to Granville Island. The only downside is that the West End is a bus trip if you're arriving via Amtrak – the Amtrak station in Vancouver is on the opposite end of downtown. I find Vancouver's bus system to be pleasant and easy to navigate, so it's not a big deal. You could always take a cab if that's easier.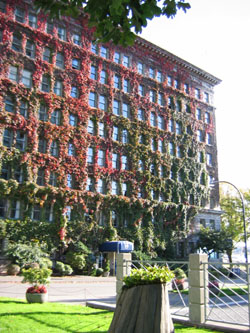 The Sylvia Hotel is a favorite of ours because it's affordable, across from the beach, walking distance to great restaurants and a short walk to Stanley Park. Their standard queen rooms can feel a bit cramped, though, so with a family of four that should certainly be a consideration (they do have larger rooms available). I'm not usually a big fan of chain hotels, but I like the Best Western Plus Sands on Davie – it's just a great location and affordable for downtown Vancouver. If you want a little more room, try the Lord Stanley Suites on the Park, which offers apartment-style hotel rooms.
I haven't stayed at the Sandman Hotel Downtown Vancouver, but have heard very good recommendations for it. It's got an indoor pool, 24-hour family restaurant, and suites to accommodate your needs.  Also recommended by other families I know are the kitchen-equipped rooms at the Hotel Century Plaza downtown.
I also consulted my friend Lora Shinn's guidebook, Northwest Kid Trips, for some Vancouver recommendations. (Her book is packed with kid-friendly things to do, places to eat and play and shop, and places to sleep in Oregon, Washington and British Columbia). She recommends the Granville Island Hotel, though says the rooms can feel tight. I imagine the location makes up for that, though, and kids the ages of yours would probably love staying in the middle of Granville Island. Another place she recommends in the cool, beachfront Kitsilano neighborhood is the Kitsilano Cottage by the Sea. Your kids are probably past the point of enjoying the amenities with this place like toys, books, videos, a playpen & high chair, but it's nice to know the cottage is so pro-actively family-friendly.  If you stay in Kitsilano and want to spend time downtown and in Stanley Park, you'll need to get around by Translink, Vancouver's bus system. If the weather is nice and you're up for walking, there is a False Creek foot ferry from Kits Point to downtown (it takes you to just under the Burrard Bridge.)
And don't forget about VRBO – Vacation Rentals By Owner, or the sister site HomeAway. When I see spots like this 2-bedroom, 2-bath condo for $227 a night in the heart of Yaletown (which is adjacent to downtown, has waterfront parks and a False Creek Foot Ferry stop,) I can be quickly tempted away from a 200-sq foot hotel room.
Hope that helps!