Not two minutes after settling into our room at the Manor Guest House in Vancouver  just south of downtown, we had a pleasant surprise.  Near the back of our room was a  second door, and right on the other side of that door was a fully-stocked kitchen, shared with a nearby room.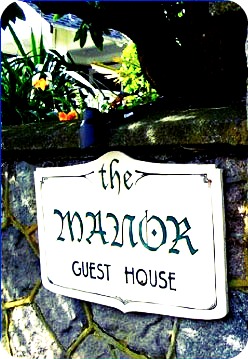 "It's a kitchen!" I called back, with more enthusiasm than the discovery called for. But I was happy. It was starting to snow, and with a kitchen we could cook up a little dinner, reheat leftovers,  or fetch a midnight baby bottle from the fridge. Kitchens make family travel easier, and budget travel even cheaper. "And there's free wifi!" added Brian. See, we all have our priorities.
If you've been a reader of Northwest Cheapsleeps for any length of time, you know that I've a deep appreciation for bed and breakfasts as a budget lodging option. Some are quite expensive, of course. But most are not, especially when you consider what you get. The sensational value of many of the B&Bs I've shared on Northwest Cheapsleeps comes from the fact that they're rather all-inclusive. You won't get nickel and dimed for wifi, parking, long-distance calls or a hearty breakfast at a B&B. And in a major city like Vancouver or Seattle, those things alone will usually save you up to $50 over a nice hotel with the same base rate.
Some B&Bs really load on the perks. Alexander's Country Inn at Mount Rainier hosts a wine happy hour for guests in the evening, and snowshoes are available for guests to use. Carol Lee's Attic on Whidbey Island stocks your room with books, magazines, CDs and DVDs – all yours for the borrowing.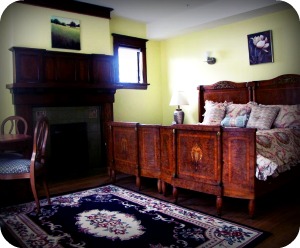 And, many B&Bs basically provide you your own personal travel consultants – the proprietors – who take great pride in sharing their local history and knowledge with their interested guests. This can be invaluable.
Manor Guest House in Vancouver BC  is one of those places. In spite of heavy snow in the forecast, I was really excited to explore some of Vancouver's nearby neighborhoods the day after our overnight stay there. It's central location to many of Vancouver's vibrant neighborhoods was one of the reasons I chose Manor Guest House in the first place. (Another asset to urban B&Bs – they're usually in residential neighborhoods, helping you live like a local, sort of, if only for a few days.) So I turned to Brenda Yablon, owner and manager of Manor Guest House. Brenda is a veritable travel guide to her fair city–she can tell you quite a lot about how you can spend your time in Vancouver and enjoy a fabulous visit, and if I were you, I'd take her up on it! She's even assembled a local guide for visitors to Vancouver on the Manor Guest House website, and a guide to nearby neighborhoods with audio. So cool!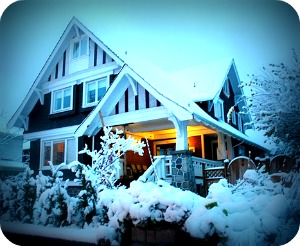 Manor Guest House is actually two houses – two restored Edwardian mansions – right next to each other on a street in a neighborhood full of beautiful old mansions, a neighborhood known as Mount Pleasant.  The B&B is walking distance to Broadway, Cambie and Main streets, all lined with good restaurants, coffee shops, and funky boutiques. Downtown is a quick trip across a bridge to the north, and a short drive or bus ride away are Granville Island, Kitsilano, Jericho Beach, and Commercial Drive. So much to see and do!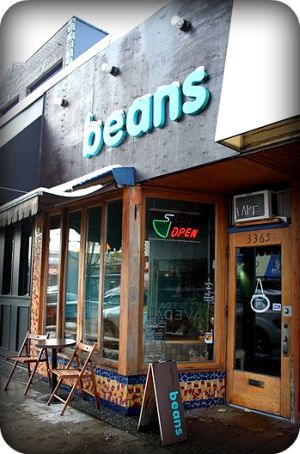 Then, we woke up to the next morning in all its snowy splendor.  Gorgeous , huh? Sure, there went our ambitious plans for neighborhood hopping our day away. See, Vancouver is even more dramatically beautiful in the snow, but not so great to drive around in, at least not in the old rear-wheel drive Volvo. So we laid low, played in the snow, and walked the streets of nearby neighborhoods in our boots. We warmed up with coffee and bagels at Beans coffee house on South Cambie, purchased a few kid's books for Isaac at EIO!, and just took it easy before heading to our downtown hotel for the rest of the weekend.
Manor Guest House has affordable rates year-round, though their lower wintertime rates ($95 –  $105 CND) do not include their famed breakfast, so bring your own supplies to prepare in your shared kitchen, or eat out in one of the many nearby cafes as we did. Shoulder season rates (May, June, and October) are $135 – $145, and  in the high season (July, August, September) rooms are $165 – $175.
Guest rooms are spacious and furnished with English antiques, have hardwood floors, Persian rugs, and  private baths (a few cheaper rooms are available with shared bath). All rooms have access to shared kitchens. Some rooms have private entrances. The grounds provide lots of decks and cozy patios for enjoying the landscaped gardens, which I'm sure are as lovely as the website's pictures suggest when not under a thick blanket of snow.
Info: Manor Guest House / (604) 876-8494