I'm not wild about New Year's resolutions (probably because I don't keep them!). This year, though, I'm open to trying a few and seeing how it goes. You know… join a gym, eat more kale, stop swearing around my toddler who now repeats everything I say… just your usual, run-of-the-mill New Year's resolutions.
Oh, I've got another. Walla Walla! Seriously, I've lived in Seattle for 14 years and I've never visited Walla Walla. I've eaten their onions and I've drunk their wine, but I've never, ever walked the historic streets of Walla Walla. It's time for a trip to the far east.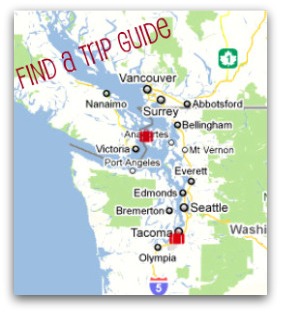 What's your New Year's resolution? Why not resolve to travel locally? Northwest Cheapsleeps recently added these cool Trip Guides – check them out for inspiration! What's a Trip Guide, you ask? Detailed and personal recommendations on where to stay, what to eat, where to shop and things to do when visiting some favorite Pacific Northwest and British Columbia destinations.
Check out our Trip Guides to:
Tacoma, Washington – Our newest Trip Guide, just published this week! Did you know that Tacoma's best-kept secret is its many vibrant neighborhoods? Consult our Tacoma Trip Guide for where to enjoy a 1960s-style martini on the waterfront, buy rare and exotic plants for your garden back home, and play a free round of pool. Downtown Tacoma you'll find top-notch museums, antiques and a top-rated boutique hotel.
San Juan Island, Washington – The ferry drops you off smack-dab in the middle of the town of Friday Harbor, so go with or without your car.  San Juan Island is stunning for its rural beauty and rugged beaches. Find out the best place on the island for watching whales, where to go for a cheap gourmet burrito, and where to sleep for under $100 a night!
Bandon, Oregon – Bandon stands out on the chain of great Oregon Coast destination towns for its world-class golf courses, gorgeous protected beaches and historic  "old town" with cute shops and delightfully good restaurants. See our trip guide for where to score the tastiest cioppino and the cheapest round of golf, plus some can't-miss saltwater taffy!
Stay tuned, because we'll roll out more Trip Guides in the next few weeks, including the Methow Valley in Washington and Nanaimo, British Columbia. And of course, come summer, you'll be seeing a Trip Guide to Walla Walla. It's a resolution, after all.
Happy New Year!