You may land the best lodging bargain in the Pacific Northwest these days where you least expect to find one –at nice downtown hotels.
Carol Pucci's article in the Seattle Times this week, Travel slump hits home, but bargains await, was an eye-opener on just how bad things have become for the tourist-dependent hotel industry in cities like Seattle.
Slashes in business travel budgets, canceled conventions and declines in domestic and international tourism have all piled onto the snowball that has hit downtown hotels with occupancy rates down 20% over last year.
Which means that for the first time in a long time, you can get a nice room at a  nice downtown hotel at a nice price. You may have to hunt around for it, though.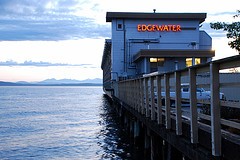 In Pucci's article, travelers scored great deals bidding on four-star hotels at Priceline.com; rooms at the Edgewater and Hotel Vintage Park were had for around $70 a night. If you haven't used Priceline to bid on a hotel before, here's how it works: Just enter your destination city and the dates you'll be visiting. Then choose "Name Your Own Price," and enter what part of the city you want, what you are willing to pay per night for your accommodation, and what level of accommodation you want (e.g. a 3-star hotel). This is your "offer." If your offer gets accepted, you'll have reservations booked at the price you wanted and will soon be told which hotel you'll be staying at. The catch? You agree to pay for your place up front, before you even make your offer or know which hotel you will be staying at. And hotels are non-refundable, non-transferable and non-changeable even if the reservation is not used.
Another website that came up in the article's comments is BiddingForTravel.com, a great forum to use in tandem with bidding at Priceline.  Basically, people are posting here about the hotel deals they got over at Priceline and the details of their offer. For example, a poster named "noodlesniebauer" recently posted that she scored a room at the Edgewater in Seattle on 3/22 for $67 (the lowest rate on the Edgewater's website is $174). Her first bid was at $60, she got a counter-offer for $77, then narrowed the Seattle neighborhood to the Spaceneedle area and rebid at $67, which was accepted. She says, "The FAQ is a great tool, if I hadn't read it, I might have taken the counter-offer instead of trying again." (By the way, it's encouraged that you read BiddingForTravel's FAQ section on bidding on hotels before placing a bid on Priceline. The FAQs "teach how to become an informed bidder and greatly minimize your chances of making a first timer's mistake.")
What other websites do you use for getting great rates on bigger hotels? What has your experience been reserving a hotel on Priceline? Leave a comment and share your experiences with all of us.
Photo of the Edgewater by Hillary H.