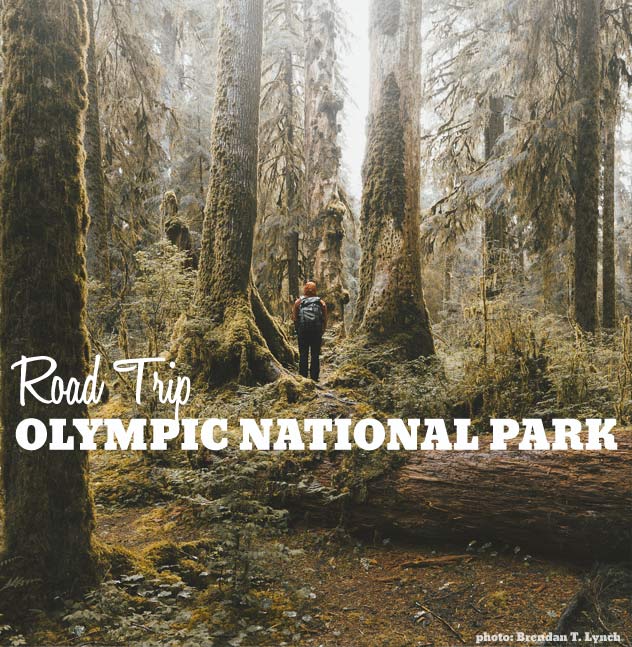 One of the nation's most-visited natural treasures, Olympic National Park is a place of great beauty, mystery and intrigue.
Ancient trees stand like giants, tall enough to pierce the sky. Chartreuse moss drapes across the canopy. The forest floor is carpeted in ferns. And at the edge of it all, a beach more wild than any you'll find elsewhere in the continental United States.
And when you hike up, ascending above the ancient trees towards snow-capped peaks, the world opens up to wide vistas and the ground is carpeted with colorful wildflowers. Olympic National Park's diversity is as impressive as its beauty.
This kind of beauty and perfection can not be "done in a day." Olympic National Park is huge and wild. There are several different entrances and each offers its own path into a unique ecosystem. This 5-day Road Trip doesn't comprehensively cover it all, but does give a snapshot into all the ecosystems in the park, from high wildflower meadows and deep lakes to emerald rainforests and wild beaches.
Visit each area below one at a time over long weekends, or do it all, taking 4-7 days for an incredible road trip that circumnavigates most of the park.
_ _ _ _ _ _ _ _ _ _ _ _ _ _ _ _ _ _ _ _ _ _ _ _ _ _ _ _
Where is Olympic National Park?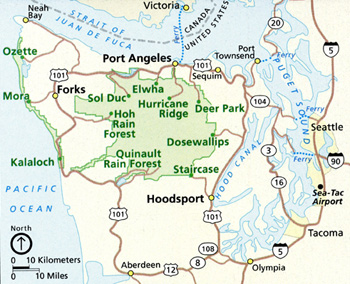 The 908,000 acres of wilderness that comprise this park are centered smack dab in the middle of the Olympic Peninsula in northwest Washington State. There is an additional narrow strip of the park along Washington's northwest coastline, preserving 57 miles of the wildest stretches of beach in the lower 48 states.
Highway 101 circles the park, providing a scenic road trip that can take as little as two days or longer than a week, depending on how many stops you make and attractions you wish to see.
Olympic National Park is open year-round, though some roads will close in winter.
_ _ _ _ _ _ _ _ _ _ _ _ _ _ _ _ _ _ _ _ _ _ _ _ _ _ _ _
Olympic National Park Road Trip
Our favorite way to experience Olympic National Park is over the course of several days as a road trip. This adventure begins in Port Angeles and ends at Lake Quinault. You can camp or stay in lodges and hotels along the way.
Day One: Hurricane Ridge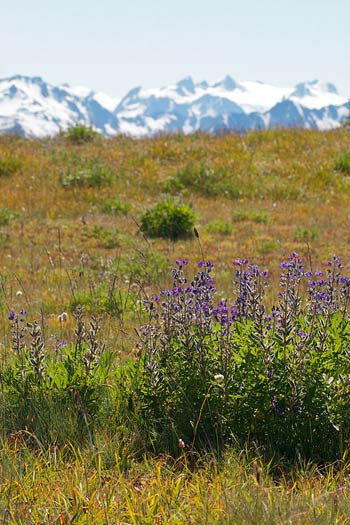 Easy to access and incredibly scenic, Hurricane Ridge is Olympic National Park's most-visited area. Just 17 miles from the city of Port Angeles, Hurricane Ridge stands in sub-alpine terrain at at 5200 feet elevation, so the wide-open vistas greet you the minute you step out of your car.
Getting There: As you enter downtown Port Angeles from the east on US-101, turn left on Race Street (milepost 249) and head south for 1.2 miles, then bear right onto Hurricane Ridge Road (also called Heart o' the Hills Parkway). You will pass the Olympic National Park Visitors Center and Wilderness Information Center. Keep driving the 17 miles to the Hurricane Ridge Visitors Center. The road to Hurricane Ridge is open year-round (weather permitting) though you must carry tire chains in winter. The road averages a 7% grade and is a popular route for cyclists, so give them room.
Hiking: The easy, paved Hurricane Hill trail is 3-miles round trip, and packs more than enough punch for most casual visitors. You'll find the trailhead about 1.5 miles past the Hurricane Ridge Visitors Center. In summer months, wildflowers put on a colorful show at your feet. Deer and mountain goat sightings are common. On a clear day, the jagged Olympic peaks in front of you compete with distant view of Mount Baker in the North Cascades, the Straight of Juan de Fuca and even a glimpse of British Columbia's Coast Range. More hearty hikers may choose a longer hike if time allows, such as Obstruction Point or Sunrise Ridge. Note that all these hikes are very exposed, so you'll want protection like wide-brimmed hats, sunglasses and sunblock.
Camping: About two miles below the Hurricane Ridge Visitor Center is the Heart o' the Hills campground, one of our favorites on the Olympic Peninsula. The 102 sites (no hookups but small RVs will fit) are set in old-growth forest, and there are campfire programs for the whole family in summer. Just across the road from the campground is a trailhead that leads to some beautiful hikes, including Lake Angeles and Heather Park. No reservations accepted, $20 a night (pay by cash or check).
Day Two: Lake Crescent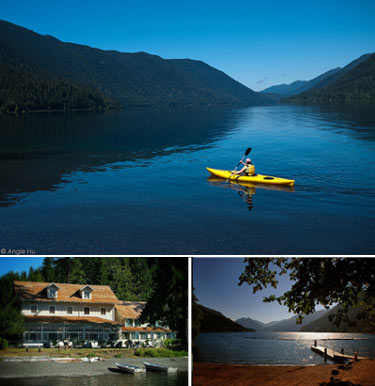 People come to glacially-carved Lake Crescent to see its crystal clear waters ringed with fragrant conifers. They stay for the enchanting hiking and the lakeside historic lodge.
Lake Crescent sits just 17 miles west of Port Angeles, so include it as a sidetrip if P.A. is your basecamp for a short weekend getaway. Travelers with more time won't regret spending a night at the Lake Crescent Lodge, relaxing the evening away on a lakeside deck chair. Highway 101 snakes along the lake's south shore, though you leave the road roar behind rather quickly when you turn off for the lake.
Lodging: Lake Crescent Lodge was built in 1916 as Singer's Lake Crescent Tavern.  The charms of that era are evident throughout the lodge today. Accommodations in the main lodge are available in the summer months only; off-season rentals are available in the Roosevelt cottages year-round on weekends. After a day of hiking or fishing on the lake, dinner at the lodges' waterfront dining room is the perfect end to a summer day, especially if you catch the sunset.
Another century-old resort on the lake that still stands is Rosemary Inn, is now part of the lodging for NatureBridge environmental learning center. Take one of their nature courses to visit this area and learn more about its natural history at the same time.
Hiking: You'll get the chance to see varied scenery from the hiking trails here, from waterfalls to hikes with history. The must-do hike is Marymere Falls, a short jaunt (2 miles round trip) to a 90-foot plunging waterfall. If you have time after that, set out on the Spruce Railroad Trail on the lake's north shore, a total of 8 miles round trip, which follows an old railroad bed along the lake's pristine north shore.
Camping: On the west end of Lake Crescent sits Fairholme Campground (open April through mid-fall, 88 sites, no hookups). The Fairholme General Store and a boat launch are nearby. No reservations accepted, $20 a night.
Day Three: Hoh Rainforest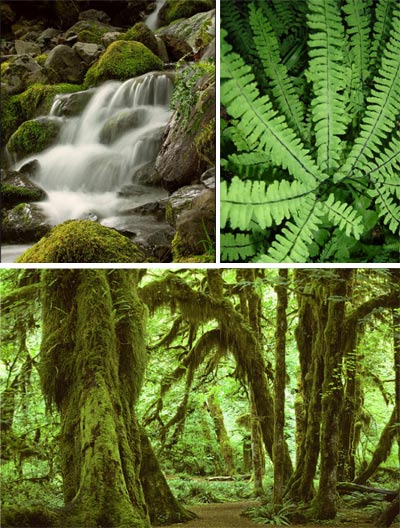 Drip, drip, drip. On the west side of the Olympic mountains, 140 inches of rainfall a year mingle with massive snowmelt to produce one of the world's rarest ecosystems – a temperate rainforest. Several parts of the Olympic rainforest can be visited via road or trail, but by far the most popular of these access points is the Hoh Visitors Center.
The Hoh Rainforest might seem tucked away, but in summer you'll have no shortage of company. In addition to the throngs of tourists that come for the day to see some of the biggest trees in the world, the Hoh River Trail that sets off from here is one of the busiest routes that carries backpackers and climbers into the interior of the Olympics. Visit off-season to experience the rainforest in near-solitude.
Getting There: Your Hoh Rainforest experience begins about two hours from Port Angeles near the old lumber town of Forks. The turnoff for the Hoh River Road is via US-101, about 14 miles south of Forks. This paved road will take you 19 miles until you come upon a state-of-the-art visitor's center, large campground and your choice of hiking trails.
Hoh Visitors Center: (360) 374-6925, open daily in summer, Friday-Sunday year-round. Get trail information, see exhibits about the temperate rain forest, obtain backcountry wilderness permits and bear-proof food containers for backcountry camping.
Hiking the Hoh:  Two short  interpretive trails, the Hall of Mosses and the Spruce Trail, depart near the Visitors Center and lead you through a vibrant cathedral of ancient trees. For an all-day hike, take the Hoh River Trail to Five Mile Island and back (10 miles round trip).
Camping: Settle in at the Hoh Campground: 88 sites, no RV hookups available. Campsites are nestled in the beautiful woods here, offering enough privacy for both you and the visiting Roosevelt elk. No reservations accepted; this campground is first-come, first-served.
Day Four: Olympic National Park Beaches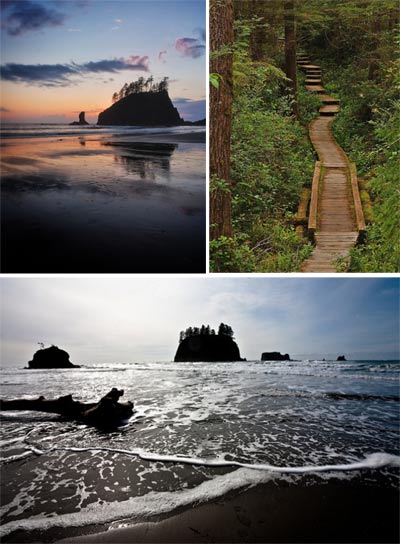 Lucky for us and our future generations, the Olympic Wilderness Coast is 73 miles of rocky, undeveloped and permanently protected beach and headland – the longest stretch of wild coasting in the US outside Alaska. The area is preserved onshore as part of Olympic National Park and offshore as the Olympic Coast National Marine Sanctuary. Except for a 10-mile stretch where Highway 101 hugs the shore north of the Queets River to Kalaloch Beach, you cannot drive along the Olympic coast — there are no through roads.
Wherever you explore on the coast, there are some safety tips you should always pack in your backpack.
Carry a tidechart (available at visitors centers and coastal ranger stations) and a timepiece to keep tabs on the tides–there are some headlands that can only be crossed at low tide.
Wear sturdy, waterproof footwear and hike with sure footing. Seaweed make the surface rocks slippery, so step with caution and don't leap from rock to rock.
Keep an eye out for "sneaker waves" that can drench you and your camera, or send driftwood dangerously loose in the surf. Don't climb on pieces of driftwood if the tide is up.
Here are three of our favorite ways to experience the wild Olympic Coast.
Long Day Hike: Rialto Beach to Hole in the Wall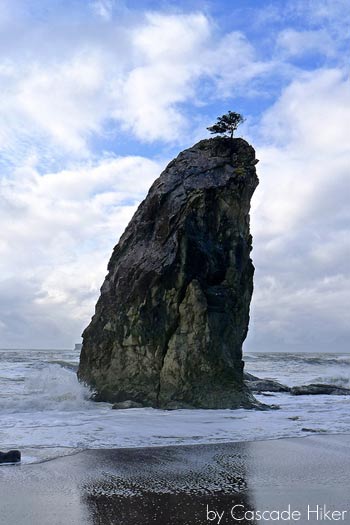 If you want the most scenery for your effort, hike the 4 miles round-trip from the south end of Rialto Beach to Hole in the Wall and back. The beach is accessible to hikers during all the but the highest tides. You'll want to carry a tide chart (see above) to make sure you reach Hole in the Wall near low tide, because you won't want to miss the sea stars. During summer low tides, rangers offer hands-on tidepooling programs at Hole in the Wall.
Camping: Two miles before reaching Rialto Beach is Mora Campground, managed by Olympic National Park (94 sites, $20 a night, no reservation accepted, open year-round).
Getting there: Two miles north of Forks on Highway 101 is the turnoff for SR 110. Take it and head west towards "Mora-LaPush" for 7.7 miles, then take a right onto Mora Road for another 5 miles to the trailhead.
Short Day Hike: Second Beach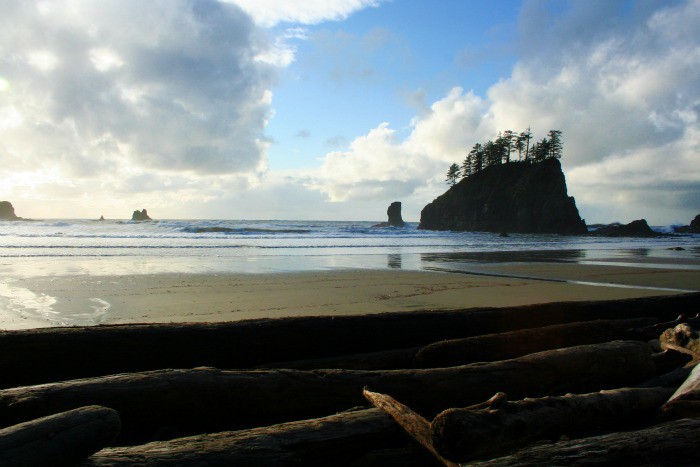 There are three beaches in close proximity near La Push – First, Second and Third beaches. First Beach is a short jaunt from the Quileute Nation's Oceanside Resort in La Push, and a popular gathering spot. Third Beach is 2.5 miles round trip through the woods (though the reward of solitude on the broad, sandy beach is well worth the hike.) Second Beach, right in the middle, is just right — a nice walk through beautiful woods to a broad sandy beach with few people and oodles of driftwood. It's a short hike, but a hike nonetheless.
Coastal Cabin Getaway to Kalaloch Lodge
Kalaloch Lodge is a favorite destination for Seattleites hoping to trade the persistent drizzle back home for some high weather drama on the coast. Accommodations include lodge rooms and basic bluff cabins with kitchenettes, most with good views of the water below.
Kalaloch Lodge's restaurant has standard lodge fare like clam chowder, fish and chips, and steaks.
Just steps from your door, miles of beach trails are waiting to be explored. Watch your footing when crossing piles of driftwood, as logs can be unstable, especially just after a storm.
olympicnationalparks.com | (360) 962-2271
Day Five: Lake Quinault
In the southwest corner of Olympic National Park at the base of a verdant rainforest lies a large, glacial-carved lake. On chilly mornings, a ribbon of fog hovers over the water. Steep peaks loom as a backdrop, and the scenic lake's 12 miles of shoreline are rimmed with tall trees. This is Lake Quinault.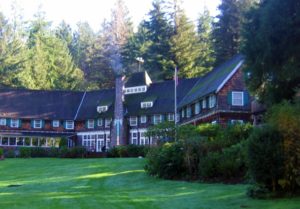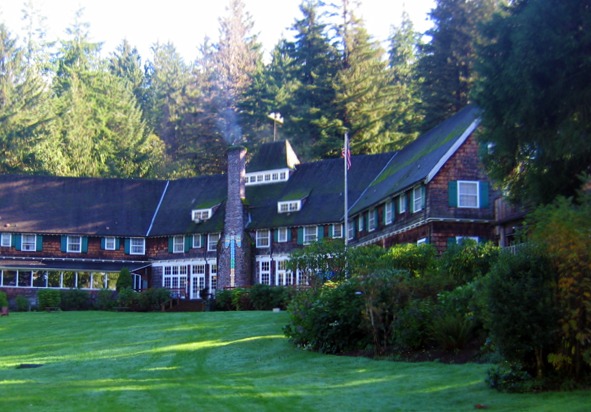 Lodging: Lake Quinault Lodge (olympicnationalparks.com, (888) 896-3818, $99-$245 nightly). Our recent stay here created many nice memories–hot chocolate by the enormous crackling fireplace in the front lobby, getting in a game of scrabble with some friendly strangers, and a canoe ride on a windy day that cost me a neat fleece hat.
There's nothing particularly slick or posh about this place, but you won't care. The gorgeous craftsman-built main lodge hails from 1926. It's set in a spectacular emerald rainforest on a large and lovely lake. What more could you want? If the lodge weren't as rustic, I don't think the experience of staying here be as charming.
Take a stroll around the expansive lobby for a short history lesson; framed photos on the walls have story captions. President Franklin D. Roosevelt visited the region in 1937, and his stay at Lake Quinault Lodge is credited by some as the tipping point in his decision to support the creation of Olympic National Park nine months later.
The main lodge rooms are cozy (as in pretty small) with antique furnishings and clawfoot tubs. The  lodge also houses the heated indoor pool and restaurant. Other buildings and wings built off the lodge house fireplace rooms, lakeside rooms and boathouse rooms.
Hiking: Several miles of inter-connected nature paths comprise the Quinault Nature Trails, located just off the South Shore Road. You can pick up the trail at two of the forest service campgrounds in the area (Falls Creek or Willaby campgrounds) or from the Lake Quinault Lodge. Some stretches of the nature trails have interpretive signage. One stretch, the Quinault Rain Forest Nature Trail, is just .5 miles in length, while the Quinault Loop Trail is closer to five miles, allowing for a few good hours of easy hiking through this moist emerald paradise. If you park in the trailhead parking lots, your vehicle will need a Northwest Forest Pass.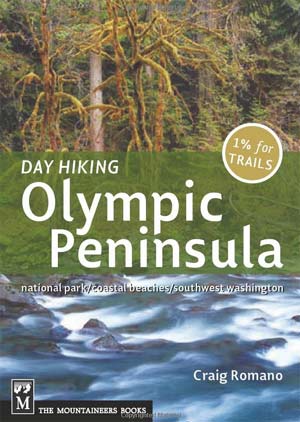 Day Hiking, Olympic Peninsula by Craig Romano (The Mountaineers Books)
From Hurricane Ridge in Olympic National Park to Green Mountain near Bremerton, guidebook author Craig Romano hiked every step of the trails featured in this essential guidebook. For each hike you'll get all the info you need (elevation, round trip mileage, driving directions) as well as Romano's personal take on what makes the trail worth your time. Buy this one and it will never leave your car!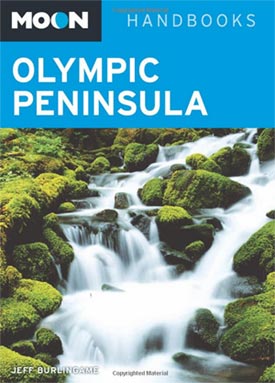 Moon Olympic Peninsula by Jeff Burlingame
Washington native Jeff Burlingame knows the best ways to enjoy the Olympic Peninsula, from strolling through the subalpine meadows and temperate rain forests of Olympic National Park to soaking and swimming at Sol Duc Hot Springs. With details on touring small towns, exploring the coast, and getting lost in nature, Moon Olympic Peninsula gives travelers the tools they need to create a more personal and memorable experience.