Are you in search of sunshine, open vistas and fields of wildflowers? Don't wait for summer–find these adventures now on the sunny Washington side of the Columbia River Gorge.
Sunshine and springtime wildflowers draw adventurers to the east end of the Columbia River Gorge. The views open up and you can see for miles. Oak trees dot the landscape. The sky is big. And the time to go is now when the blooms are at their peak.
Many of the hiking trails in this region are relatively new, and not all trails are well-signed though the situation is improving with each passing year thanks to volunteers with Friends of the Columbia Gorge and Washington Trails Association.
The best way to ensure you're on the right trail is to have a topographic map of the region and a good hiking guidebook with detailed directions and trail descriptions (I highly recommend Day Hiking: Columbia River Gorge by Craig Romano, published by The Mountaineers Books, which includes all of the trails below plus many more). These hikes are full of wildflowers, and you'll easily identify them with a good flower guide, Wildflowers of the Pacific Northwest published by Timber Press.
Ticks and rattlesnakes are possible in spring at each of these hiking locations, and you'll want to keep an eye out for three-leaved poison oak as well because there's lots of it. Always pack the ten essentials in your backpack.
Stop at one of the local wineries after your hike for a different kind of taste of the landscape. Try Syncline Winery in Lyle, a kid-friendly stop with picnic area, hammocks, and farm animals.
Where to Hike

Lyle Cherry Orchard
5 miles RT, 1500 feet gain
Looking for a splash of sunshine? Head into the rain shadow. The Friends of the Columbia River Gorge own and manage this stunning preserve where you'll find traces of a century-old cherry orchard. Gnarled garry oak clump into pockets of forest too, providing habitat for neo-tropical migrant songbirds. In spring months, the fields are dotted with wildflowers like balsamroot, camas, and larkspur. The layer cake basalt walls were carved by Ice Age floods.
This little-known hike is a hidden gem, one of the best finds on the Washington side of the Columbia River Gorge. Views of the Columbia River towards The Dalles are spectacular. The trail is strenuous in places. Keep in mind that with those wide-open views can come blustery wind, so dress in layers.
More info at Friends of the Columbia Gorge. See hiker trip reports from Lyle Cherry Orchard Canyon at Washington Trails Association.
Get there: From the Vancouver / Portland metro area, head east on WA Hwy 14. Continue about 11 miles east of White Salmon into the town of Lyle. Continue past the town of Lyle and look for the gravel parking area just past the tunnel on your left, the north side of highway. The trail starts at the east end of the parking area.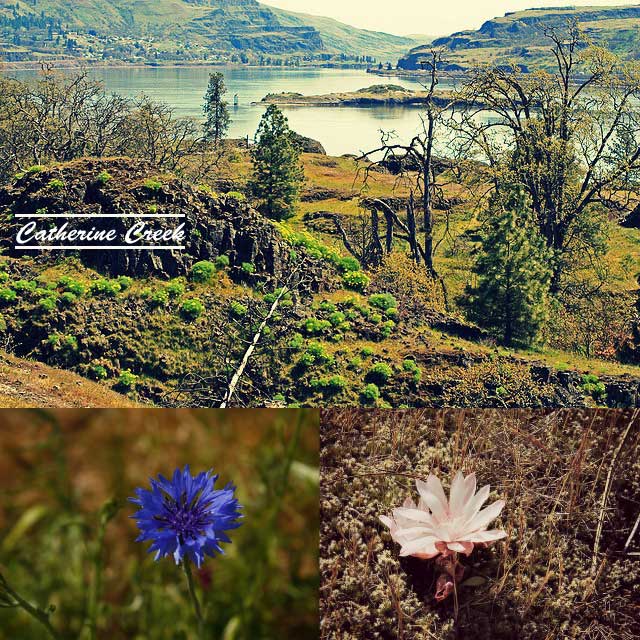 Catherine Creek – Natural Arch
2 miles RT, 250 feet gain.
If basalt is your thing, the Catherine Creek area rewards with outstanding rock formations, though that's not all. This loop trail through an old homestead to a natural rock arch has a little bit of everything–grassy slopes, an old cattle corral, panoramic views of the gorge and dozens of species of wildflowers that begin blooming in late winter and continue all through spring. Look for meadow death camas, smooth prairie star, delicate miner's lettuce, Clayton's saxifrage, yellow bells, the rare chocolate lily and so many more.
Catherine Creek – Universal Access Trail
1.5 miles RT, 120 feet gain.
This short loop trail is paved and ADA-accessible, with interpretive signs about the geomorphology of the area and the diverse flora life at your feet. Benches here and there are perfectly placed for taking in the sun-dappled views. Gnarled white oaks and stately ponderosa pine dot the landscape.
More info: at Friends of the Columbia Gorge. See hiker trip reports from Catherine Creek at Washington Trails Association.
Get there: To reach the trailhead for both of these hikes, head east on WA Hwy 14. Drive through White Salmon and Bingen, then continue about 4.5 miles to take a left onto Old Highway 8 (also known as County Road 1230). Drive east for about 1.5 mile to the trailhead. The Natural Arch hike starts uphill to the left, while the Universal Access Trail takes off to the right (downhill from the road).
Where to Sleep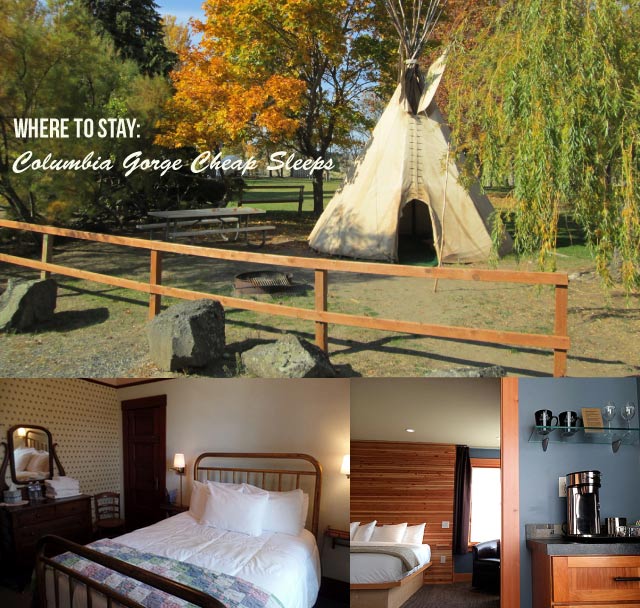 Lyle Hotel – Old and charming, Lyle Hotel has great touches like fluffy robes and down comforters, but they keep the room rates reasonable.  Bathrooms are shared. Some rooms on the side of the hotel that is nearest the railroad tracks, which train enthusiasts will love, but others may not–bring earplugs. Rooms from $99. thelylehotel.com
Inn of the White Salmon – This 20-room boutique inn is cozy, charming and priced just right. Relax after your hike on the pergola-covered patio in the back garden. Private rooms with baths start at $89, some rooms have kitchenettes. innofthewhitesalmon.com.
Bingen School Inn Columbia Gorge Hostel – Sleep on the super cheap in this historic Civilian Conservation Corps construction school house, complete with chalkboards in the rooms. A cool amenity is its classic wooden gymnasium with indoor basketball and a rock climbing wall. Dorm bed $22, private rooms from $59. bingenschool.com
Columbia Hills Historical State Park – Camp in your tent or go "glamping" in one of the park's canvas platform tents or its single teepee. parks.state.wa.us
Where to Eat
Everybody's Brewing (White Salmon) – this casual Gorge brewpub is a favorite post-hike stop for craft beer and homemade noshes like pulled pork, and sweet potato fries, washed down with a Pucker Huddle Porter. Take a table on the patio for the view of Mt. Hood. everybodysbrewing.com
The Lyle Hotel (Lyle) – set in the heart of the Gorge wine country, come here for sit-down dinner of Northwest salmon or crab cakes paired with an even more local wine. It'll also be your favorite spot for weekend brunch – try the eggs benedict. thelylehotel.com
Photos: Bottom balsamroot photo by Patrick M, Catherine Creek by Gary Windust, Lyle Cherry Orchard pics by tgd1220.