Dear TripFinder,
Q: I want to plan a family trip to Mt. Rainier National Park in August. Which Mt. Rainier campground would be best as a base camp for a family visiting the Paradise area for hiking? How essential are campground reservations? Thanks.
– Chris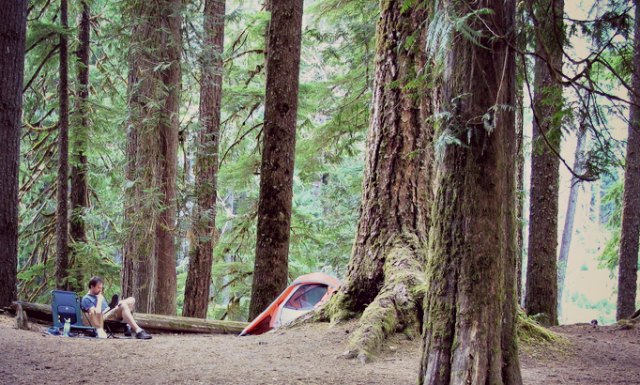 Dear Chris,
It's great you're thinking about reserving a campsite at Mount Rainier now, as these campgrounds are popular and will get booked up as summer approaches! So yes, if you can go ahead and nail down the dates you'll be camping, it is definitely in your best interest to reserve your campsites as soon as possible.

There are three car campgrounds within Mount Rainier National Park – White River Campground, Ohanapecosh Campground, and Cougar Rock Campground. (A fourth campground, Mowich Lake, is quite small and has only 10 walk-in tent sites that are first-come, first-served.)
White River Campground does not accept any reservations; all 112 sites are first-come, first served. So, take this off your options list if you wish to reserve in advance. It is a great campground, but it's much closer to the Sunrise area of Mt. Rainier than Paradise anyway, and you are headed to Paradise!
Here are your two options as a base campground for visiting the trails around the Paradise Visitor's Center at Mount Rainier:
Cougar Rock Campground
Cougar Rock sits just ten miles down the road from Paradise on the Nisqually River, at an elevation of 3,180 feet. It has 173 individual sites, and they cost $12-$15 each per night. The campground has drinking water, flush toilets, and all of the sites have picnic tables and firepits.  There's even an on-site amphitheater where interpretive programs are held on summer evenings. Campsites at Cougar Rock are reservable June 26-August 31, and a campsite may be reserved up to six months in advance. Reserve here.
Ohanapecosh Campground
Set in a magical old-growth forests on the banks of a wild river, Ohanapecosh is 23 miles to the southeast of Paradise, so not your closest option. There are 188 sites here and they are $12- $15 a night, reservable June 26-August 31. There are some tent-only sites, including several walk-ins for additional privacy. The campground provides drinking water and flush toilets. About half the sites can be reserved in advance and half are first-come, first-serve.  Reserve here.
Hope this helps!
Got a burning travel question? You ask, we'll answer.
photo: Ohanapecosh Campground by mkbrandt.
New to Northwest TripFinder? Discover more year-round getaways in the Pacific Northwest by subscribing to our email newsletter. You can also connect with us on Facebook. Thanks for stopping by!