My sweet son Isaac is almost two, and already his curiosity about nature is blooming.  He can pick out a doug fir among cedars. He can identify four varieties of native ferns, and "waterfall" is one of his favorite words. And so last week, we decided it was time to introduce him to our North Cascades.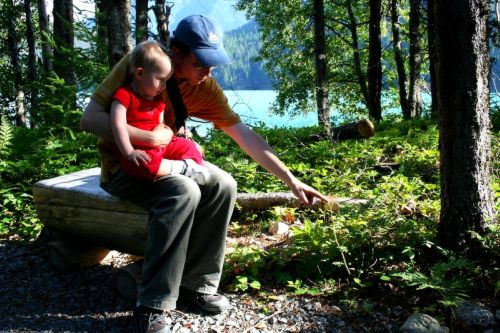 The North Cascades Institute has long been the premiere environmental education outfit in the Pacific Northwest, but I'd never before taken a class with them. Earlier this summer, as I was scanning their beautiful catalog and lusting over courses on landscape watercolor and mountain photography, I stumbled upon a new offering called Base Camp. Billed as flexible, affordable, enriching and fun, this fledgling program appealed to me immediately as an accessible, low-stress way for families to experience the outdoors. We could stay a few nights at the gorgeous NCI Learning Center on Lake Diablo, all meals included, and dabble in guided learning adventures offered three times a day, from hiking to canoeing to arts and crafts.
By the time our two-night stay arrived, I was eager for space from the city and quality time in nature. I also couldn't wait to take a break from planning and making meals for a family of three!
We arrived at the NCI Learning Center with just enough time to stash our stuff in our room before the orientation tour. Katie, a recent college grad and Kentucky transplant to the Northwest, showed us around the center, on the shores of Diablo Lake and surrounded by the North Cascades National Park complex. I was amazed at the comfy-looking library stocked to the ceiling with field guides and nature poetry. Brian was impressed with the comprehensive compost system outside the dining hall. Isaac helpfully pointed out the fire pits and sword ferns. Katie gave us the rundown on meal times, showed us the trailheads to the four or five trails that depart from the center, and invited us to join other base campers around the campfire after dinner for local native storytelling. I suddenly felt like I was at camp, a really nice camp.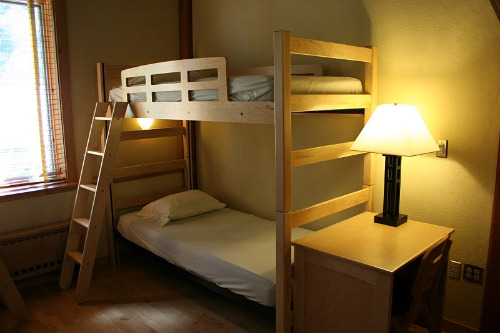 Stir-fry was for dinner, but first, we unpacked our gear. Our room was a bit like a dorm room, with two sets of birch bunk beds, matching desks with modern plywood chairs and open wardrobes. But the similarities end there. Fifteen-foot exposed beam cathedral ceilings and a large window make the room feel light and airy, and I swooned over the clean and modern design.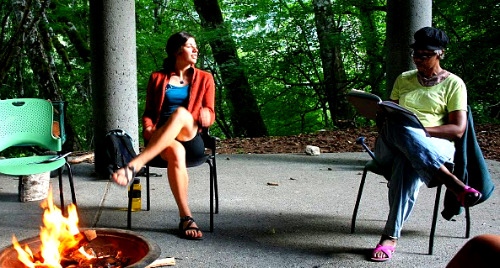 Around the campfire that evening, a handful of base campers and two staffers, Katie and Megan, shared stories and poems. It felt intimate and comfortable. As night began to fall, we retreated to our lodge room. There were plenty of empty rooms midweek during our visit, though I learned the weekends are often filled to capacity, even though the Base Camp program was just launched this year.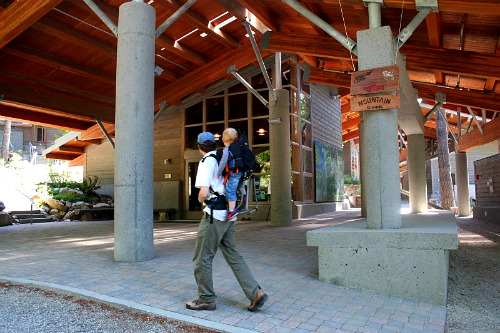 The next day, as other base campers headed out in canoes for the morning outing (for adults and kids ages 6 and up only), we stayed behind. The Base Camp program is in its infancy, and one of the staff told me they're still working the kinks out, one of the kinks being the diversity in age, ability and interest of the participants any given day, and the associated challenges with planning curriculum in advance for the guided learning adventures. I can see how this is a challenge, but we didn't mind being on our own that morning in the least.
In fact, one of the things I most loved about our NCI Base Camp experience was the flexibility.
Because we couldn't go canoeing on the emerald green waters of Lake Diablo that morning (bummer!), we got a chance to explore a few of the short and sweet trails around the learning center on our own. We passed nearly an hour in the fabulous library thumbing through guidebooks, and then took a nap. By the time Isaac awoke from his afternoon nap at 3pm, I thought we'd missed the afternoon guided hike, too, but we didn't.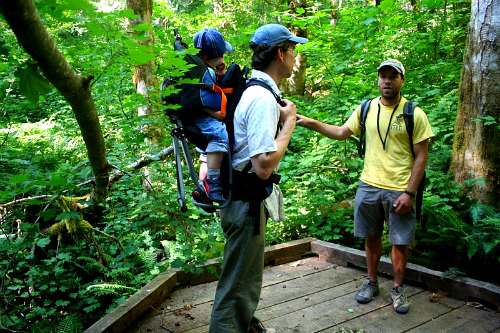 Dave the naturalist was patiently waiting for us, two hours after the scheduled hike start time, to accompany us on whatever adventure we were ready for, and to share with us his enthusiasm and knowledge for Northwest native plants and natural history.
I hadn't realized how much i missed hiking. I hadn't realized just how long it had been since I'd been on a backcountry trail! See, I was a backcountry gal. Come summer, I slept in a tent. Then, we had a baby. And the great outdoors suddenly got much further away. We didn't think it would happen to us; we thought we'd be out on Mazama Ridge and up to Marmot Pass and over Skyline Divide with the baby in tow. And for some new families, the transition really is that seamless. But it wasn't for us. I needed my hand held. Heck, I even needed our meals cooked for us! Whatever it takes. We got outside. We got Isaac on a real backcountry hiking trail, and he loved every minute of it.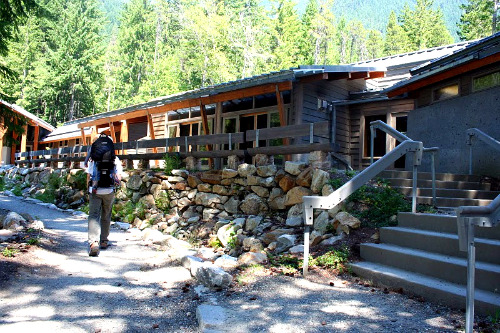 The North Cascades Institute's Base Camp program is summer-only, but the season has just been extended to October. Register soon. It's $95 for the first person, $50 for the second person and $25 each for the next two people sharing one room. In other words, a family of four sharing a room costs $195 a night, or less than $50 a person – program, lodging and meals all included. The food is organic, healthy and fabulous. It's a terrific deal.
For more information or to register, check out the Base Camp website or contact the Institute directly at nci@ncascades.org or 360-854-2599.
Thanks so much to the North Cascades Institute for sponsoring our stay so we could experience this incredible program and share it with other families.