Psst…. get our premier guide to fall travel – Autumn Escapes in the Pacific Northwest. Get inspired to spend your fall weekends combing rocky beaches, savoring the harvest, and hiking scenic mountain trails of Washington and Oregon. Get it here.
I can hardly believe that summer is over.
Wait a minute– did I really just type that? I'm just not supposed to do that.  Not until mid-October, at least. And this summer felt so particularly short, so… missed. I look out at my garden and its brimming with tomatoes, and they're all still bright green! It's as if autumn came early. Or spring stayed too late. Or both. I feel a desperate need to get a little bit more summer in–before its too late.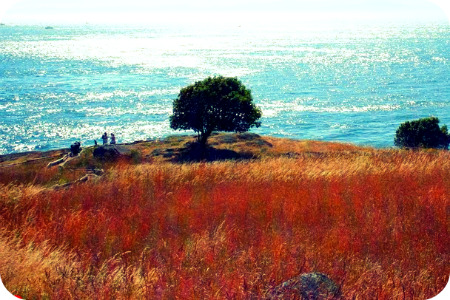 Are you with me? Because there's only one thing to be done. You simply have to take one last summer getaway. And it probably should be to an island. In fact, it probably should be to San Juan Island. And when you go, you should most definitely stay at States Inn & Ranch B&B.
There are dozens of terrific places to stay on San Juan Island. And 90% of them are really, really out of our price range. See that view above? There are B&Bs you can stay at that have that view. For sure. And they're $275 a night.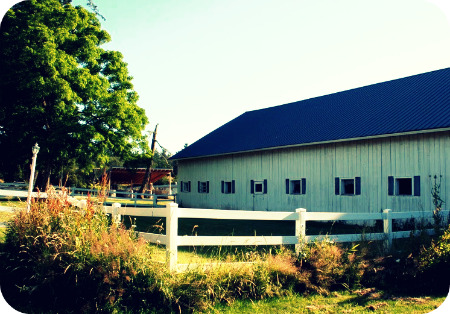 That's why you have to know about States Inn & Ranch, which has its own great variety of views on its 60 acres, to be sure.  Here, you'll hand-feed carrots to adorable alpacas. The main house's spacious sunroom invites you to browse a book from their library and enjoy a cup of hot tea on a lazy afternoon. You can even gather eggs from their dozens of free-range chickens. And you simply must eat their delicious home-cooked breakfast and meet the other friendly travelers that come to stay here from all over the world.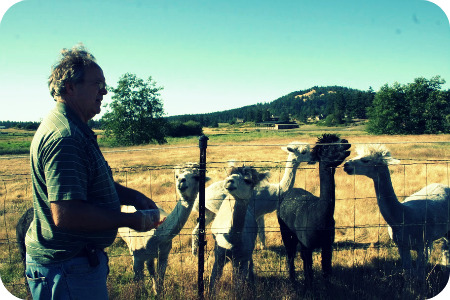 States Inn is a true working ranch; there's nothing for show about this place. The pigs are well-loved and cared for and enjoy happy lives, but they do eventually end up on the dinner table. The sheep yield wool, and the dozens of chickens lay eggs that are sold to local restaurants or incorporated into baked goods. Acres of basil are turned into pesto, and hundreds of pounds of perfect red tomatoes are made into homemade pasta sauces.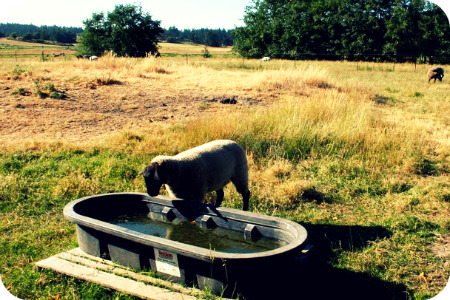 Our one-night stay here in July provided an up-close experience of sustainable farming and ranching, something of great interest to us. Innkeepers Angel Michaels and Richard Foote (pictured above, with his alpacas) are passionate about the hand-crafted, local, sustainable products that are the fruits of their labors. As innkeepers, that means running a hospitable, warm B&B where guests will enjoy generous breakfasts made with products right there on the farm – from delicious egg dishes to homemade sausages to fresh-baked scones served with honey from their bees. As farmers, Richard and Angel are part of an interconnected web of local food producers that supply restaurants and residents on the islands with local goodies like their homemade pastas and fresh-baked breads. And, they're not afraid to experiment. During our visit, they were settling in with a small bunch of Khaki Campbell ducklings they'd acquired for duck eggs. Duck egg pasta, anyone?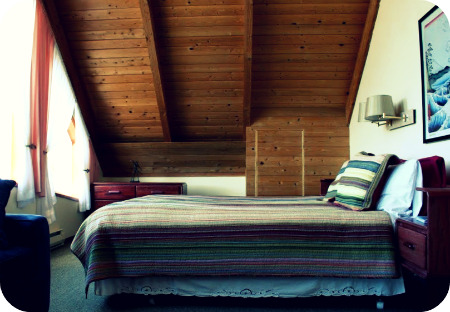 Room rates start at $89/night double occupancy, and go up to $180, though most of the rooms are under $150 year-round. There's a 3-room suite for larger families that ranges $199 – $260. Our stay was upstairs in the California room, perfect for a small family with a king size bed and en-suite bath, and had a sweeping view of the pasture from its whole wall of windows.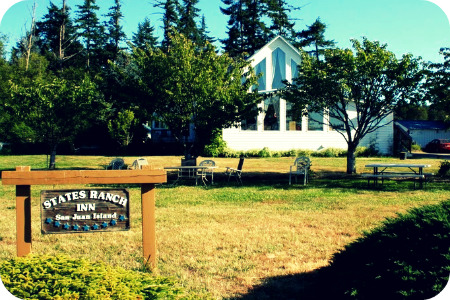 Info: States Inn & Ranch B&B | (360) 378-6240.
Read all about visiting San Juan Island on a budget in our exclusive Trip Guide to San Juan Island.
Disclosure note: Our one-night stay at States Inn was complimentary.