Neither Brian or I are terribly decisive people. We can go back and forth for hours, even days, over the simplest of things. And there we were at dinnertime, downtown Jacksonville, Oregon. Never before had I seen a small town spanning only two short blocks with so many enticing options.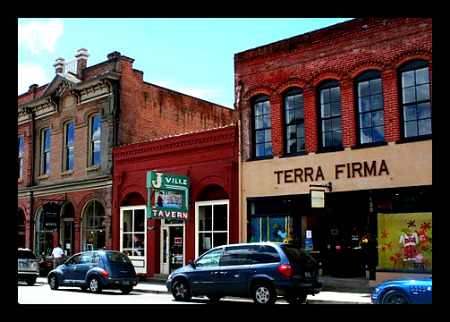 We chose Bella Union, (okay I chose Bella Union), particularly for its lively and shady back patio we could see through the front windows. A good choice, I must say. The vegetarian pizza was excellent, the wine list was local, and for some wonderful reason, everyone in the restaurant was offered complimentary chocolate mousse and champagne after their meal that night. (Our indecisiveness ended there).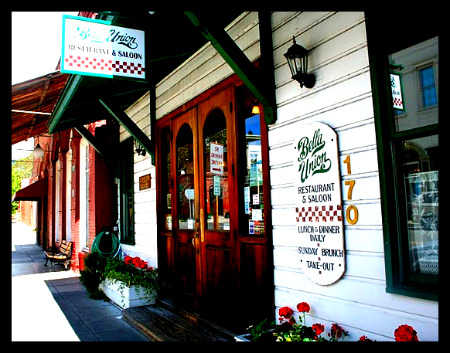 And to think if we'd gone the way Brian was leaning for dinner, we'd have enjoyed a delicious, homestyle Mexican meal on a lovely balcony with top-shelf margaritas at La Fiesta, just down the street.
That's the thing with Jacksonville. Whatever you choose, you strike gold.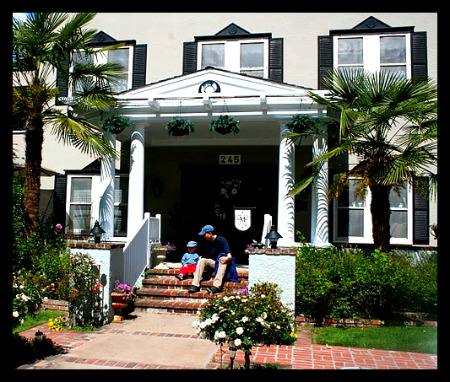 Our two terrific nights in Jacksonville were at the Magnolia Inn ($99 – $169) two blocks from Jacksonville's undeniably  adorable downtown. Homemade banana bread or cookies appeared mysteriously every afternoon to be nibbled with iced tea out on the veranda.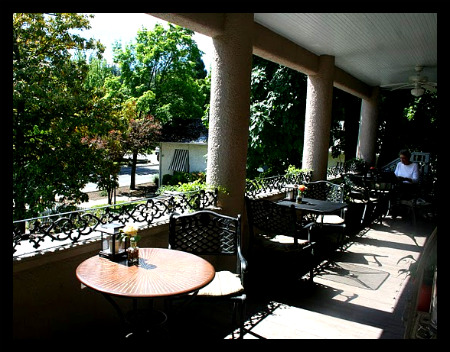 The inn's proprietors, Robert and Susan, greeted us as if we were old friends, and filled us in on all there is to know and love about Jacksonville, their adopted hometown. It was this southern hospitality that so enthralled us with the Magnolia Inn– "southern" as in, Southern California. Like many other Jacksonville business owners we met, Robert and Susan made the move to Jacksonville from California after visiting themselves. It took just one visit to fall in love, and one more visit to buy their dream inn.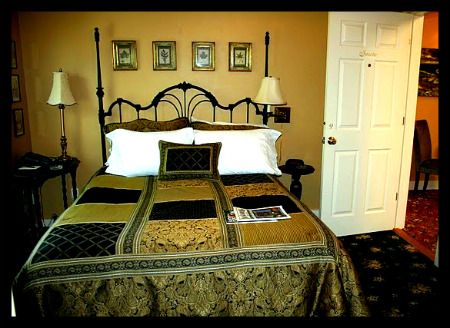 Jacksonville lies just west of Medford, at the foot of the wild Sikiyous, and is adjacent to one of the hottest emerging wine regions in the West – the Applegate Valley. Almost every type of Northwest outdoor recreation you can imagine is nearby, from rafting the Rogue to hiking in the Kalmiopsis Wilderness. In the summer when the Britt Music Festival draws thousands to see acts of great variety in a phenomenal outdoor amphitheater setting (this summer's lineup includes Harry Connick Jr., The New Pornographers, Jackson Browne and Brandi Carlile, among many others). I could see from my very first stroll down California Street why a vacationer might begin plotting their relocation here.
The Gold Rush found its way into the Pacific Northwest in the 1850s by way of Jacksonville; a mere sliver of history that left an indelible mark on this town. By 1868, there were seven saloons on one block (a gold rush will do that.) One hundred years later, the whole town was named a National Historic Landmark District, which is why a walk through downtown Jacksonville today feels more than a little like stepping back in time. But not totally. Just as a horse-drawn carriage passes with a couple of tourists on honeymoon, you find yourself stepping into a chic boutique.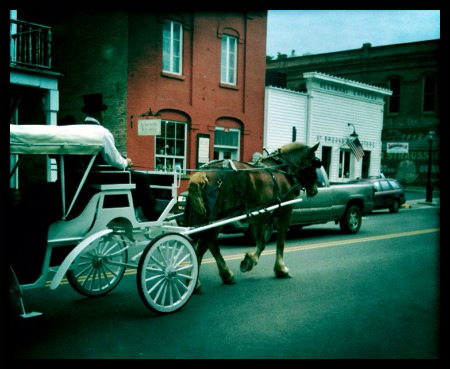 After two short days, we left wanting more time in this area… a day in Ashland, a chance to try that great tapas restaurant in Medford, another stop at the Rogue Creamery for the best gorgonzola I've ever put in my mouth. The truth is, there is tons of great stuff to do in the southwest corner of Oregon, but it's a super long drive from Seattle. I don't know when we'll make it back. (Airfare runs about $200 – $250 Seattle to Medford round trip, a viable option for a couple, perhaps. ) So if you go, I want to hear all about it, hear?
Our stay at the Magnolia Inn was compliments of the Magnolia Inn. Thanks, Robert and Susan, for your great hospitality (and complete collection of Disney movies!)