In the heart of Washington's Grand Coulee desert country is an outdoor lover's paradise. And your base camp for all of it sits in the middle of an "island" surrounded by your outdoor playground.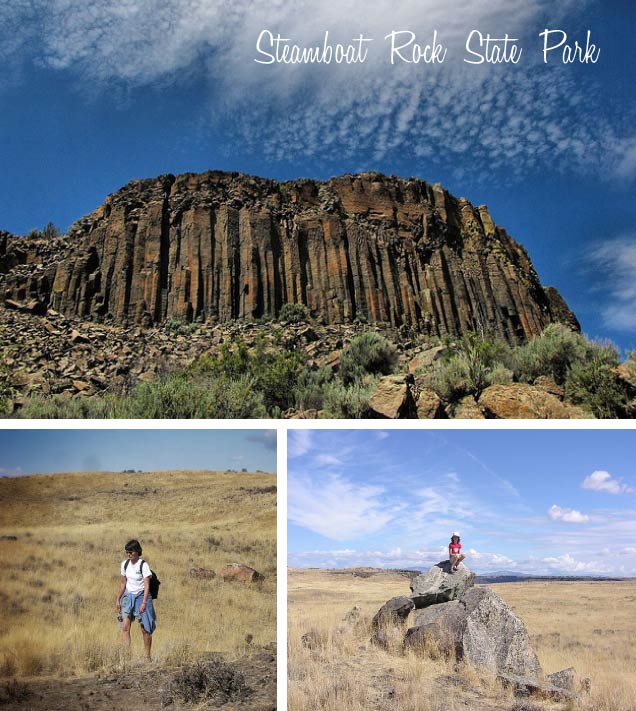 Rocks and birds. Hikes through desert wildflowers. Fragrant sagebrush whipping in the wind. Sleeping under a big sky of stars.
The Grand Coulee region is a geologic wonder and national treasure, so I'm puzzled that it's skipped in most travel guidebooks to the Pacific Northwest. Maybe this will soon change. Awareness of this incredible region and its geologic past is rising as the Ice Age Floods National Geologic Trail comes to fruition, a 500-mile automobile route from Montana to the Pacific Ocean.
Steamboat Rock State Park sits like an island at the north end of Banks Lake, a man-made reservoir that fills the upper Grand Coulee. Before the Grand Coulee Dam filled this reservoir, Banks Lake was a dry coulee of the Columbia River. But it wasn't always dry. At the end of the last Ice Age came the Missoula Floods–cataclysmic, periodic floods that swept across eastern Washington before plowing right through the Cascades and carving the Columbia River Gorge. As these floods eroded the Eastern Washington landscape, they left behind a lot of interesting features, including a remnant hunk of basalt in the middle of upper Grand Coulee. This columnar basalt bluff juts out of Banks Lake like a steamship, earning it the name Steamboat Rock.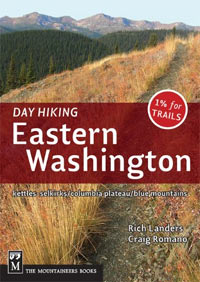 Hiking at Steamboat Rock State Park
You can camp and hike this region year-round, and Spokane-area residents do just that. Seattle hikers have discovered this area as they search out places to play in the springtime and early summer, before their beloved Cascades have melted out. There are several prime desert hikes in the vicinity, best enjoyed during the spring wildflower bloom or during the crisp, colorful days of autumn.
For a power hike with a stunning view, climb to the top of Steamboat Rock  (4 miles round trip, 650 feet gain that involves a little scrambling).
A shorter, easier hike is across Hwy 155 up Northrup Canyon, through fragrant sagebrush (also called wormwood) and showy desert wildflowers. Hike early in the morning during the summer months, and pack sunscreen.
For more awesome hikes in this region, get the guidebook! Day Hiking: Eastern Washington authored by Craig Romano and Rich Landers has all the great hikes of this region, and it's published by Mountaineers Books.
Summer is reliably hot, and that draws water-lovers to the park's sandy swimming area and three boat launches.  The park has 50,000 feet of freshwater shoreline, so there's plenty of room for everyone. Some of the best freshwater fishing in Washington is had in Banks Lake, which is full of walleye, bass and perch. Winter brings snowmobilers, nordic skiers and ice fishermen.
Gear to Bring: Strong bug repellent is a must here in summer, and a mosquito net hat will come in handy when the air is still, especially at dusk. Pack sunscreen and a wide-brimmed hat to protect your skin on exposed hikes. Bring along your binoculars whatever time of year because you'll see plenty of birds unique to the sage / shrub-steppe habitat, from sage thrashers to kestrels. Bring a canoe or kayak to paddle around the lake. And don't forget to pack your fishing pole!
Camping at Steamboat Rock State Park

The campground is open year-round, though services are reduced in winter months. Two campground loops include 26 tent sites, 136 full hookup sites, one dump station, five restrooms (four ADA) and six showers (four ADA). The park also has 12 primitive non-reservable boat-in campsites with vault toilets and water.
New! There are now three cabins located in the Bay Loop at Steamboat Rock State Park. Each cabin is furnished with a queen-size futon, a bunk bed that sleeps three, small end table, heater, and air conditioner. Outside is a picnic table and fire pit with grate. No pets.
Want more privacy? There are more than 70 primitive campsites north of the main park on the shores of Banks Lake, accessible off Hwy 155 at Jones Bay and Osborn Bay. These have vault toilets but no running water available. Northrup Canyon has five campsites for equestrian campers, and they require a reservation. To reserve call (509) 633-1304.
Make your campground reservations here or call (888) CAMPOUT. Sites are reservable for dates May 15-Sept 15 only; first-come, first-served the rest of the year.
Getting There
Steamboat Rock State Park is about four hours' drive time from Seattle. Located on Banks Lake 11 miles south of Electric City, Wash., and 16 miles north of Coulee City, Wash. in Grant County.

View Larger Map
photos: Columnar Basalt Study from Steamboat Rock State Park by Pictoscribe. Hikers by Dierken.