When a Florida family planning their Pacific Northwest vacation for this summer told me they'd rather skip the Oregon Coast, I had to ask why. Their reason? "There's no national park, and we like real wilderness." Ha, well. Needless to say, I changed their minds.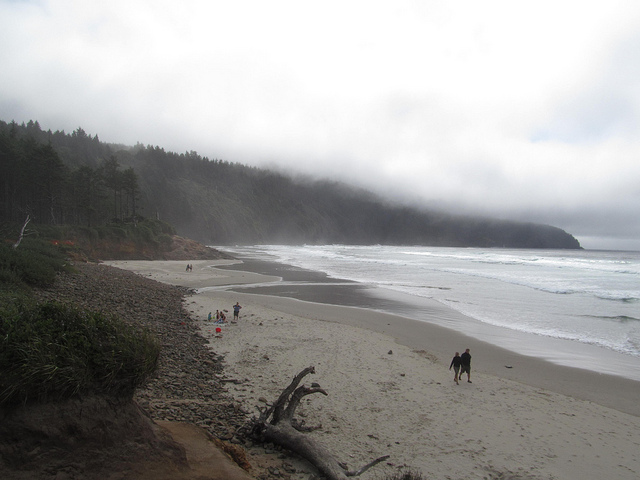 Cape Lookout State Park is a scenic 90-minute drive from Portland, and comprises a steep-cliffed promontory and sand spit that juts out nearly two miles into the Pacific Ocean, sheltering the waters of Netarts Bay.
This is the wild beach in all its glory. Swarms of people come here to beachcomb in the summer months, looking for glass floats and other sea-worthy treasures. While you're searching for treasures in the sand, be sure to look up once in awhile and you might just catch a passing whale, or a colorful para-glider. Bring binoculars to spot birds in the park's variety of habitats. When you tire of the beach, more than eight miles of hiking trails take you through lush old-growth coastal forest.
The .25-mile Cape Lookout Nature Trail is a perfect jaunt for small children or people just looking for a quick escape into natural forest.
Location: Northern Oregon Coast just south of Netarts, Oceanside and Tillamook
park website | map of campsites | Info: (503)842-4981 | Reservations: 1-800-452-5687 | Reserve online
Camping Rates: $15-$24 per night to camp. Yurts are $36-$43 a night. Deluxe cabins are $56 – $76 a night.
Camping Details: 173 tent campsites, 38 with full or partial hookups for trailers or RVs up to 60 feet. There is a dedicated camping area for hikers and bicyclists. Picnic tables and fire grills provided.
Yurts and Cabins: Cape Lookout State Park has 13 yurts and 6 deluxe cabins with bathrooms, kitchens and a tv/vcr. These are extremely popular and should be reserved in advance.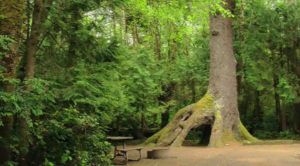 photos: campsite courtesy of oregon state parks, beach at Cape Lookout by Doug Kerr via Flickr Creative Commons.