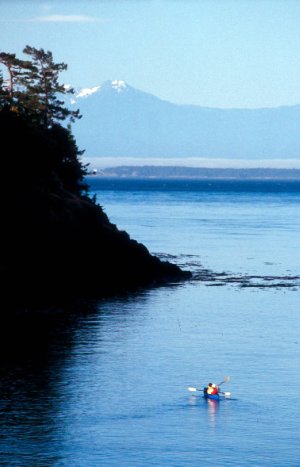 When you're nestled into a closed-top sea kayak, you sit low in the hull. You're not on top of the water as much as you're in it. Secure in your seat, your legs are slightly bent and your feet are braced against the pedals. Covering your legs and torso is a waterproof spray skirt, which keeps you dry from splashes of water or drips off your paddle.
As you dip your paddle into the water and propel yourself forward, you might feel as if your boat is an extension of your body. This is the most magical part of sea kayaking. You can steer yourself around a bed of bull kelp or position yourself to take the wake off a passing boat with only gentle rocking. You are in control of your boat just as you are in control of your own body.
I vividly remember my second time in a sea kayak. I recall my first time, too – a quick urban paddle in Seattle's Lake Union past funky houseboats. That was fun, to be sure. But it was my second kayak experience – a wilderness escape in the briny, cold waters of Southeast Alaska – that was the benchmark. I paddled for several days with a friend who was an experienced kayaker into inlets and through passages in Sitka Sound, camping along the way on uninhabited islands in the Tongass National Forest. Every moment was filled with anticipation for a glimpse of a whale tail or the flash of a grizzly bear as it ambled off a beach and into the woods. Never have I felt so immersed in the natural world around me as I did in that boat in Sitka Sound.
Have I gone and gotten you all excited about a kayak trip into the wild waters of the Pacific Northwest? Good! 
Northwest TripFinder has teamed up with one of our sponsors, Outdoor Odysseys, to give away a summer guided kayak trip in the beautiful San Juan Islands. With 175-forested islands surrounded by crystal-green waters and snow-capped mountains, the San Juan Islands are an idyllic sea-kayaking destination. Imagine yourself paddling here among orca whales, bald eagles, dall porpoise and harbor seals.
Outdoor Odysseys offers half and full day outings as well as 2, 3 and 4 day camping tours. New this summer, they are offering a two day "Whale Camp," and beer tasting and wine tasting tours.
No experience in a sea kayak? No problem – beginners are very welcome on Outdoor Odysseys' guided trips. In fact, I highly recommend a trip with expert guides and a reputable company like Outdoor Odysseys if you're a beginner. They'll help you learn all about kayak safety, and teach you key paddling techniques like how to steer your boat or how to conserve your energy. Also, their guides are out on the water every day and know so much about the natural history and ecology of the islands, and they're eager to share it with you.
What else can you expect on a guided excursion with Outdoor Odysseys? Their guides are proficient in the art of Dutch oven cookery to make mouth-watering dishes such as smoked salmon pesto fettuccine and apple-cinnamon cobblers. Factor in good company and great views from a waterfront campsite and you've got the makings of a superb getaway.
So, what are we giving away?
If you win, you have your choice of ONE of the following prizes:
Single Day Kayak Tour for Four. value: $376, 6-7 hours, offered daily from Mid-May to October.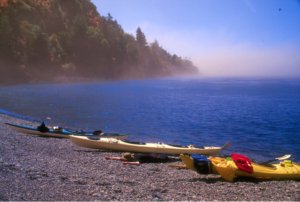 Your adventure begins in the morning at the ferry landing in Friday Harbor, where you will be picked up and driven to San Juan County Park on the west side of San Juan Island. After a thorough dry land orientation covering paddling techniquesand safety stuff, the group will get out on the water! The morning will be spent near Lime Kiln State Park, a fantastic area for spotting orca whales. After a picnic lunch (provided) at a beautiful little cove with a chance for some tidepooling, the group will paddle for a few more hours, exploring the rocky shores of San Juan Island. You'll return back to Friday Harbor between 5 and 5:30 PM, in time to catch the evening ferry back to Anacortes or grab a bite in town if you plan to stay the night.
Two-Day Whale Camp for One. value: $369. Various dates in July and August, 2012.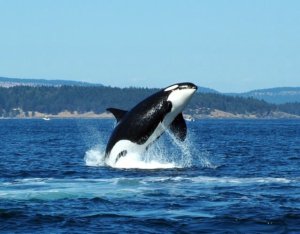 Imagine spending two whole days in the heart of the best whale habitat on the west coast. Using San Juan County Park as a base camp, your group will spend these days paddling in Haro Strait, the body of water that separates San Juan Island from Vancouver Island.  This area is considered one of the world's best orca whale watching sites – providing superb opportunities for viewing over 85+ orca whales. After an invigorating day of paddling, you'll relax over a dinner of smoked salmon pesto fettuccine and organic salad greens washed down with bottled wines. For dessert? Hard to imagine which will knock your socks off more – freshly baked Dutch oven apple crisp or the sun setting over Vancouver Island. Want more? Ask your guide to take you out for a magical evening "bioluminesence" paddle!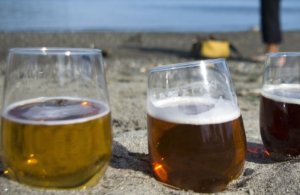 This is the trip of a lifetime! Spend three days paddling the beautiful San Juan Islands viewing awesome wildlife and two nights enjoying award winning micro-brews of the Pacific Northwest. Outdoor Odysseys will be pairing Full Sail Brewery beers with delicious camp cuisine – guaranteed to please the most discriminating palate while you relax and enjoy the sublime view! Sample menu paired with Full Sail brews: Baked brie with pecans, sun dried tomato chicken sausage with wild rice and freshly baked Dutch oven gingerbread topped with whipped cream and blueberries.
HERE'S HOW TO ENTER…
To enter and possibly win one of the three kayak trips listed above from Outdoor Odysseys, tell me what wildlife you'd most like to see in the San Juan Islands. You must answer this question by leaving a comment below. By leaving a comment, you will have the opportunity to subscribe to our monthly email newsletter, Trail News, but you will need to respond to the verification email you receive if you want to subscribe.
This giveaway is now closed to new entries.
Some Legal Stuff:
To enter the Outdoor Odysseys Giveaway, you must be 18 years of age or older at the time of entry, or legal age to enter sweepstakes as required by each state. Employees of Northwest TripFinder or Outdoor Odysseys and their immediate family members and household companions are not eligible. Void where prohibited or restricted by law or regulatory agency. The prize must be used in 2012. The winner will choose one of the three prizes outlined above, contingent on space availability. If there is not space available on the winner's chosen prize and preferred trip date, they may choose a different date or different prize from those listed above.
Giveaway Drawing and Notification:
A random drawing will be conducted by Northwest TripFinder on Monday, June 25, 2012 from all eligible entries received. The winner will be contacted via the email the winner provided when they entered. The winner will be notified by e-mail within two business days of the drawing. If the prize notification is returned as undeliverable the winner will forfeit his or her prize and an alternate winner may be selected. If the winner is found to be ineligible or declines the prize for any reason, an alternate winner may be selected. Odds of winning depend upon the number of eligible entries received. The giveaway entry period will end June 24, 2012, at 8:00PM PST.
Don't forget to become a FAN of Northwest TripFinder and Outdoor Odysseys on Facebook! And good luck!!
UPDATE – June 25, 2012
We have a winner! Using an online random number generator to choose a winner from among our 68 entries, the winner is Wendy Maurer Of Qualicum Beach on Vancouver Island. Congratulations, Wendy! You are going kayaking with Outdoor Odysseys!