If ever there were a season to fall in love with the Pacific Northwest, it would be springtime. Particularly springtime at the end of two long years of La Nina.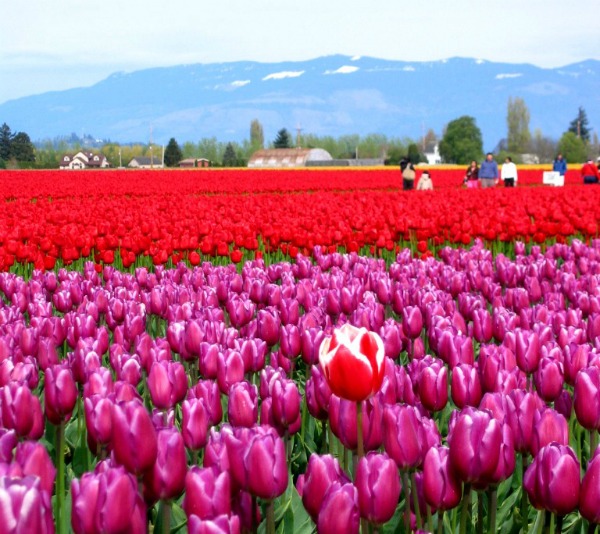 1. Goodbye, La Nina.
The celebratory weather news of the week comes from atmospheric sciences professor Cliff Mass, who has us dancing in the sunny streets with the news that La Nina is almost over: "Finally, La Nina's days are numbered, and its expression in the ocean and atmosphere are beginning to fade.   In two months, it should be history, which is fortunately for us in the NW, where it brings cool, wet weather."
And before I'd even finished his blog post, I was scoping out heirloom tomato plants for the garden and making camping reservations. It's going to be a beautiful summer!
2. So, about those campground reservations.
We always try to note how to make reservations for a particular campground when we blog about camping. But wouldn't it be nice to just have a simple cheat sheet with all the public land campground reservation info in one place? Washington Trails Association thought so, too. Enjoy.
3. New Northwest Q&A column! What's your travel question?
Where can we try Dim Sum in Seattle? Are there any kid-friendly tasting rooms in the Columbia Gorge? Can you recommend a seaside cottage for under $100 a night? We know you have questions, so here's the deal: You ask, we'll answer. Sweet, huh? Whatever your Northwest travel inquiry, we will put on our concierge hats and try our best to answer you. Ask your question any time here; we will answer questions on Mondays.
4. Rustic Retreats
Getting the kids into nature doesn't have to mean bumping against each other in the tent all night long. We're down with tent camping, but understand that not everyone is. What to do? I just came across this nice little piece on Rustic Family Getaways in the local free publication Seattle's Child by Shannon Polson. I've stayed in many of her rustic recommendations myself, and concur with her nature-filled suggestions. Want even more? Catch Shannon's blog at kidsinthewoods.com.
5. Events and Festivals are here
In case you missed it, we're throwing our favorite festivals your way left and right. This weekend alone there are a TON of fun-filled trips to be had, from a wine and cheese tour of the Olympic Peninsula to birdwatching in Eastern Oregon. There are also not one but TWO tulips festivals right now, and a blossom festival in Hood River. Keep an eye on our events calendar when you plan your summer trips.
Thanks for reading!
Did you enjoy reading this post? Never miss a post by subscribing to our RSS feed. We also post all of our content to our Facebook page.