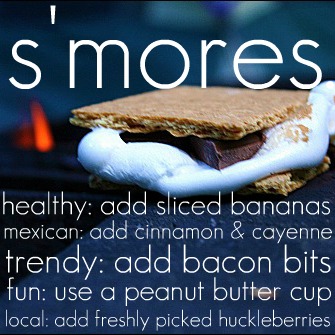 Find any family-friendly campground, and you've got kids running around on their scooters with toasted marshmallow bits caked on their smiling faces. This is what camping is all about: S'mores!
And it couldn't be any easier. You just take a marshmallow on a stick (find one on the ground or they make these fancy campfire sticks), toast it over a campfire to your preferred complexion, mash that thing between two graham crackers with a hunk of chocolate, and get down to business.
Bored of the classic s'mores? (I know, how is that even possible??) Bored or not, bring your inner gourmand into the backcountry next time and you might come up with some new classics. I've been riffing on the classic s'mores recipe myself and here's what I've come up with: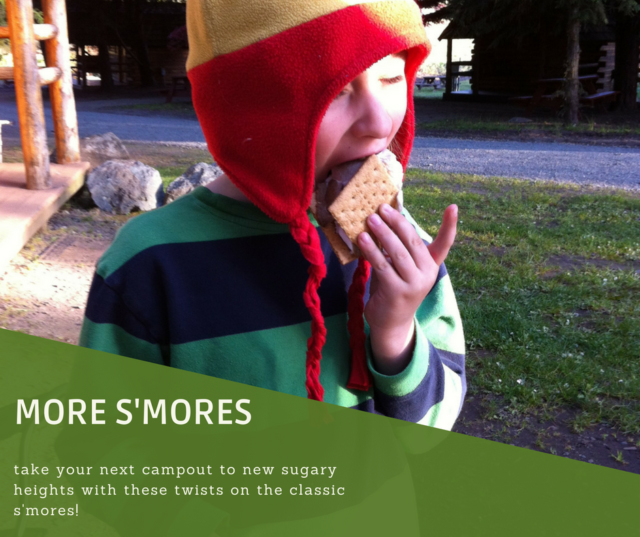 Mexican S'mores
Add a pinch of cinnamon and cayenne atop your chocolate slab before smashing your toasted marshmallow onto it.
Trendy S'mores
Save a few strips of crispy bacon from breakfast in some foil, then toss a handful of those chopped-up bacon bits onto your chocolate bar. (Did you know they make vegetarian bacon bits, too?)
Leftover Easter Candy S'mores
Take those uneaten peanut butter eggs and substitute them for the chocolate bar. Smash well.
Healthy S'mores
Well, perhaps healthy is stretching it just a bit. You'll provide a tad bit of nutitional value around the campfire by layering thin slices of banana into your s'mores.
Forage your S'mores
Did you pick some wild huckleberries, blueberries or blackberries during your day hike? Bring them along to the campfire and toss them onto the chocolate before smashing your toasted marshmallow in between the graham crackers.
Nutella S'mores
Skip the chocolate bar and spread some good old Nutella hazelnut chocolate spread onto the graham crackers instead. YUM.
White Chocolate S'mores
I'm not a big fan of white chocolate myself, but if you are I imagine you'll find this to be quite tasty.
PB&J S'mores
You thought s'mores were already gooey enough? Add a layer of peanut butter and your favorite jam, and make sure there are plenty of napkins on hand!
Do you have a favorite gourmet s'mores variation to share? Tell us about it in the comments below.