Dear TripFinder,
Q: Hi, We are travelling to Portland Oregon in late June for a 4 day long weekend and are looking to spend some time wine tasting in the Willamette Valley. Any recommendations for restaurants, vineyards or B&B's in the area? We will have a car. Thanks!
-Kathleen from Calgary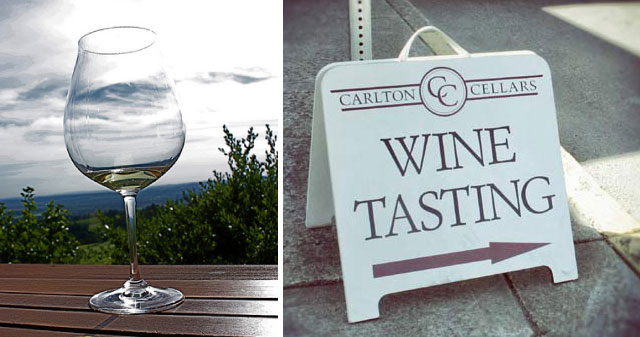 Dear Kathleen,
Yes! A visit to the Willamette Valley is an easy day trip or overnight from Portland, and one of my favorites. Other awesome side trips from Portland include the Columbia River Gorge, Mount Hood, and the northern Oregon Coast. For wine lovers, the Willamette Valley simply must be at the top your list of side trips. 
Tucked in among the rolling hills and hazelnut groves of the Willamette Valley are more than 300 wineries, many specializing in Pinot Noir. The valley's lower hillsides are supremely suitable for growing this cool climate grape. It's an immense valley, so for a day trip or overnight you should carve off a bite-sized chunk to explore. I recommend the area from Newberg south to McMinnville and west to Carlton. Even within this small area you'll be able to taste and compare Pinot from a few distinct subappellations, like Dundee Hills and the Yamhill Valley. And the small towns here boast some of the best inns and restaurants in the valley.
Where to Eat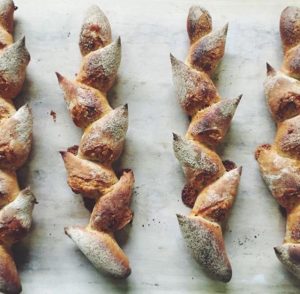 Stop in for a decadent pastry and sandwich at Carlton Bakery, known for making good use of local Oregon hazelnuts, cheese and pears and served alongside a cup of Stumptown Coffee.
Also in Carlton is Cuvée, serving French-inspired preparations of seafood, beef, pork, seasonal vegetables and housemade breads.
I also love Tina's in Dundee, home to some of the valley's most inventive food made with fresh Oregon ingredients.
The pan-fried Willapa Bay oysters with sorrel mayo have just the right amount of searing on their edges. Salmon spring rolls are served with a spunky sauce made with Oregon hazelnuts.
And everyone raves about Thistle in McMinnville, where reservations are essential because of dishes like handmade gnocchi with trumpet mushrooms and hand-butchered pork dishes.
Where to Stay
Newberg's Chehalem Ridge Bed & Breakfast has tastefully-designed rooms with sweeping views of surrounding vineyards. Enjoy the extravagant breakfast out on the deck. Over 45 wineries are within a 20-minute drive from this B&B. Rates are from $160.
In McMinnville (which is such a cute town and is packed with good eateries and shops), the Hotel Oregon has 42 European-style guestrooms (shared bath) in an historic building downtown. Part of the local McMenamins brewery and hotel chain, the hotel's first floor houses a pub. Rooms are from $80.
Wine Tasting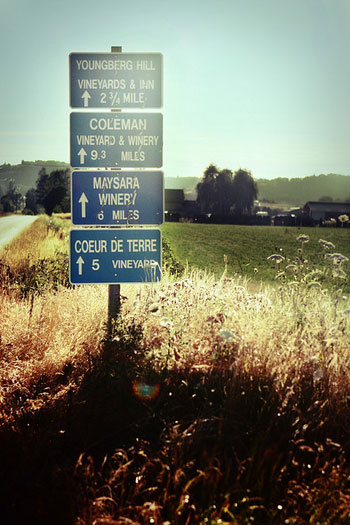 Wine tasting in Oregon is a laid-back experience. Most tasting rooms keep weekend hours all summer long, though you'll find a good number open mid-week as well and the slower traffic mid-week provides the opportunity to chit chat with the winemakers themselves. Tasting fees range from $3-$15, and the fee is often refundable if you purchase wine. To brush up on your knowledge before your trip, check out our guide to Northwest varietals and a basic beginner's guide to wine tasting.
Wineries are literally scattered all over the map, and you'll be within a stone's throw of a tasting room most anywhere in the northern Willamette Valley. You can plan your route of winery visits in advance, or just go wherever the road takes you and make stops when a winery looks like the type of place you'd enjoy visiting. If you're looking for a tool to help you plan your route, try the interactive trip planner at oregonwinecountry.org.
One unique tasting option is to park and walk in the tiny town of Carlton, home to more than 15 tasting rooms. Shops and restaurants line Main St while wineries are scattered about on the side streets. A can't-miss stop is the Carlton Winemakers Studio (801 North Scott Street in Carlton), a co-op facility that brings a few dozen wineries together under one roof and a convenient way to sample several wines. I also love Scott Paul Wines (128 S Pine St in Carlton), a family-run artisanal producer of superb Oregon Pinot Noir, and only Pinot Noir.
Hope this helps! Enjoy your trip!
Got a burning travel question? You ask, we'll answer.
Photos: Wine Glass by Keturah Stickann. Winery road signs by Aaron Lynch. Henry's Diner photo from Travel Oregon.