Dear TripFinder,
Hi there. I was wondering if you could give me some information regarding canoe rentals in North Cascades National Park. Do you know if they have canoe rentals available at Colonial Creek Campground? Thanks!
-Vicky
Dear Vicky,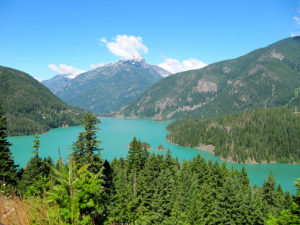 The waters of Diablo Lake are a brilliant jade green color, created by cold glacial runoff full of tiny rock particles and silt. Paddling through Diablo Lake in summertime is worthy of any Pacific Northwesterner's bucket list. And, you can launch canoes, kayaks and other portable craft right from Colonial Creek Campground, then paddle up to five miles to the end of Diablo Lake.
Unfortunately, it seems you do need to bring your own canoe or kayak to launch from Colonial Creek Campground. There are currently no concessionaires that rent boats from this location, and we were unable to find any canoe rentals in the immediate vicinity except for Ross Lake Resort.
On nearby Ross Lake, the Ross Lake Resort rents canoes and kayaks, but getting there is tricky. You can't just drive from your campsite at Colonial Creek up to Ross Lake Resort to rent a canoe for the day; you have to take a passenger boat there that departs once per morning at the cost of about $28 per person round trip–a lot of hassle just to rent a canoe for a day of paddling.
I want to point out that North Cascades Institute offers several tours in the area that might make a nice substitute for a day of paddling.
For more information on visiting this area, contact Visitor Information at North Cascades National Park.
Hope this helps!
Got a burning travel question? You ask, we'll answer.