Dear TripFinder,
A friend of ours couldn't use their condo in Sunriver, OR next week, so they've offered it to us. We'll be there for three nights–my husband, 13 year old daughter, and myself. We don't usually do the resort thing, but I'm sure it will be fun, and it looks like a good base camp for exploring. I really don't know this area at all. Any ideas for good day hikes, idyllic spots to visit, etc? I'd love your ideas!
-Lyanda, The Tangled Nest
Dear Lyanda,
Lucky, lucky you! We recently returned from the Sunriver area ourselves. I don't think we're resort people either, but Sunriver is more than tolerable – trust me! It's quite awesome, actually.
Sunriver Resort is a self-contained vacation paradise in the middle of Oregon's high desert, set among fragrant Ponderosa Pine. Most of the homes were built a few decades ago and are privately-owned vacation homes, rented out to visitors via a handful of property management companies.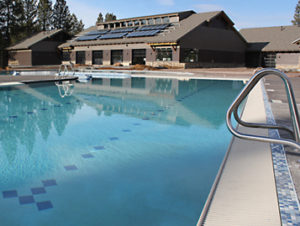 The resort is packed with fun activities. Paved bike trails weave through the whole forested resort, so definitely bring your bikes. Golf is big here if you're into it, and the three courses are scenic. There's even an onsite Nature Center with live birds. But the big, all-star attraction at Sunriver in summer is the newly-opened, state-of-the-art water recreation facility known as SHARC. The facility serves as the community center for Sunriver and has several pools, waterslides, a lazy river, hot tubs and more. Resort guests get free admission to the SHARC facility. In winter, cross-country ski trails weave through the property.
When you're ready to venture beyond the resort property, one of my top recommendations is a visit to the Oregon High Desert Museum. We thoroughly enjoyed the daily raptor show here (they have a Gyrfalcon!) and various other indoor and outdoor exhibits. Also nearby is the Lava River Cave, a mile-long lava tube cave that is part of Newberry National Volcanic Monument, an unexpected and stunning landscape of basalt that is actually an active caldera. Take a self-guided hike through the cave, which takes about 1.5 hours. And wear layers! It's chilly in the lava tube, even in mid-summer.
And of course, Bend and its plethora of craft breweries is just a 15-minute drive up the highway, and many great restaurants.
Have a wonderful trip!
Got a burning travel question? You ask, we'll answer.