Dear TripFinder,
Q: Hi there! We're driving down from BC for a summer camping road trip. We're shooting for Bogachiel State Park and visiting the Hoh Rainforest on our first night, then we're were looking for another stop or two between there and Oregon, something along the coast or not far from it. Any suggestions for camping stops come to mind?
Oh- and I should mention first come first serve or places with last minute availability get bonus points, since we're rolling with the flow of the road.
– Ariana from British Columbia
Hi Ariana,
It sounds like you've got a fabulous Washington Coast camping road trip to look forward to!
As you head south from Bogachiel State Park (don't miss the Bogachiel River Trail–all the beauty of the Hoh River Valley without the crowds) Highway 101 joins the coast for a stretch. Kalaloch campground is here and it's right on the wild beach, but it's also one of only two campgrounds in Olympic National Park that accept reservations (and for all the campsites too) so it's not a good choice for spontaneous campers. Still, make a stop at Ruby Beach or Kalaloch Beach for a short but breathtakingly beautiful hike.
Highway 101 then leaves the coast again and heads towards Lake Quinault, where the south shore has three national forest campgrounds in close proximity (my favorite is Willaby Campground). You could camp here for the night and include a day hike up the Enchanted Valley Trail, one the most wildlife-rich hikes in Olympic National Park.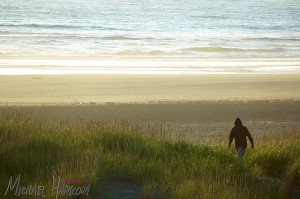 Or push on further, continuing south on Hwy 101 through the towns of Hoquiam and Aberdeen, then detour onto Hwy 105 heading west towards the coast again and the town of Westport, Washington.  (Road Food: squeeze in a stop for a basket of fish & chips at Bennett's Fish & Chips downtown Westport). Three miles south of Westport is Twin Harbors State Park (pictured) with nearly 300 campsites. Grayland Beach State Park is south a bit further and more desirable because it isn't bisected by the highway, though it has fewer campsites and is more likely to be full on a weekend.
I would be remiss if I did not mention the beautiful and historic Cape Disappointment State Park at the mouth of the Columbia River and not far from the bridge to Astoria, Oregon. The truth is, you'd be quite rushed to make it here from Bogachiel in one day, leaving little time for exploring along the way. Cape D is one of the state's finest parks, with two lighthouses, bluff trails and the awesome Lewis and Clark Interpretive Center. Camping is plentiful, but the park is so popular in summer that reservations are strongly recommended.
Hope this helps! Have a great trip!
New to Northwest
TripFinder
? Discover more year-round getaways in the Pacific Northwest by subscribing to our 
email newsletter
. You can also connect with us on 
Facebook
.