If you live in Oregon, you've probably heard that your state is having a big birthday this year. The actual big day to mark the sesquicentennial was this past Saturday, February 14, but this state knows how to party, so the celebrations last all year long.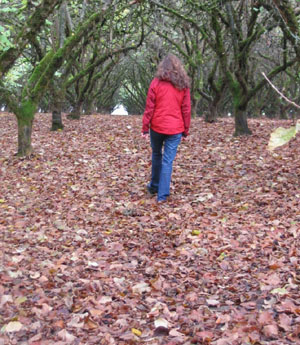 One of the coolest sesquicentennial celebrations I've seen so far is over at the Oregonian newspaper. Travel and outdoors writer Terry Richard, who blogs at Travels with Terry (maybe you've seen the link in our blog roll) recently wrote an amazing tribute to the great state of Oregon. In honor of Oregon's 150th birthday, he came up with 150 places that should be on every Oregonian's list to see — from A (Alvord Desert) to Z (Zumwalt Prairie). (And, might I argue, every Washingtonian's list, too).
I pored over Terry's list of 150 best places in Oregon and was surprised I had only visited 17 of them! Made me feel quite the poseur. Then I looked at the bright side: there are 133 great places in Oregon I have yet to visit!
Have a look at the list for yourself. How many have you been to? Which is your favorite? And where do you hope to go next? Tell us and I'll try and find you a cheap sleep nearby.
Photo: That's me, enjoying Oregon as I walk through a hazelnut grove near Corvallis.