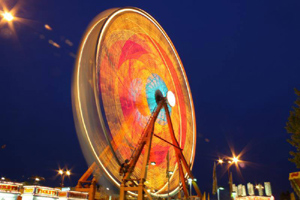 UPDATED FOR 2017
Most of my own childhood memories from the county fair are of the culinary variety. Sugar-coated, to be specific.
But there is more to the county fair than powdered crispy bits of dough or deep-fried food on a stick. There's the community celebration of the accomplishments of ordinary citizens, like the tastiest apple pie, best home-brewed beer or crunchiest preserved pickles. I'm talking about Blue-Ribbon Recipes, of course.
And there is the fair at night… spinning lights on carnival rides and first kisses on the big wheel. There's something exciting and just a tiny bit dangerous about the fair after dark, at least in our dramatic imaginations.
Over the next few weeks, Oregonians have their pick of great county fairs. Which is your favorite?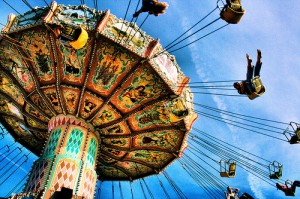 Lane County Fair, Eugene.
July 19-23, 2017 from 11am-11pm (8pm Sunday). Map.
The tents are already popping up and the trucks have arrived for the Lane County Fair. Extreme canine stunt dogs will be on hand to entertain. Musical acts include Kansas and the B-52's. Culinary delights include elephant ears and deep-fried ravioli. And of course, hundreds of Lane County residents will enter their arts and crafts for prize ribbons. Admission: $9 for adults, $7 for seniors, $6 for youth. Kids 5 and under FREE. Contact: (541) 682-4292
Umatilla County Fair, Hermiston.
August 8-12 2017, Map.
"New Faces, New Places, Old Friends" is the theme of the Umatilla County Fair, where you'll enjoy a patriotic parade, live music and livestock Got a baby? If you're feeling competitive, enter your little cherub in the Pretty Baby Contest or pucker up for the Watermelon Seed Spitting Contest.  Admission: $7 for adults and $5 for seniors $4 for youth ages 6-12. Kids 5 and under FREE. Contact:  (541) 567-6121.
Tillamook County Fair, Tillamook.
August 9-12 2017.  Map.
When I think of Tillamook I think of its famous cheese… perhaps that's why this fair has more dairy animals on display than any other county fair in the state. The Tillamook County Fair is recognized as one of the top ten Blue Ribbon fairs in the nation for its unique offerings. But that's not all that's unique to this county fair. Come for the horse races and demolition derby, but stay for the Pig 'N' Ford race, where folks drive around the track in stripped-down Model T's with pigs under their arms. Admission: Adults $10, seniors $6, children ages 6-11 $6, ages 5 and under FREE. Contact: tillamookfair@tillamookfair.com / (503) 842-2272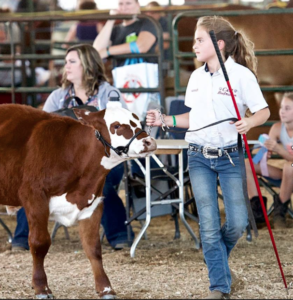 Clackamas County Fair and Rodeo, Canby.
August 15-19, 2017 from 10am – midnight (8pm Sunday). Map.
Step right up for blue ribbons, classic carnival rides and family-friendly rodeos, all at a price you can afford! Moo with the plethora of livestock, then head over to the talent show and shoe 'em what you're made of, whether your talents lie in hog calling or break dancing. Admission: $8 for adults and $5 for seniors and youth. Kids 7 and under FREE. Contact: 503-266-1136.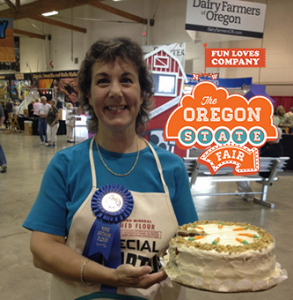 Did you miss your local county fair? Oregon's biggest fair, the Oregon State Fair, is August 25— September 4, 2017 in Salem.