It's almost August, otherwise known throughout the USA as Fair Season!
My childhood memories from the fair where I grew up in rural Illinois are coated in sugar. Puffs of blue cotton candy, popsicles colored like the American flag, a plate of funnel cakes dusted with a heavy coat of sweet powder. Go to any county fair in America and a staple of decades-old culinary traditions like these will greet you and your sweet tooth.
Of course, some of the culinary delights of the American county fair have evolved. The strangely delicious corn dog has had to make room in the food vendor row for an odd array of items served to you fried on a stick, from twinkies to butter. That's right – they serve deep-fried butter on a stick in Iowa. And deep-fried chocolate cheesecake on a stick in Colorado. California's Sonoma County takes the concept high-brow by putting locally-grown artichoke hearts on a stick, dipping them in herby batter and frying them to a golden crunch.
The downside to eating fried, sugary foods for every meal at the county fair? No, it's not the eye-popping calories. It's that you have to try and keep it all down after a wild ride on The Scrambler. Not always possible, as I can attest.
From the best pig races to the crunchiest kettle corn, here are five great county fairs in Washington state that all take place over the next few weeks. Which is your favorite fair?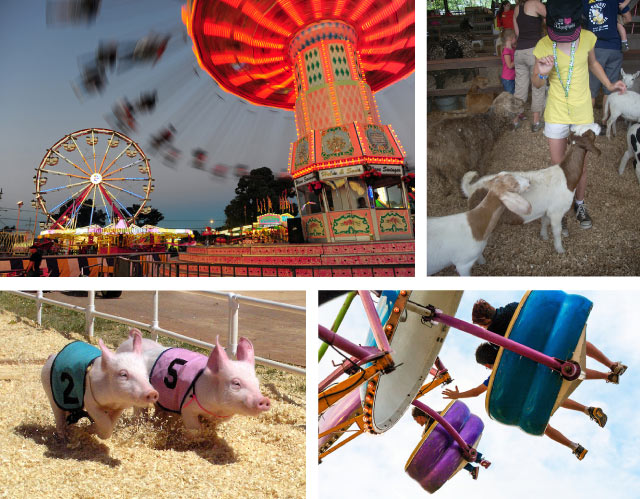 Mt. Vernon. August 7-10, 2019, 10am-10pm. Map.
"Bringing Ewe Shear Entertainment" is perhaps my favorite county fair theme ever because farm animal puns are the best! The Skagit County Fair is set in the heart of one of Washington's most fertile agricultural regions. The "shear entertainment" includes chicken races, a dog costume contest, spotted dairy cows that want you to hand-feed them grass, dogs that perform aerial tricks, a performing youth circus, fluffy balls of cotton candy, deep-fried twinkies on a stick, funnel cakes (YUM), corn dogs, fun carnival rides (YES there's a tilt-a-whirl!), a kid's zone, live music including lots of bluegrass, magic shows and a comedy hypnotist!
Admission: Weds/Thurs: all admission is just $7! Fri/Sat: $10 for adults and $8 for seniors and youth. Kids 5 and under always FREE. Contact: (360) 416-1350.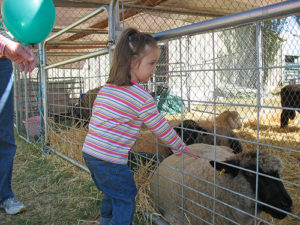 Pt. Townsend. August 9-11, 2019, 10am-9pm (6pm Sunday).  Map.
The Jefferson County Fair's "Jammin Jungle" kicks off Friday August 9 in Port Townsend. This beloved fair is all about celebrating the accomplishments of its citizens ranging from agriculture to music to crafts. Come dressed for the farm–fun agri-attractions include mud drags, a lawnmower derby, and horse pulls. Livestock like sheep and swine are joined by rabbits, dogs and other domestic animals for competitions through the 4-H. Bring your appetite of course – there's a salmon BBQ on Saturday ($10) and a beef BBQ on Sunday ($8).
Admission: Adults $8, students and seniors $6, children $2, ages 5 and under FREE. Contact: (360) 385-1013.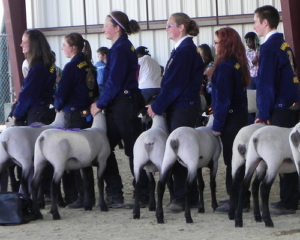 Elma. August 7-11, 2019. 10am-10pm (11pm Sat, 6pm Sun). Map.
"How Country Feels" — Come to Elma for a hefty dose of rural nostalgia and make some great memories! This popular community fair features dozens of carnival rides and games, animal exhibits and contests, a variety of fair food (pulled pork, deep-fried oreos, funnel cakes–ok now we're hungry!), car races, floral displays and lots of live music.
Admission: $10 for adults and $7 for seniors and youth. Kids 5 and under FREE. Contact: (360) 482-2651
Lacey. July 31-August 4, 2019, 10am-10pm (8pm Sunday).
How tasty is your berry pie? Enter your best – prizes awarded for the most delicious. Other fun festivities at the Thurston County Fair include watermelon-eating and hula hooping contests, a carnival with rides, blossom viewing, live music, plenty of food and so much more. Come and "Have an Egg-Citing Time!"
Admission: $7 for adults and $6/$5 for seniors and youth. Kids 5 and under FREE. Contact:  (360) 786-5453.
Bremerton. August 21-25, 2019, 10am-10pm (6pm Sunday). Map.
Step right up! Git yer deep fried oreos and curly fries! Cool events at the Kitsap County Fair this year include lumberjack contests, hay scrambles, pie-eating contests and diaper derbies. Food vendors will serve up tacos and pierogies, and along with live rock n' roll expect performers like fire-eaters, jugglers and magicians. Sounds like American country heaven.
Admission: $11 for adults, lots of discounts and combos available. Kids 5 and under FREE. Contact: (360) 337-5350
Live east of the Cascades? Many Eastern Washington county fairs take place in September when temperatures cool down a bit.
Don't miss the Washington State Fair (aka "The Puyallup") – it's Aug 30 – Sept 22, 2019 in Puyallup.
GOOD TO KNOW: This article was originally published in 2012 and is updated every summer because we love county fairs! County fair photos: Wlashbrook, George Thomas, KHardy, Presidio of Moneterey.