Our Pacific Northwest forests are a work of art. I am stunned by the beauty of cedars draped whimsically in chartreuse moss, or when I see sun-dappled ferns carpet a forest floor.
One Pacific Northwest swath of woods takes the concept of art a giant step further. Take an enchanting hike through Webster's Woods, an art museum without walls set on five lush acres in Port Angeles, Washington.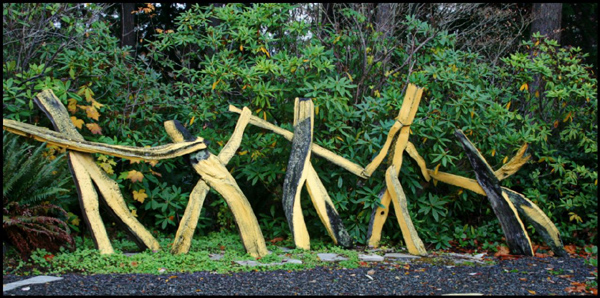 Have you ever imagined yourself in an enchanted forest? Imagine it now. To your left are sinewy tree trunks wrapped in glittery fabric. Up ahead, a doug fir tree sports a giant pair of glasses with wild eyes, and beyond that hang a dozen translucent colorful shapes.
Webster's Woods is no ordinary hike in the forest.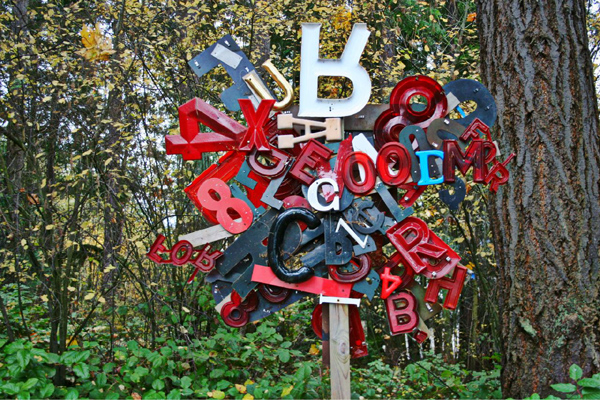 To hike these art-filled woods, you'll park at the Port Angeles Fine Arts Center, set atop the former Webster estate. The Center itself is a jaw-dropping mid-century home converted into the Olympic Peninsula's art museum; it's the westernmost center for contemporary art in the contiguous United States. If the center is open, you'll want to stop in and have a look around. It's generally open to the public Wednesdays – Sundays, 11AM – 5PM.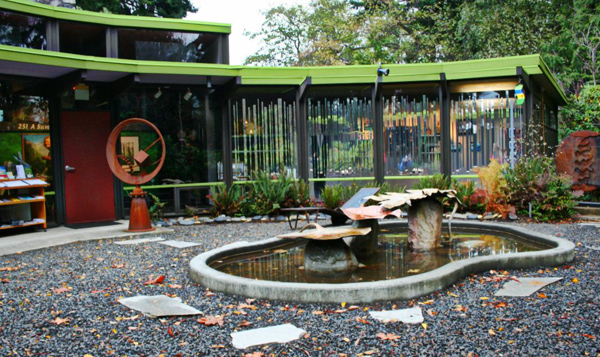 The hilltop woods of the estate property is known as Webster's Woods. Since 2000, Webster's Woods has hosted an ongoing installation of sculptures and on-site installations called Art Outside. Some of the installations and works have come and gone; there have been over 175 in all. At the moment, about 125 are on display.
During my recent visit, I pretty much had the magical woods all to myself. Gentle trails lead up, down and around. Take it slow, and remember to look up, down and around yourself, or you'll miss a lot.
At times, the artwork and installations blend seamlessly onto the natural canvas of the forest.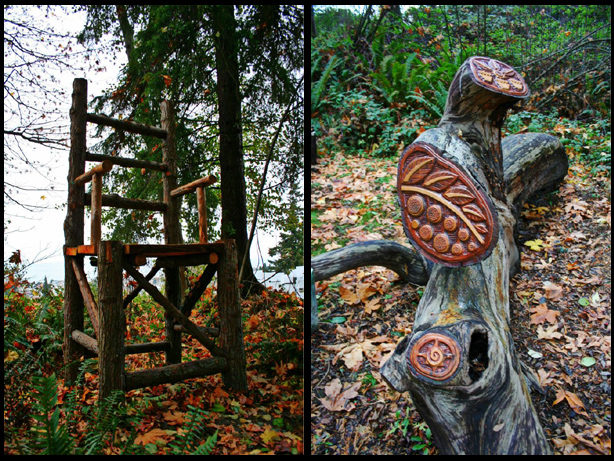 A grand madrona tree once graced the Webster House courtyard, but died a decade ago. A number of artists have created commemorative works on the madrona's skeleton. One dismembered part of the tree's trunk features relief carvings by Dan Cautrell of Duvall, Washington. They resemble woodblocks and were form-fitted as decorative end caps for the tree's amputated stumps, giving the impression they had been carved in situ. Its bold forms were inspired by Salish myths about the madrona, with distinctive leaves, seeds, flowers, and even the drops of rain that are all part of the arboreal life cycle. This piece (above right) is titled  In Memory of a Tree.
Another current installation uses nature conifers as a painting canvas. Pennsylvanian artist Richard Metz spent ten days painting on trees here last year. The creatures he brought to life on the trees' textured trunks were inspired by children's book illustrations, and the emotional charge of being in the woods. He painted with natural pigments suspended in an egg binder, so the bright colors will decay over the course of the season reflecting ever-changing nature.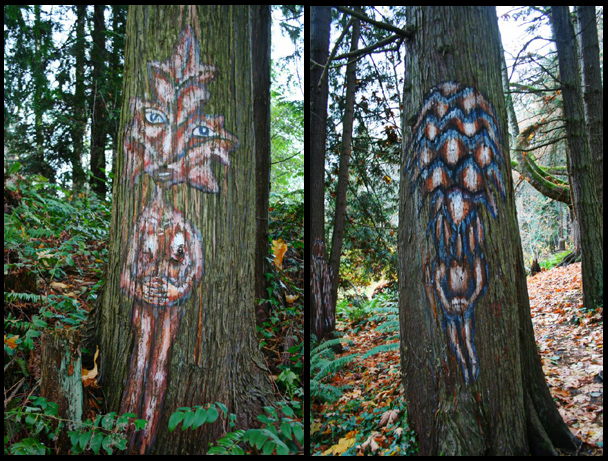 Some of the installations contrast sharply with the natural setting, and these were among my favorites to come upon on the short hike.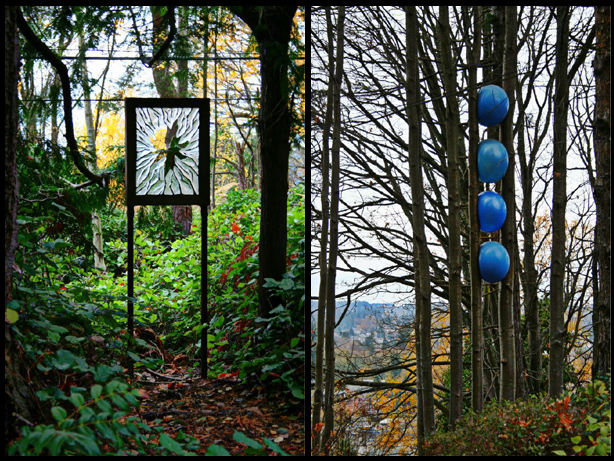 Webster's Woods is a hidden gem. I know that term gets tossed around a lot in travel writing, but this place truly really is. It's hidden, and it's a total gem. If you find yourself anywhere near Port Angeles, you should make the effort to stop by. It is so cool.
If You Go
Webster's Woods Art Park
Open dawn to dusk daily, year-round. Free parking. Admission is free.