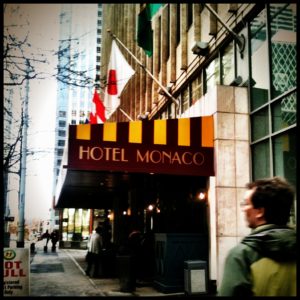 On the south edge of the upscale shopping district in downtown Seattle, there sits the Hotel Monaco. I remember when the Monaco opened 13 years ago, with its bold striped awning, dazzling art deco styling and very friendly valets. I sipped discounted happy hour drinks at Sazerac downstairs to soak in the Monaco vibe. It was the place to stay.
Half a dozen swanky boutique hotels have opened their shiny doors in Seattle's downtown since, but Hotel Monaco hasn't lost its sheen. Well, any sheen that it has lost, it's getting back. They're in the middle of a full-scale remodel, one floor at a time, and I recently got to spend the night in one of their newly-styled king rooms.
We checked in on a drizzly afternoon, sans kid; he was shipped off to the grandparents' for the night. I felt a slight twinge of guilt when I read about the Hotel Monaco's family friendliness (they'll loan you a goldfish!) but that quickly subsided.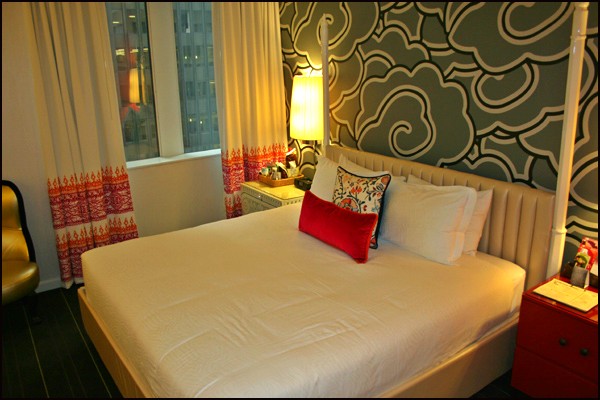 Like all Kimpton hotels, the Monaco has a few things down pat. You know you're going to get top-notch service at Kimpton. The rooms are going to be really, really pretty. And expect a lot of special perks. More on those perks in a minute.
I can't quite put my finger on the styling of the Monaco. It's like… art deco meets technicolor. I mean, their designers must have a blast. I don't want to resort to those overused boutique hotel words to describe this place. You know the ones. Luxe. Swank. Glam. Chic. But truly, it's all of those things. And it comes together really beautifully.
Anyway, about the decor. It is so not subtle. Viva glam here, all the way. Truly, it's the bedroom I've always wanted. The bedroom I'd have had, you know, if my name was Lauren Bacall and not Lauren Braden. Over in the corner sat a gold leather chair. Behind the huge king bed was a padded silvery leather headboard. Behind that, an expansive wall draped in boldly-patterned wallpaper. I approved of every style choice in the room.
Behold, some of the details.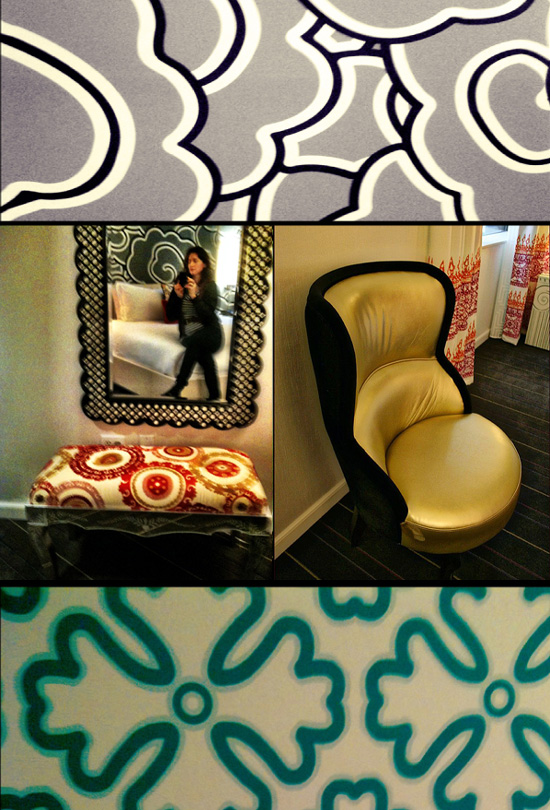 In the closet hung two fluffy terry-cloth robes. One was leopard print. The other had zebra stripes. By the time I thought to take a photo of them, I was already wearing one. And hey, naughty minds, this isn't that type of blog!
So about those perks. The Hotel Monaco hosts a complimentary wine reception in its expansive (and yes, also pretty) lobby every night from 5-6pm. The wines were local, one red and one white. When we showed up, groups of guests were gathered on couches or  huddled by the fireplace, swapping stories and recommendations from their day of sightseeing or shopping. A baby was joyfully crawling on the floor, and a dog was asleep in the corner. Imagine. For one hour, a bunch of strangers had come together in a large living room with free wine, and were having a lovely little party. That is a perk worth writing about.
The Deets:
The Hotel Monaco, Seattle: (888) 454-8397 | website | map
Rates: $185 – $300  | valet parking available
 ________________________________________________________________________________________
Sazerac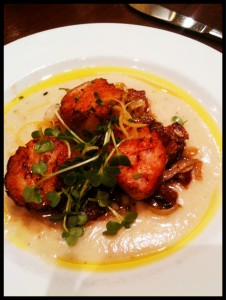 The Monaco's hotel restaurant is the sassy, cajun-inspired Sazerac, open for breakfast, lunch, happy hour and dinner. Order a namesake cocktail if you're drinking. The Classic Sazerac is the traditional cocktail of New Orleans, made here with Sazerac Rye Whiskey, Peychaud's Bitters, Sugar, Lemon Peel, and Absinthe Rinse. Wood-fired, thin-crust pizzas are popular here and are remarkable; try the Simplicity pizza – tomato reduction, fresh mozzarella, baby tomato and basil leaves. I love the pan-seared sea scallops over parsnip puree and roasted brussel sprouts. Other signature dishes are the Medjool Dates en Brochette (stuffed with goat cheese, wrapped in crispy smoked bacon and drizzled with a sweet balsamic reduction) and Crispy Truffle Fries with aioli. Nab a spot at the chef's counter if it's available – it's so fun to watch the chefs in action, and even to chat them up if they have a spare moment.
Our one-night stay at the Hotel Monaco was compliments of the hotel. Please see our Disclosure Notice for more information.
Become a fan of Northwest TripFinder on Facebook and never miss a post!