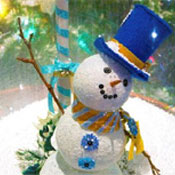 Ready to make some spirits bright? Or at least get a bit jolly with some spiked eggnog?
In an effort to procrastinate buying our Christmas tree this weekend (it just feels too early) I've been looking for festive distractions. And I found some. I'll be hanging with the DIY sect at Seattle Center. How about you?
Here are some fun holiday events throughout the region.
Hood River, OR | Friday November 30, 6:30-8pm
Portland, OR | Nov 28-30
Seattle, WA | now thru January 6
Seattle, WA  |  December 1-2
Coupeville, WA  |  December 1
Carson, WA | December 1
Lighted Boat Parade & Crab Pot Christmas Tree
Ilwaco, WA | December 1